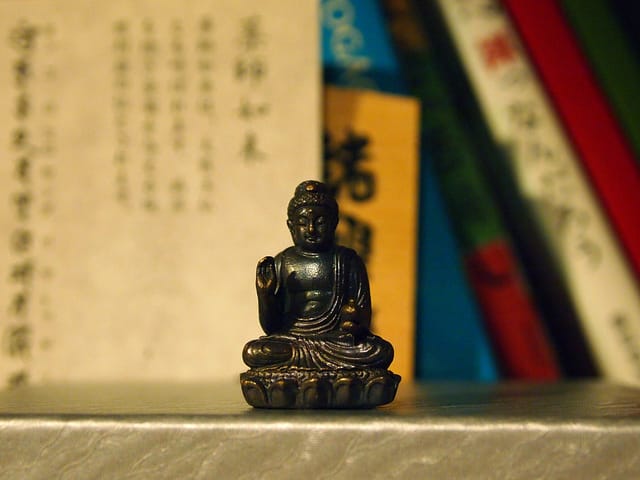 Medicine Buddha. Photo by/via geraldford
After thirteen years as a Buddhist nun, Sister Dang Nghiem looks back on her medical career and realizes monastic practice and medicine aren't really that different.
I had graduated from medical school and was doing my residency in family practice when I met Thich Nhat Hanh and his monastic community. Soon after that, my partner died suddenly in an accident. His death helped me make a decision to follow a life of Buddhist practice. I left medicine after seven years of training and became a nun.
I have been a monastic for thirteen years. Yet I see now that you do not need to leave your profession in order to live a mindful life, whether it's medicine or another kind of work. In everything you do, you can bring to it awareness of your breath and body. You can unite body and mind, instead of keeping them separate from each other. When you stand up, you can be aware that you are standing up. When you stretch your body, you can follow your breathing and your movements. With mindfulness of the body, your listening becomes deeper and you are more aware of what's going on around you. Then take that awareness into your daily life and into your work.
Imagine that you're a doctor and you're listening to a patient. If you're thinking about other patients in other rooms and you ask the patient the same question several times, this will only add to their sickness and fear. The patient already feels vulnerable from being sick in the hospital. Now they feel that you're not truly present for them. If your mind is thinking of other patients in other rooms, you're wasting your time and your patient's.
The present moment is the only moment we have.
It's the only moment in which we can make a difference for ourselves and others. Whatever we are doing and whomever we are with — whether it's ourselves, patients, clients, friends, or strangers — if we are truly anchored in our breath and our body, we can touch the moment deeply and be of benefit.
When I was a medical student, I took on a patient with end-stage gallbladder cancer. It was only three months into his diagnosis, but the cancer was already full blown. The patient, in his sixties, had become depressed and refused to eat. He was abrupt and harsh toward the nurses and doctors.
In the beginning, he wasn't friendly to me either, but slowly he opened up. Then he was given the option to have an operation to see whether or not the cancer could be removed safely. He was reluctant and afraid. I told him that he had my full support in whichever decision he made. He decided to go through with the operation. Unfortunately, when the surgeons went in, they found that the cancer had metastasized to adjacent organs, and they closed his abdomen immediately.
That night I was on call and went to visit him. It was two o'clock in the morning. The other patient in his room was already sleeping, and the only illumination was from the light in the hallway. I sat quietly next to his bed. He said to me, "You know, doctor, I have no more hope. Yet, strangely enough, I feel more at peace in this moment than I have ever felt before."
I just sat with him. Before the operation, I had told him about my grandmother's death in Vietnam. She knew she was going to die and was peaceful about it. She called for all of her children to gather around her and she reminded them not to let me and my young brother know about her passing, because we were in the United States then and she didn't want to affect our studies.
My grandmother remained alert and peaceful during the last hours of her life. When I heard this account six months after her death, it changed my way of thinking about dying. When we live beautifully and when we die beautifully, it's a gift to ourselves, but it's also a gift to those who witness our lives and our deaths. This gift of non-fear is in fact the greatest gift that we can offer to our beloved.
I said to my patient, "My grandmother died peacefully and beautifully. You can also choose to die like that. You can recall all of the grace you've received throughout your life and you can give thanks. You can die, knowing your time of death and staying peaceful."
When my patient was sent home, he was put on morphine for pain control, and he became confused and violent. His wife was frightened and saddened by this. Yet, during the last moments of his life, he became lucid. She called me the next day and told me, "He was so quiet and peaceful. Even though he couldn't talk to me, he knew I was there, and it made me so happy!" At least twice she told me that she was happy.
In my spiritual practice as a nun, I don't feel that I have left medicine. In fact, mindfulness is the most profound medicine that I can use in my daily life to take care of myself, and it's the greatest medicine that I can offer to others. I do not regret that I spent twenty-four years in school, then became a nun. There's no regret when you have done everything you can. If you give your whole heart to something, then when you make a shift to do something else, there is nothing to regret. Every moment is an opportunity to live and discover ourselves.