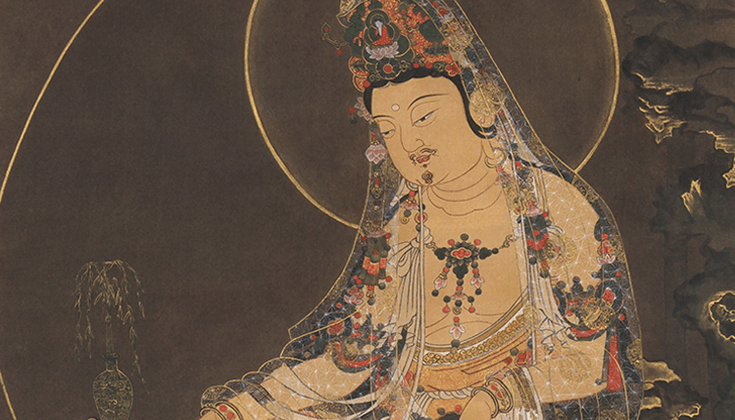 Goryeo Buddhist painting via the
exhibition webpage.
The paintings of three contemporary Korean artists, Joy Rock, Chang Ho Kang, and Seoung Jo Hyun, will be showcased in an exhibition titled "Mystic and Glamorous Exhibition of Goryeo Buddhist Painting" at the Flushing Town Hall in Flushing, NY beginning April 22.
The exhibition is held in partnership with the New York Korean Cultural Heritage Foundation, and showcases Goryeo Buddhist Paintings, a highlight of the renaissance in Korean fine arts that occurred during the Goryeo Dynasty (918-1392). As the exhibition's description of the dynasty reads, "the people of Goryeo had a deep sense of faith in Buddhism and after a 30-year war against the Mongols the people of Goryeo returned to Gaegyeong and produced Buddhist paintings on silk with gold powder." About 160 paintings from this period remain today.
The three distinguished artists featured in the exhibition have held long careers focused on Buddhist painting, and have all earned Masters in Fine Arts in Buddhist Painting from Yongin University.
Joy Rock, the primary artist in the exhibition, has nearly ten featured works. Among her featured works, seven were reproduced in the identical size and technique as the original paintings. The video below shows Joy Rock painting in the classic Goryeo Dynasty style, using color on the back of a silk canvas, gold powder, and patterns of intricate lines:
More information on the exhibition, and biographies of the featured artists can be found on the event webpage.