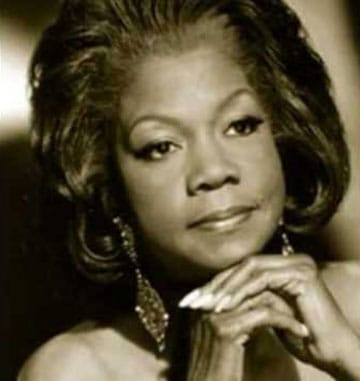 A personal remembrance of "Steen," by a fan-turned-close friend.
The late 1970s found me living in Seattle, a city that still celebrated its lumberjack lineage and had yet to be transformed by computer industry titans.
It was there, at a since-shuttered jazz club, that I first reveled in the magic of Ernestine Anderson. Once hailed by TIME as the "best-kept jazz secret in the land," Anderson, a Buddhist, died on March 10. She was 87.
As a youth, my musical palate had been seasoned by soul music. Anderson, whose family had moved from Texas to Seattle when she was sixteen, was the first jazz singer I'd ever seen perform live.
In a cozy room with soft lighting, she wrapped her exquisite contralto around tunes such as "My Romance," "Love For Sale," and "Hello Like Before." Bedazzled by Anderson's artistry, I was later unable to sleep.
Instead, I went to my desk and penned one of the few poems I've ever written. The first line read: "A Black woman sings. No pain."
When I next saw Anderson, she was headlining a concert at a park in Seattle. Unbeknownst to me, my then-partner, Candace, had slipped a copy of the poem to the emcee who wove it into his introduction as he welcomed the singer to the stage. At the end of her sizzling set, she thanked "the poet." I was floored.
Anderson soon became a treasured friend with whom we routinely closed down the jazz joint that eventually bore her name. (New Year's Eve festivities at Ernestine's were epic.) In her generous embrace, I met musicians ranging from Dizzy Gillespie to Esther Phillips, who delivered, one night, a voodoo-drenched performance for the ages.
And so it was that I found myself at "Steen's" home on the day that her 1981 album, Never Make Your Move Too Soon, was nominated for a Grammy. As the champagne flowed, she shared with me, for the first time, details about her path to Buddhism.
Dispirited by her inability to secure steady gigs in the 1960s, Steen told me that she'd abandoned her music career. "It was 'the British explosion,' and jazz singers became personas non grata," she explained. "So, I gave up and got a job as a hotel maid."
Then living in Los Angeles, she met a man who introduced her to his Buddhist practice. "He said that after he started chanting, he never had to hunt for parking spots," Steen recalled, with a laugh. "I told him that I wanted a bit more out of life than that."
Nonetheless intrigued, Steen said that she "studied up" on Nichiren Buddhism and found immediate solace in the Lotus Sutra chant —Nam-myoho-renge-kyo.
"The chanting opened my heart," she said. "The next thing I knew, I was back recording, performing, and having a wonderful time."
Steen also proudly showed me the shrine room that she'd created for meditation. The space was adorned with beautiful items from her many travels to Japan where she'd developed a cult following.
While mindful of the historical links between Blacks and suffering, Ernestine Anderson did not traffic, as a jazz singer, in that realm. On the contrary, her performances were marked by a palpable "in the moment" ecstasy that I believe was shaped by her Buddhist practice.
Indeed, she often closed her shows with a swinging rendition of "I Love Being Here With You."

And we loved her back.