Tracy Franz on a diverse and inspiring selection of new Buddhist books.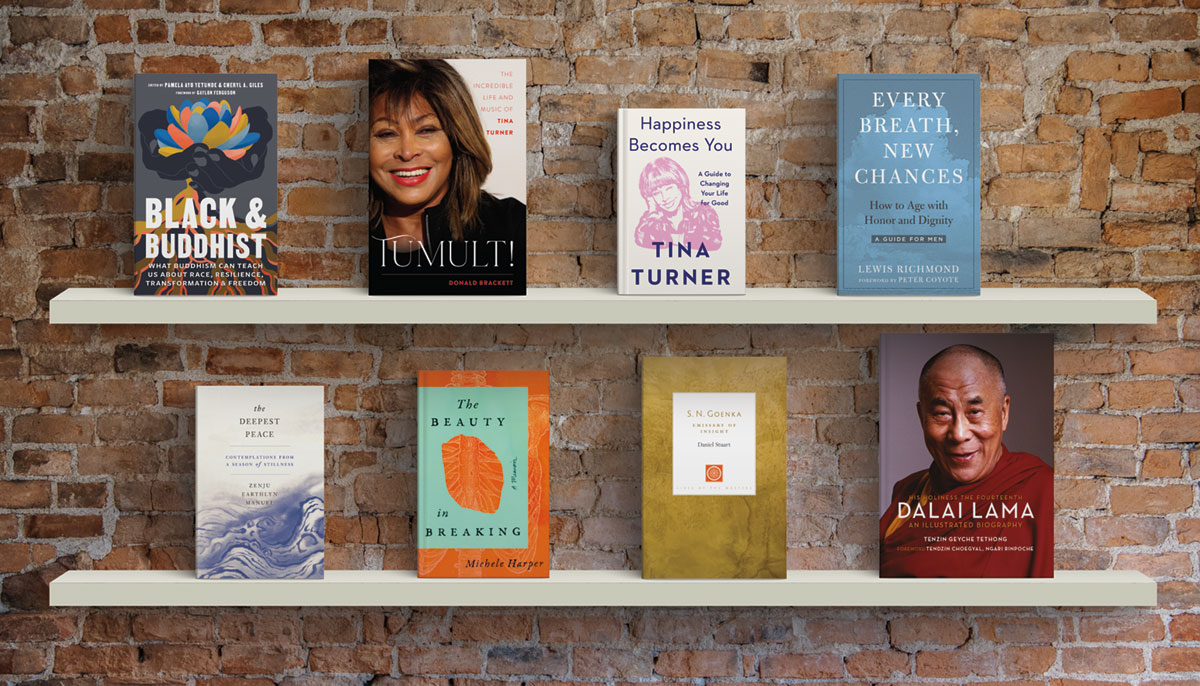 What does a truly representative American Buddhism look like? What can we learn from listening to Black voices, and other people of color, in the Buddhist community? What do Buddhist teachings have to offer those struggling with injustice and inequality, and what do they in turn have to offer to how we apply those teachings?
A timely new anthology, Black & Buddhist: What Buddhism Can Teach Us About Race, Resilience, Transformation & Freedom (Shambhala), takes a deep dive into these questions. Editors Pamela Ayo Yetunde and Cheryl A. Giles write, "[The Buddha's] teachings, at their root, were caste-disorienting. In other words, Buddhism is a path to de-caste or decolonize one's mind while simultaneously helping oneself build resilience against trauma." This collection of writings includes contributions from leading African American Buddhist teachers and scholars Acharya Gaylon Ferguson, Cheryl A. Giles, Gyozan Royce Andrew Johnson, Ruth King, Kamilah Majied, Lama Rod Owens, Lama Dawa Tarchin Phillips, Sebene Selassie, and Pamela Ayo Yetunde, each of whom brings a unique and compelling perspective on the intersectionality of race and Buddhism.
Author, poet, and African American Zen teacher Zenju Earthlyn Manuel's latest book, The Deepest Peace: Contemplations from a Season of Stillness (Parallax Press), extends a balm for our troubled hearts and minds. She writes, "Many times I have testified of my suffering and written at length on race, gender, sexual orientation, and homelessness. Before I die, I must speak of peace."
Centering on personal observations and reflections of moments from the past and the present, each chapter is a kind of prose poem that invites the reader to pause, breathe, and enter the meditation space. "The need is to listen. In the listening, silence emerges as sanctuary," she writes. "Refuge becomes poetic solitude, poetic justice. There's peace without peacemaking." Manuel's voice is soulful, warm, and welcoming, and—at times—heartbreaking; it's a music we can feel in our bones.
"Brokenness can be a remarkable gift. If we allow it, it can expand our space to transform," writes Michele Harper in her aptly named memoir, The Beauty in Breaking (Riverhead Books). With compassion and a profound sense of the human condition, Harper, an African American emergency room physician, shares her stories of the harrowing day-to-day life in the ER, layered with recollections from her own troubled childhood, difficult relationships, and pervasive systemic sexism and racism. She observes again and again those lessons that shake us to the core. "It is precisely when cracks appear in the bedrock of what we thought we knew that the gravity of what has fallen away becomes evident," writes Harper. "When that bedrock is blown up by illness, a death, a breakup, a breakdown of any kind, we get the chance to look beyond the rubble to see a whole new way of life."
Some voices—both real and metaphorical—stay with you always. While reading two new books—one by and one about iconic music legend Tina Turner—it's impossible not to hear a constant soundtrack of her powerful, unmistakable voice.
In Tumult!: The Incredible Life and Music of Tina Turner (Backbeat Books), author Donald Brackett draws on a number of interviews with journalists and music industry insiders. The result is an engrossing music-centered journey into the extraordinary life of The Queen of Rock 'n' Roll, from her beginnings as a small-town farm girl, to her abusive pairing with producer Ike Turner, to her embrace of Buddhism, to her rise into megastardom. Brackett writes, "All along the way and to this day, Tina Turner has credited her early encounter with Buddhism for the dramatic turnaround in her life, with altering her old ingrained patterns of thought about who she was, what she was, and what she was capable of doing."
In Happiness Becomes You: A Guide to Changing Your Life for Good (Atria Books), Turner tells her own story of her path to liberation. Part spiritual guide, part memoir, this book shares a fascinating view into Turner's personal, professional, and spiritual transformation. "When we can see past the distractions and perceive our minds clearly," Turner writes, "our inner wisdom will guide us to take the best actions at any given moment." An adherent of Soka Gakkai, which originated from Nichiren Buddhism, Turner chants the title of the Lotus Sutra, a core daily practice she first took up in the early seventies and continues to this day. "Buddhism taught me how to access a direct path upward in my life condition, a spiritual express lane, so to speak, by chanting Nam-myoho-renge-kyo." The extended glossary at the back of the book will serve as a handy resource for those unfamiliar with key terms of this tradition.
Buddhist teacher and author Lewis Richmond offers another roadmap—this one geared primarily for men aged fifty and up—in his latest book, Every Breath, New Chances: How to Age with Honor and Dignity—A Guide for Men (North Atlantic Books). Through cogent case studies and personal anecdotes, as well as relevant research, Richmond examines the fears and realities associated with growing older, while offering ways to reframe the emotional and spiritual aspects of that process in healthy, realistic, and ultimately empowering ways.
"Aging is a two-faced coin," writes Richmond. "On one side is loss—loss of virility, strength, power, possibility, opportunity, and health. On the other side is transformation and growth." This book explores such topics as careers, relationships, illness, loss, and substance abuse, and each chapter concludes with contemplative exercises—what Richmond calls "Deep Mind Reflections"—for cultivating inner resources.
Two figures whose impact on Buddhism in the West is immeasurable are the subjects of illuminating new biographies. His Holiness the Fourteenth Dalai Lama: An Illustrated Biography (Interlink Books) by Tenzin Geyche Tethong delivers an in-depth look into the life of perhaps the most recognizable living figure in modern Buddhism. Tethong, a close, longtime aide of the Dalai Lama, draws on firsthand observation, interviews, and other sources to tell the story of this Buddhist icon, his family, and the larger context of the Tibetan people. As Tethong puts it, this book tells the story of how His Holiness' life changed after 1959 with the Tibetan uprising and exile, and how hard His Holiness worked so that Tibetans could retain their sense of identity, culture, and social systems. The many photographs throughout—some of them not previously published—provide further insights. The overall result is an intimate, riveting portrait that speaks beyond the page.
In S. N. Goenka: Emissary of Insight (Shambhala), author Daniel Stuart paints a nuanced portrait of the man he describes as his teacher. "As a public figure with audiences in multiple cultural contexts," writes Stuart, "[Goenka] learned to speak in many languages and registers, figuratively and literally, to reach his listeners." Whereas many Western Buddhists may think of Goenka only as the "nonreligious" teacher of Insight/Vipassana meditation, this intriguing biography and collection of his writings serves as a clear reminder that his life and teachings were firmly rooted in tradition—and were more complex than his Western audiences may have realized.