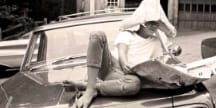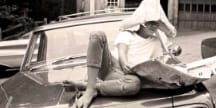 Towering stacks of newspapers, a mountain of clippings — JAMES KULLANDER feels they might contain some fact that would transform his life. Deep down, though, he knows what would be truly transformative.
One bright summer day many years ago, I was sitting on the hood of a neighbor's Plymouth station wagon reading the New York Times. My parents didn't get the Times, so occasionally I wandered through the woods to our neighbor's house and read theirs. I went there to visit with my friend, too, a girl my age. Perhaps by reading the newspaper in front of her I would impress her with my worldliness.
I was never all that good at sports and I was painfully shy. The girl, a svelte blonde, was clever at making things with folded paper. While I was reading, she took a section of the Times, made a big newspaper hat out of it, put it on my head, and laughed. I thought it funny, too, and played along. Another friend, who had his own 35mm Nikon and darkroom, snapped a shot of me. In the photo I've got the big newspaper hat on my head, and in my hands I've got the other section spread open before me as I scan the headlines. On my face I'm wearing a big smile. I'm thirteen years old.
I walk by that photo every day, and it used to make me smile. But recently I've looked at it with a sinking sensation as I've watched the spate of reality television shows on hoarding, such as Hoarders and Hoarding: Buried Alive, and all the media attention suddenly paid to packrats of all stripes. In the scenes of mindboggling clutter that people have crammed into their homes, I can see my own tilting heaps of newspapers all around me.
We all have our stashes of junk somewhere—in a drawer, a closet, the attic, the basement—but what's been happening with me over the years is a little more serious. Recently, I went to the big guns, a guide for therapists, to help me. "We buy what we need, sometimes more, and we discard, recycle, give away, or sell what we don't," I read in Compulsive Hoarding and Acquiring by Gail Steketee and Randy O. Frost. "But for people who suffer from compulsive hoarding," the book goes on, "this process is not so easy. For them, possessions never 'feel' unneeded or unnecessary, and trying to get rid of them is an excruciating emotional ordeal. For some it is easier to divorce a spouse, sever ties with children, and even risk life and limb."
Psychologists have come up with all sorts of reasons why people hoard. Some say it's genetic; some say it's a form of an obsessive-compulsive disorder; others say it could be related to brain abnormalities or damage. For me, I think it all began with a need to know, although I can't recall specifically when or how it happened. Perhaps I'd been made a fool of for not knowing the answer to a question. Perhaps I'd lost an argument—or a bet—because I didn't have the correct information. Mostly what I remember is that I thought that everything I needed to know was in the daily newspaper.