If you were the Dalai Lama, how would you spend a day? In a classic Pico Iyer interview with the Dalai Lama from the turn of the century, His Holiness shared an intimate glimpse of a day in the life of a global religious leader.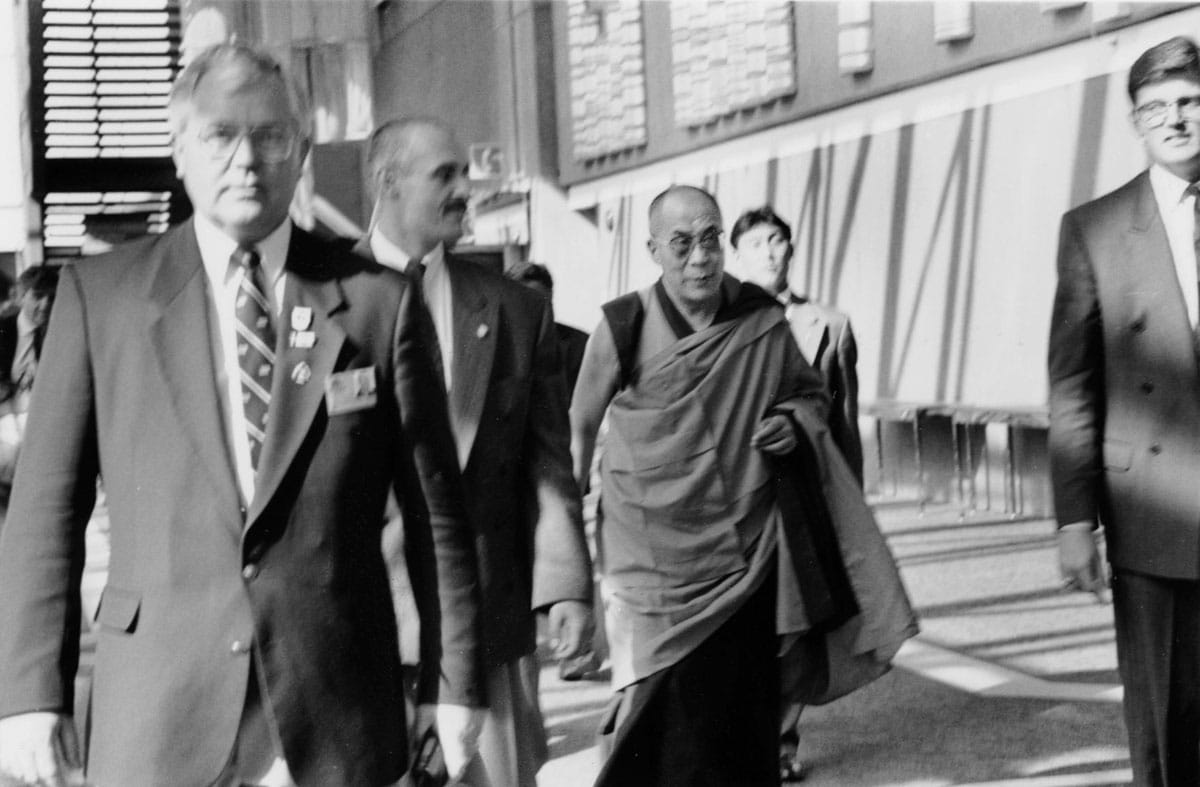 Each time I receive some new teaching, that adds something to my daily practice. So nowadays, my daily recitation, compulsory, normally takes about four hours.
Usually I wake up at 3:30 in the morning. Then immediately I do some meditation, some exercise-prostrations-then bathe. Then a little walking outside. All this time I am reciting some mantra or doing some meditation. Then at 5:15, I breakfast and at 5:30 listen to the Voice of America Tibetan language broadcast. The BBC East Asia broadcast often mentions something about Tibet or China, so I usually listen to that.
After breakfast, I do some more meditation and then usually study some Tibetan philosophy or important texts. If there's some urgent business I come here to my office, and sometimes before lunch I read newspapers and magazines-Newsweek, Time, Far Eastern Economic Review, some Indian newspapers.
Oh, yes. At 7:30 I always listen to the BBC world news. Always. I am addicted. When I visit some foreign country and I can't listen to it because of the time change, or not having enough time, I really feel something is missing that day. I feel I don't know what's happened in the world. The BBC is always very good, and, I really feel, unbiased.
After my lunch I come here to my office until about 5:30. Then at 6:00 I have my evening tea-as a Buddhist monk, no dinner, sometimes just a few biscuits or some bread. At that time I always watch BBC television. Then evening meditation for about one hour and at 8:30, sleep. Most important meditation! Sleep is the common meditation for everyone-even for birds. The most important meditation. Not for nirvana, but for survival!
THANK YOU FOR READING LION'S ROAR. CAN WE ASK FOR YOUR HELP?
At Lion's Roar, our mission is to communicate Buddhist wisdom in today's world. The connections we share with you — our readers — are what drive us to fulfill this mission.

Today, we're asking you to make a further connection with Lion's Roar. Can you help us with a donation today?
As an independent nonprofit committed to sharing Buddhist wisdom in all its diversity and breadth, Lion's Roar depends on the support of readers like you. If you have felt the benefit of Buddhist practice and wisdom in your own life, please support our work so that many others can benefit, too.

Please donate today — your support makes all the difference.

Lion's Roar is a registered charity in the US and Canada. All US & Canadian donations are tax deductible to the full extent allowed by law.