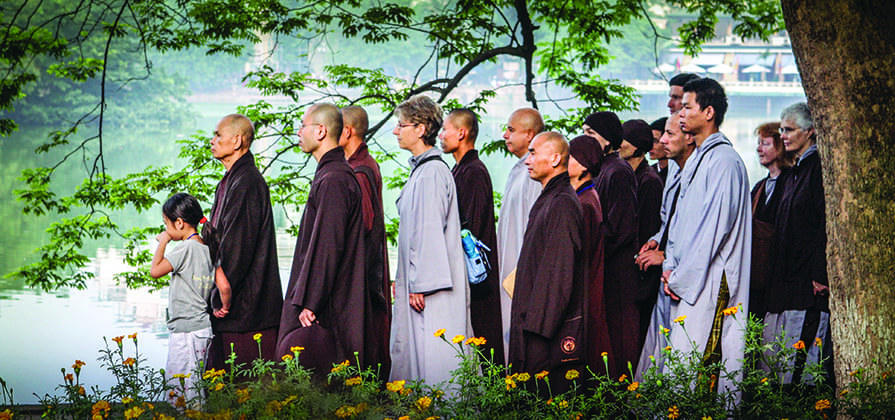 Photo by Paul Davis.
When we see people living mindfully, smiling and behaving in a loving manner, we gain confidence in our future.
There's a lot of suffering in the world, and it's important for us to stay in touch with this suffering in order to be compassionate. But to remain strong, we also need to embrace the positive elements. When we see a group of people living mindfully, smiling and behaving in a loving manner, we gain confidence in our future. When we practice mindful breathing, smiling, resting, walking, and working, we become a positive element in society, and we will inspire confidence in everyone around us. This is the way to avoid allowing despair to overwhelm us. It is also the way to help the younger generation so they don't lose hope. It's very important that we live our daily lives in such a way as to demonstrate that a future is possible.
To bring about real change in our global ecological situation our efforts must be collective and harmonious, based on love and respect for ourselves and each other, our ancestors, and future generations. If anger at injustice is what we use as the source of our energy, we may do something harmful, something we will later regret. According to Buddhism, compassion is the only source of energy that is useful and safe. With compassion your energy is born from insight; it's not blind energy. Just feeling compassion is not enough; we have to learn to express it. That is why love must always go together with understanding. Understanding and insight show us how to act.
Adapted from The World We Have.
Can you help us at a critical time?

COVID-19 has brought tremendous suffering, uncertainty, fear, and strain to the world.
Our sincere wish is that these Buddhist teachings, guided practices, and stories can be a balm in these difficult times. Over the past month, over 400,000 readers like you have visited our site, reading almost a million pages and streaming over 120,000 hours of video teachings. We want to provide even more Buddhist wisdom but our resources are strained. Can you help us?
No one is free from the pandemic's impact, including Lion's Roar. We rely significantly on advertising and newsstand sales to support our work — both of which have dropped precipitously this year. Can you lend your support to Lion's Roar at this critical time?