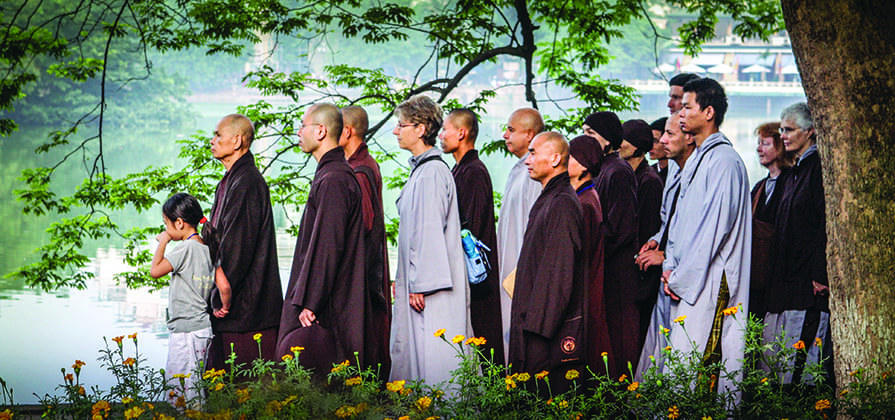 Photo by Paul Davis.
When we see people living mindfully, smiling and behaving in a loving manner, we gain confidence in our future.
There's a lot of suffering in the world, and it's important for us to stay in touch with this suffering in order to be compassionate. But to remain strong, we also need to embrace the positive elements. When we see a group of people living mindfully, smiling and behaving in a loving manner, we gain confidence in our future. When we practice mindful breathing, smiling, resting, walking, and working, we become a positive element in society, and we will inspire confidence in everyone around us. This is the way to avoid allowing despair to overwhelm us. It is also the way to help the younger generation so they don't lose hope. It's very important that we live our daily lives in such a way as to demonstrate that a future is possible.
To bring about real change in our global ecological situation our efforts must be collective and harmonious, based on love and respect for ourselves and each other, our ancestors, and future generations. If anger at injustice is what we use as the source of our energy, we may do something harmful, something we will later regret. According to Buddhism, compassion is the only source of energy that is useful and safe. With compassion your energy is born from insight; it's not blind energy. Just feeling compassion is not enough; we have to learn to express it. That is why love must always go together with understanding. Understanding and insight show us how to act.
Adapted from The World We Have.
THANK YOU FOR READING LION'S ROAR. CAN WE ASK FOR YOUR HELP?
At Lion's Roar, our mission is to communicate Buddhist wisdom in today's world. The connections we share with you — our readers — are what drive us to fulfill this mission.

Today, we're asking you to make a further connection with Lion's Roar. Can you help us with a donation today?
As an independent nonprofit committed to sharing Buddhist wisdom in all its diversity and breadth, Lion's Roar depends on the support of readers like you. If you have felt the benefit of Buddhist practice and wisdom in your own life, please support our work so that many others can benefit, too.

Please donate today — your support makes all the difference.

Lion's Roar is a registered charity in the US and Canada. All US & Canadian donations are tax deductible to the full extent allowed by law.