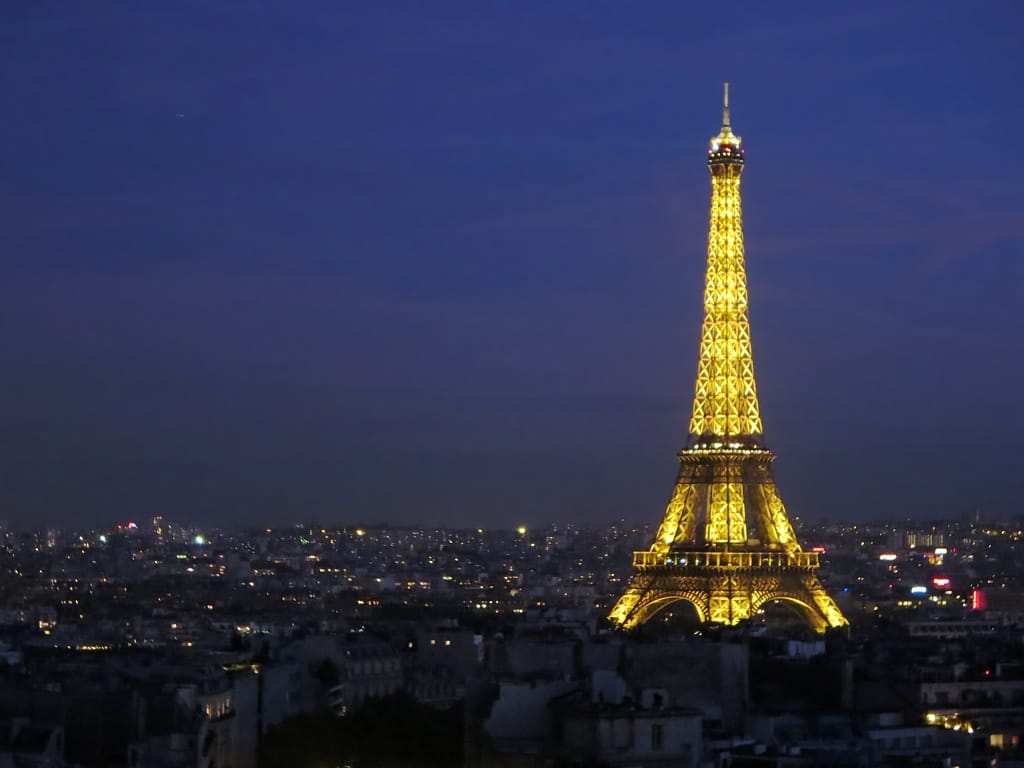 Photo by
David Stanley
.
Though the climb was steep, the view was expansive. Rachel Neumann on being hot, hungry, thirsty, and tired, but still having a perfect day.
Perhaps you know what it's like loving someone so much and with such astonishment at their complicated and fragile existence that you rashly promise them something you have no hope of delivering, such as a trip to the moon or a visit to the top of the Eiffel Tower at midnight. My eldest daughter, Luna, was three years old and fascinated by pictures of the Eiffel Tower when I made such a promise.
"Someday," I told her, "we'll go there together."
"When?" she asked.
I should have said, "When the right conditions manifest. Instead I said, "When you are seven." By then, I figured, she'd have forgotten all about it. She would be obsessed with horses or soccer or something else more accessible.
I was wrong. Every birthday, she reminded me that she was one year closer to our big trip. Every time she saw the tower on a T-shirt, a bag, or a poster, she'd drag me over to stare. Then, unfairly and without warning, she turned seven. We were still in Oakland, our suitcases gathering dust in the basement. I had to explain that there was going to be a slight delay; we would make it to Paris, I assured her, but I couldn't say exactly when. We would have to wait for the right conditions to manifest.
Two and a half years later, they did. It was the thirtieth-anniversary celebration of Plum Village, Thich Nhat Hanh's Zen monastery in southern France, and I was invited to attend. We could stay in Paris for a couple of days, then take the train to Plum Village. My seventy-two-year-old mother, a student of Vipassana meditation with four years of high school French, was available to come and help with the kids. I had enough reward miles to get at least one of us a plane ticket. Plum, my youngest daughter, was old enough to lug her own suitcase around without help. It was time to go.
We borrowed a flat in Montparnasse and slept on thin mattresses on the floor. The Eiffel Tower was in our sight lines, but there were still hurdles. One of the elevators to the top of the tower was broken. Advance tickets had sold out months before. There was a two-and-a-half-hour wait to get into the tower's middle floor, then another long line to the one elevator to the top. We were all jet-lagged, and both kids were developing colds. We went anyway.
We arrived at 7:30 p.m. with a backpack full of water, sweat- shirts, and the last of our carefully hoarded pretzels from the plane. We settled into the back of a line that spanned the plaza and spilled down the sidewalk. I heard snippets of Japanese, French, English, Spanish, German, and other languages I couldn't recognize.
In less than thirty minutes, we were restless. Luna needed to pee. Plum was thirsty. My mother, who had been trooping all around Paris, wasn't feeling well and needed to sit down. I glanced longingly at the grass nearby. My mom could rest and I could go with the girls to take care of their needs, but we'd lose our much-coveted place in what was now a three-hour line.
Then I noticed the person waiting in front of us. He was a solidly built man in his mid-seventies, with pale skin and a balding crew cut. He wore khakis, mirrored aviator sunglasses, a button- down shirt, a silver fighter-jet pin, and a slight frown. American, I guessed, but a culturally different kind of American than we were. I doubted that we had much in common.
Still, needing a little help, I said hello. It turned out his name was Jim and he worked at an Air Force base only a few hours from where we live in California. He was in Paris on his honey- moon and was waiting for his wife. He offered to keep our place in line for as long as we needed, and we rushed to the bathroom while my mom made a grateful beeline for the grass.
When we came back, Jim's wife, Linda, had joined him. She had a warm smile and short gray hair and cheerfully told us that the whole honeymoon trip had been a big surprise. She hadn't even known where they were traveling until they got to the airport. But when she looked up at the Eiffel Tower, Linda's smile disappeared. She was terrified of heights, she admitted, and didn't even like going to the second floor of most buildings.
By the time we had got near the front of the line, we had become one group with our line mates. When I took Plum to find some water and the guard didn't want to let us back in the line, Jim and Linda protested. When we finally got to the front and they tried to put us in two separate groups, we linked arms, refusing to be separated.
As soon as we were packed into the elevator, all of Luna's excitement evaporated. She has a fear of elevators and hadn't quite understood that traveling in one was a required part of reaching the top of the tower. But while Luna was a little scared, Linda was petrified. As the closed metal box began to rise, she shut her eyes tight and held Luna close. When we got to the middle floor of the tower and the elevator opened, Linda tumbled out, taking deep breaths of the fresh cool air. Soon she and her husband were lost in the crowd and we threaded our way to the guardrail, where we could look down from our great height at the city below. Paris in the last of the evening light.
Brightly lit boats made their way down the Seine, and I could make out the gargoyles guarding the top of Notre Dame. At that moment, the yellow lights of the tower itself started flashing, and Luna and Plum's gasps of amazement could be heard even over the clicks of the hundreds of cameras.
I looked at the lengthy line still ahead of us, which snaked all along the platform toward the next ticket line and elevator that would take us to the top. We'd started our journey at the bottom over four hours ago. Now we'd run out of water and snacks and we were hot and grimy—our clothes were sticking to our skin. Though no one had voiced a single complaint, Plum's eyelids were sagging and Luna was starting to list to one side. The kids were both sneezing regularly. "Anyone want to go home?" I asked hopefully. "No way," they chorused without a second's hesitation. My mom remained silent. She had the grim look in her eyes of a mountain climber who had nowhere to go but up.
We got into the next line, settling into another hour wait. The middle floor of the tower wasn't large, and we were corralled between two narrow metal railings that zigzagged back and forth, as if we were in line for a popular ride at an amusement park. We were also sandwiched in the middle of a large group of chain-smoking French teenagers who continuously jostled and bumped each other in the hopes of getting as much "accidental" physical contact as possible. I sagged against the metal railing and considered taking a nap on the dirty concrete floor. As I looked for an escape route or a place to lie down, I saw Linda and her husband walk past. Linda's head was down, her gaze focused anywhere but out, and she stuck close to Jim, so that the whole side of his body shielded her view of the edge. Linda's face was rosy and shiny with sweat and Jim's broad shoulders slumped, but when we waved them over to say hello they told us that they too were determined to reach the top.
"Join us," I called, and it wasn't just a polite gesture. Somehow over the course of our epic waiting, we'd started to need each other for moral support. But our new friends were stuck on the other side of the metal railing. To get to us, they would need to duck and swing under the hip-high metal bar. Somewhere behind us, a baby, up way past bedtime, started to wail. Jim bent down and with a hunched shuffle crossed under the railing but Linda stood there frozen, torn between her fear of heights and the desire to be with our group. The French teenagers began a raucous version of the French national anthem. The baby's piercing wails quieted to indignant whimpers. Linda took a deep breath, threw her purse and her jacket to her new husband, then in one graceful move swung under the bar like a fearless child on the playground. We reached out and caught her, pulling her toward us.
Exhausted and parched but all together and smiling, we arrived at the top of the tower at half-past midnight. Paris, cool and lovely in the dark gray night, sparkled below us. In between yawns, we oohed and aahed and took pictures. We peered down at the plaza, now nearly empty, the ticket booth and snack bar shuttered for the night. Luna took a last picture of herself and Linda, arms raised in triumph, just a couple of feet from the edge. And then we said good-bye to our new friends, exchanging numbers, heartfelt hugs, and sincere wishes for each other's health and happiness. The triumph of our successful ascent gave Luna and Plum a last injection of energy, and they skipped and sang the whole long way back down to the ground.
I am often tempted to offer my kids the comfort of illusions—the lightness and sparkle of a Parisian tower, the reassurance that if they want, they can become astronauts and travel to the moon. But the tower is made of cold solid metal and takes hours to climb. The surface of the moon is pocked and airless and their astronaut selection unlikely. Instead, I can offer them the reminder that while life is difficult and lines are long, we are buoyed by openness to other human beings. There is a gift in the unexpected gracefulness of a former stranger turned friend, an older woman acknowledging her fear and swinging with abandon into our waiting arms.
It was past 1:30 in the morning when we finally returned to our French flat and collapsed on our little mattresses. "What did you think, Luna?" I whispered to her, as I gratefully turned toward sleep. "It was perfect," she said.