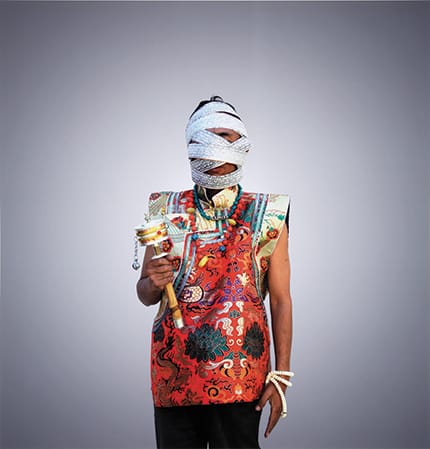 Chinese soldiers, stir-fried scriptures, and Shrek—they're all part of a provocative new exhibition that's giving voice to contemporary Tibetan artists. Kay Larson reports.
Years ago, I was traveling in the Bhutanese Himalayas as a guest on an expedition to pick out Buddhist monastic treasures for an American museum show. Crossing a breathlessly high pass on a mud road that sent our jeep tires skittering, we stopped at a farmhouse to ask directions. Our government-appointed hostess, a delicate young woman, came over to ask a logistical question. A fold of her long robe slipped, and I saw what she kept hidden at her throat: a button of pop star Madonna.
In Bhutan, the government tries to hold back the tsunami of Western consumer culture with laws mandating traditional dress, but outward compliance is often met with secret rebellion. Tibet, by contrast, has suffered six decades of rule under China's Communist regime, and the cultural collisions have been disastrous. Refugees who escaped over the snow peaks at risk of ambush and extortion have been thrown back on their survival skills in a Western world obsessed with the personal self. Those who stayed in Tibet have suffered much oppression, giving rise to a wave of self-immolations—more than 120 in the last three years—that has convulsed the world's conscience.
How can Tibetans speak out? Anonymous: Contemporary Tibetan Art, one of the first museum exhibitions on this topic, is offering twenty-seven of them a voice. The Tibetan artists come from Lhasa, Nashville, Thimpu, Zurich, Oakland, New York, India, Nepal, and the Australian outback. They enter an internationalized art world increasingly concerned with the thoughts of the colonized; Dakar, Beijing, Singapore, Bangladesh, and East Africa all have their own biennial exhibitions. Anonymous gives living Tibetan artists a place in the sun, essentially for the first time.
Traditional Buddhist art visualizes sources of refuge and has long been defined by intricate rules of color, proportion, ornament, and gesture. If refuge is a spiritual haven, refugee status is a flux condition colored by darkness, confusion, and sorrow. These fracture lines crackle through the exhibition, separating artists living in repressive environments from those who are prospering—or at least holding their own—in the diaspora.
Exhibition curator Rachel Perera Weingeist observes how traditional Tibetan religious art celebrated "a collective, spiritual impulse." Artist-monks wielding brushes in the monastery workshops would never have signed whatever thangka they were working on; the idea would be preposterous. But for the twenty-seven artists in this show, which originated at the Samuel Dorsky Museum of Art and is traveling to other locations, anonymity carries a different weight; it recalls how Tibetans have been deliberately silenced in the twenty-first century. Weingeist at first thought she would play with this theme by making everyone in the exhibition anonymous, but Western-oriented artists vehemently opposed the idea. Even so, some artists need to mask their names because they risk punishment for speaking out.
Weingeist sent out a call for video submissions via worldwide Buddhist networks and a new website created for the exhibition. As YouTube users know, videos can be effective instruments for bearing witness. Artists living outside Tibet responded quickly, but artists inside Tibet at first sent nothing. Investigating this mystery, Weingeist discovered that digital media can't be mailed from Lhasa under Chinese post office rules, and digital transfer on the Internet was mostly impossible because of slow upload speeds. Videos ultimately had to be carried to the West in Tibetan hands and pockets. The ones that survived the crossing are unusually urgent and not to be overlooked.
Excerpted from the Summer 2014 issue of Buddhadharma: The Practitioner's Quarterly.