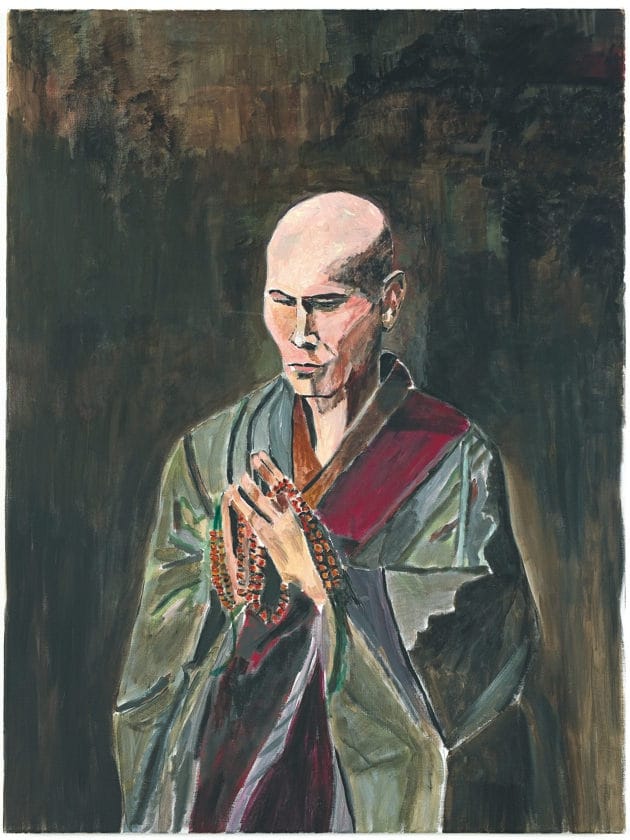 Bob Dylan's oil painting, The Monk.
Bob Dylan's just won the Nobel Prize for Literature — for his body of songwriting. Seems about right; this is, after all, a person of many talents. Which leads us to recall one less-appreciated Dylan art pursuit: painting.
In October 2011, the exhibition Bob Dylan: The Asia Series, was mounted at New York's Gagosian Gallery. The paintings, together, were to be considered a "visual reflection" of Dylan's travels in Japan, China, Vietnam, and Korea. Among them was The Monk, seen here, an oil painting featuring a Buddhist monk with his hands in gassho.
Intrigued fans who want more of this kind of thing may want to know that there's lots and lots more in Steven Heine's book Bargainin' for Salvation — subtitle: Bob Dylan, A Zen Master? In it, Heine looks at the "numerous areas of affinity" between Dylan and Zen, from the influence of his first wife, to the adventures of his many famous Beat-era peers, to correspondences between the American Blues and Zen, to the trips to Asia that eventually informed the Asia Series paintings.