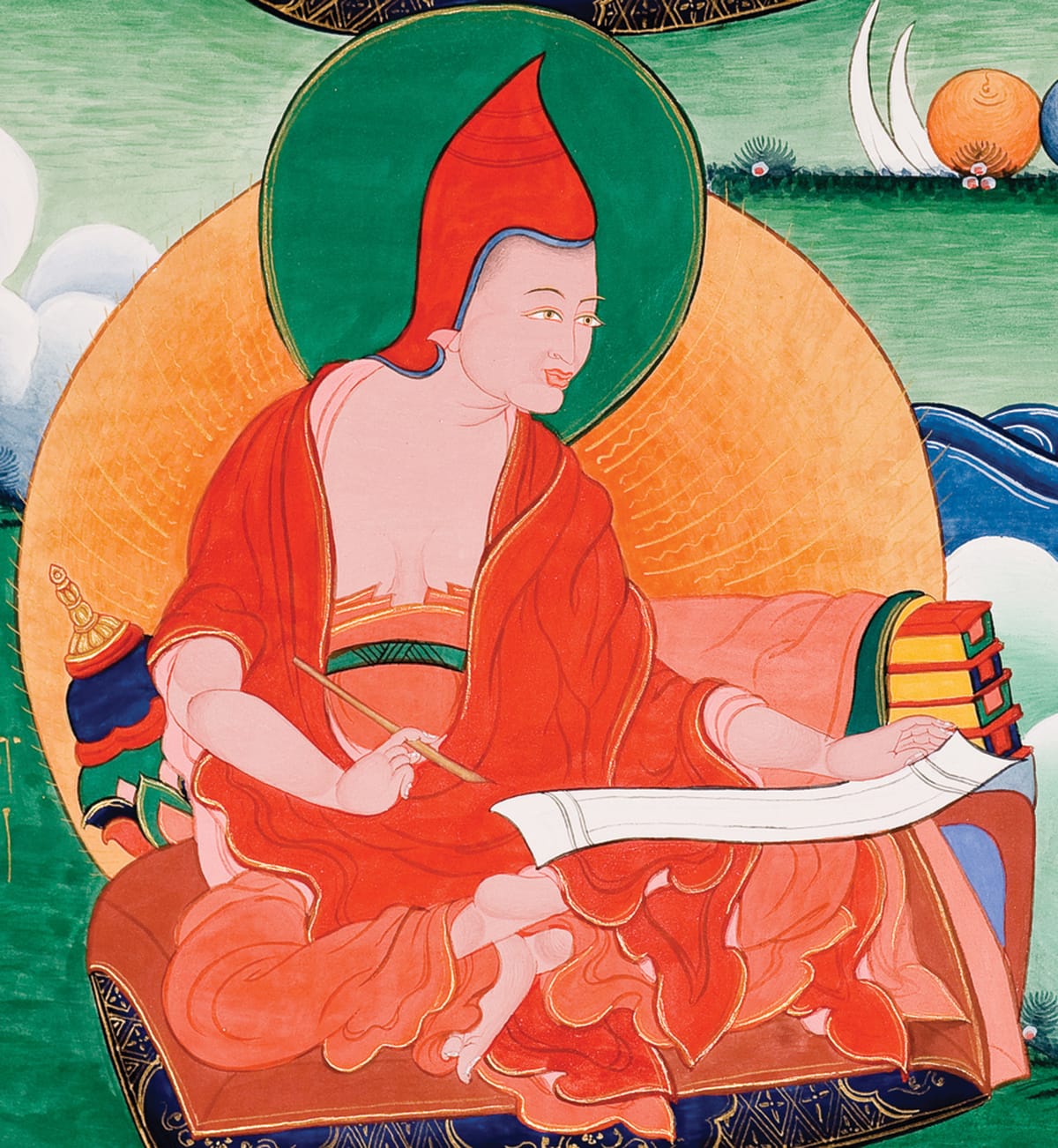 Indian monk and philosopher Vasubandhu, 4-5th century. Source unknown.
Burmese meditation teacher Sayadaw U Tejaniya combines teachings on mindfulness with stories of his early struggles with depression, drug use, and marital problems in When Awareness Becomes Natural (Shambhala 2016). He describes being taken out of school during his first experience of depression and spending two years at the monastery of Burmese master Shwe Oo Min Sayadaw. Though he says he left the monastery "with wisdom a little more consolidated," he quickly returned to his old ways. It was only after years of continued struggle, punctuated by brief stays at the monastery, that U Tejaniya finally turned to monastic life for good. His intimate familiarity with the problems so many people face makes this book a powerful read. U Tejaniya consistently frames his teachings in the context of his past experiences and insists that real progress is only possible if we make practice a part of everything we do.
Soto Zen priest Ben Connelly offers highly accessible commentary on Vasubandhu's famous Thirty Verses on Consciousness Only in his new book Inside Vasubandhu's Yogacara (Wisdom 2016). Vasubandhu was one of the most influential Buddhist writers in ancient India, and while many of his works are long and technical, his Thirty Verses describes Yogacara philosophy in a concise way. There is much to unpack in this work, and Connelly's analysis is rich in doctrinal details while keeping focused on the needs of contemporary practitioners. For him, Yogacara demonstrates the power of our minds in shaping every detail of our experience; he describes how regular meditation practice coupled with close study of Vasubandhu's work can allow us to overcome harmful emotional states and recognize "the completeness of our connection to each thing."
In 1228, the Chinese Chan master Wumen Huikai compiled the Gateless Barrier, a famous work documenting forty-eight interactions between Chan masters and their students. In Passing Through the Gateless Barrier (Shambhala 2016), Chan teacher and university professor Guo Gu presents a fresh translation of this seminal text, including Wumen's commentary and Guo Gu's own discerning analysis.
Jacob Dalton's The Gathering of Intentions (Columbia 2016) traces the story of a single tantra as it passed through the hands of generations of Tibetan scholars. Titled the Gathering of Intentions Sutra, this ancient text is central to the Nyingma school's Anuyoga class of tantras, and from the ninth century onward Nyingmapas continually reframed it in their efforts to bridge "a perceived gap between the original tantra and the lived tradition."
In the twelfth century, for example, members of the famous Zur clan and their successors set the Gathering of Intentions Sutra within a newly formed canon of authoritative works in an attempt to fend off criticisms that this text was a Tibetan forgery. Then, in the seventeenth century, the abbot of a new Nyingma monastery sought to take away control of the Gathering of Intentions Sutra and its lineage from a rival Nyingma center, creating a collection of biographies of masters associated with this text and effectively framing his monastery as the nucleus of Nyingma tradition. Through careful analysis of materials spanning a millennium, Dalton demonstrates the crucial role of tantric ritual in understanding Tibetan history.
The female Tibetan Buddhist saint Sonam Peldren (1328-72) is said to have been an illiterate nomad without formal religious training or sectarian affiliation. Yet her claims to be an emanation of the Buddhist goddess Dorje Pakmo—not to mention stories about her performance of miracles, miraculous death, and posthumous visitations to her husband confirming her divine identity—generated a devoted following that continues in Tibet to this day. In Echoes of Enlightenment (Oxford 2016), Suzanne Bessenger couples analysis of extant writings about Sonam Peldren's life with research into her community of devotees to provide a nuanced look at the workings of saint production in Tibet.
In smart and vivid prose, Steven Antinoff narrates his decades of experience studying Zen Buddhism in America and Japan in Reports from the Zen Wars (Counterpoint 2016). He relays his hellish early experiences of sesshin in a Japanese monastery that included cold sleepless nights and excruciating days of seated meditation, which finally gave way to adaptation and a joy that he calls a "false reprieve" from ego preservation. He also describes Japanese practitioners like Toyoshima-san, a teacher and dedicated meditator who insisted on regular meditation even though he believed "it too is a waste." This is one of the most fascinating and honest books on Buddhism I've read in a long time.
Buddhism Beyond Borders (SUNY 2015), edited by Scott Mitchell and Natalie Quli, investigates issues in the academic study of Buddhism in North America as well as the challenges facing communities of Western Buddhist practitioners. Wakoh Shannon Hickey's chapter criticizes simplistic racial categorizations of American Buddhist groups such as "ethnic Buddhists" versus "convert Buddhists" while Helen Baroni describes the predicament of "solo practitioners" in North America; that is, Buddhists living in areas without access to teachers or sanghas. Consistently insightful, this volume is a major step forward for the study of Buddhism in the West.