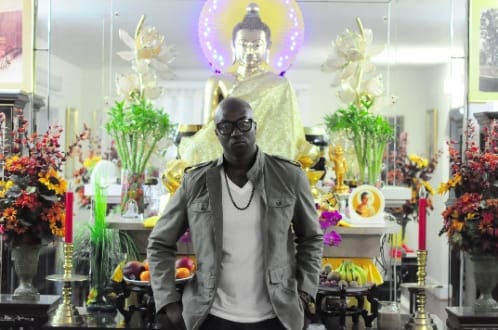 Born I Music. Photo by Chris Carr.
We asked rapper/musician/producer (and, meditation teacher) Born I Music a simple question: Can you tell us about another musician's song, one that, for you, really captures something about Buddhist practice? He answered with "Stop This Train" by singer/guitarist John Mayer. Here's his explanation why:
"Stop This Train" is probably one of the best and most brutal songs about impermanence I've ever heard. Just thinking of it makes me emotional. The resonant sadness I feel when I listen to it might be due in part to the chord progressions but really what John is saying lyrically holds the most power, I believe.
Just the chorus itself gives voice to the feeling we all feel when we really accept the fact that we can't hold on to any moments:
Stop this train I want to get off and go home again
I can't take the speed it's moving in
I know I can't
But honestly won't someone stop this train
It's that feeling of longing, whether for a day to last, the company of a friend or lover, that feeling of longing even in the moment of having what you desire, because some part of you knows its not going to last. That aching we feel in relation to all that we are attached to. Our life, our youth, our families, all of it.
Don't know how else to say it, don't want to see my parents go
This line says it all. I cry every time I hear it. When the Buddha talked about the ways in which we suffer, separation from loved ones is a major point. As I get older I'm aware of mortality in general. And I really love my parents… it just makes you say "FUCK, I'm helpless here." It's just true.
So scared of getting older
I'm only good at being young.
Jesus, tell me about it.
And just when I can't take it anymore, like the story of the Buddha himself, John's anguish gives rise to wisdom in the form of his father:
Had a talk with my old man
Said help me understand
He said turn 68, you'll renegotiate
Don't stop this train.
Don't for a minute change the place you're in
Don't think I couldn't ever understand
I tried my hand
John, honestly we'll never stop this train
Wow, what a song. Vipassana practice brings us to a place of accepting life as it truly is and finding out that its how we choose to relate to life that determines if we are happy or if we suffer. Hold on too tight, life will betray you. Allow the mystery to unfold with all its joy, sound and fury and you'll find wisdom, truth, happiness. Impermanence is not a death sentence, its a life sentence — to take our evolution by the reins and try to live the best we can with the time we have. Whew! What a  record.
See once in a while when it's good
It'll feel like it should
And they're all still around
And you're still safe and sound
And you don't miss a thing
'til you cry when you're driving away in the dark.
Singing stop this train I want to get off and go home again
I can't take this speed it's moving in
I know I can't
Cause now I see I'll never stop this train.
For more, check out our previous interview with Born here.