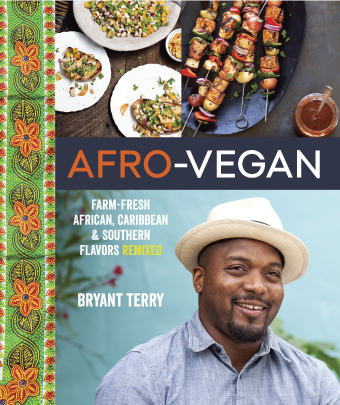 Bryant Terry is a celebrated vegan chef, activist, and author of the cookbook "Afro-Vegan." He's also a Buddhist, and maintains that practice and kitchen-work go hand-in-hand: "Before I engage in food preparation, I check to make sure I'm grounded, and if I'm not, I think about what I need to do recalibrate, whether it's taking a walk or doing a quick sit. The cooking process — from caramelizing onions to washing greens — is a meditation."
As an advocate for vegan eating, Terry says, "There's the misconception that a vegan diet is about denying ourselves something. I want to help people think about the diversity of foods available to us when we shift toward a plant-centered diet."
Here, Terry presents three vegan recipes—couscous, roselle-rooibos drink, and cocoa-spice cake—along with suggested books and musical tracks.
Couscous with Butternut Squash, Pecans and Currants
Yield: 4 to 6 servings
Soundtrack: "Persian Love Song" by Dead Can Dance from Toward the Within
Ingredients
3 tablespoons extra-virgin olive oil, plus more for oiling
1 pound butternut squash, peeled and cut into ½-inch pieces
1 teaspoon coarse sea salt
1 1/3 cups whole wheat couscous
1 ½ cups water
Large pinch of saffron threads
¾ cup currants
2 Medjool dates, pitted
½ cup chopped pecans
½ teaspoon ground cinnamon
2 tablespoons packed torn fresh mint leaves
Freshly ground white pepper
Directions
Preheat the oven to 425°F. Line a large, rimmed baking sheet with parchment paper. Oil a 2-quart baking dish.
Put the butternut squash in a large bowl. Drizzle with 1 tablespoon of the oil, sprinkle with 1/4 teaspoon of the salt, and toss until the squash is evenly coated. Transfer to the lined baking sheet and bake, stirring after 15 minutes, for 30 to 40 minutes, until the squash is soft and just starting to brown on the edges. Remove from the oven and turn the oven down to 350°F.
Meanwhile, warm 1 tablespoon of the oil in a medium saucepan over medium-high heat. Add the couscous and toast, stirring often, just until it starts to smell fragrant, 2 to 3 minutes. Remove from the heat.
Put the water and the remaining 3/4 teaspoon salt in a small saucepan and bring to a boil. Remove from the heat, add the saffron, and let sit for 1 minute. Pour over the couscous, add the currants, and stir well. Cover and let sit for 10 minutes.
Put the dates in a small bowl and add boiling water to cover. Let soak for about 5 minutes. Drain, reserving the liquid, and put the dates and 2 tablespoons of the soaking liquid in a blender. Add the remaining 2 tablespoons oil and process until creamy.
Transfer to a medium skillet over medium high heat. Add the pecans and cook, stirring constantly, until thoroughly combined, about 3 minutes. Scrape the contents of the skillet into the couscous and toss to combine, breaking up any big lumps of couscous. Transfer to the oiled baking dish, cover with aluminum foil, and bake for 15 minutes, until heated through.
To serve, pile the couscous in a high mound on a large serving platter. Make an indentation in the top and spoon in some of the butternut squash. Scatter the remaining squash around the edges. Sprinkle the cinnamon over the mound in even vertical stripes. Garnish with the mint, and give a few turns of white pepper.
Roselle-Rooibos Drink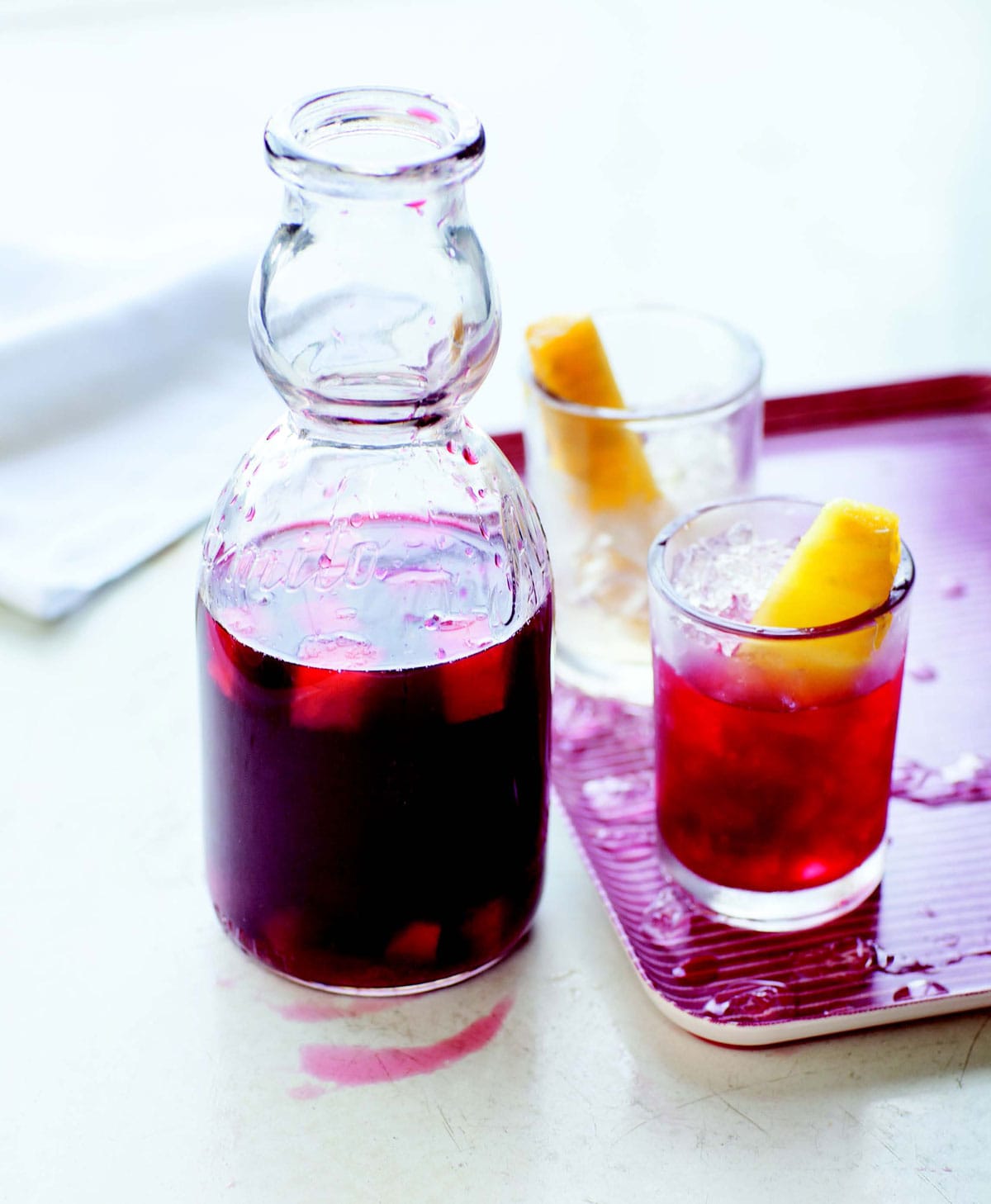 Yield: 4 to 6 servings
Book: Gully by Roger Bonair-Agard
Soundtrack: "Put Some Red on It" (Machinedrum Remix) by Spoek Mathambo from Put Some Red on It
Ingredients
6 ½ cups water
2 (2-inch) cinnamon sticks
6 tea bags or 3 tablespoons rooibos tea
2 cups dried hibiscus flowers
¾ cup freshly squeezed orange juice
1 cup agave nectar
2 cups cubed fresh pineapple, in 1-inch chunks, plus 6 spears
Ice, for serving
Directions
Put the water and cinnamon in a medium saucepan. Bring to a boil over high heat, then boil for 2 minutes. Add the rooibos, hibiscus flowers, orange juice, and agave nectar and mix well. Immediately remove from the heat, cover, and let stand for 30 minutes.
Uncover and let cool to room temperature. Strain through a fine-mesh sieve into a pitcher, pressing down on the solids to extract as much liquid as possible. (Compost the solids.) Add the pineapple chunks and refrigerate for at least 8 hours or overnight.
Serve over ice, garnishing each glass with a pineapple spear.
Cocoa-Spice Cake with Crystallized Ginger and Coconut-Chocolate Ganache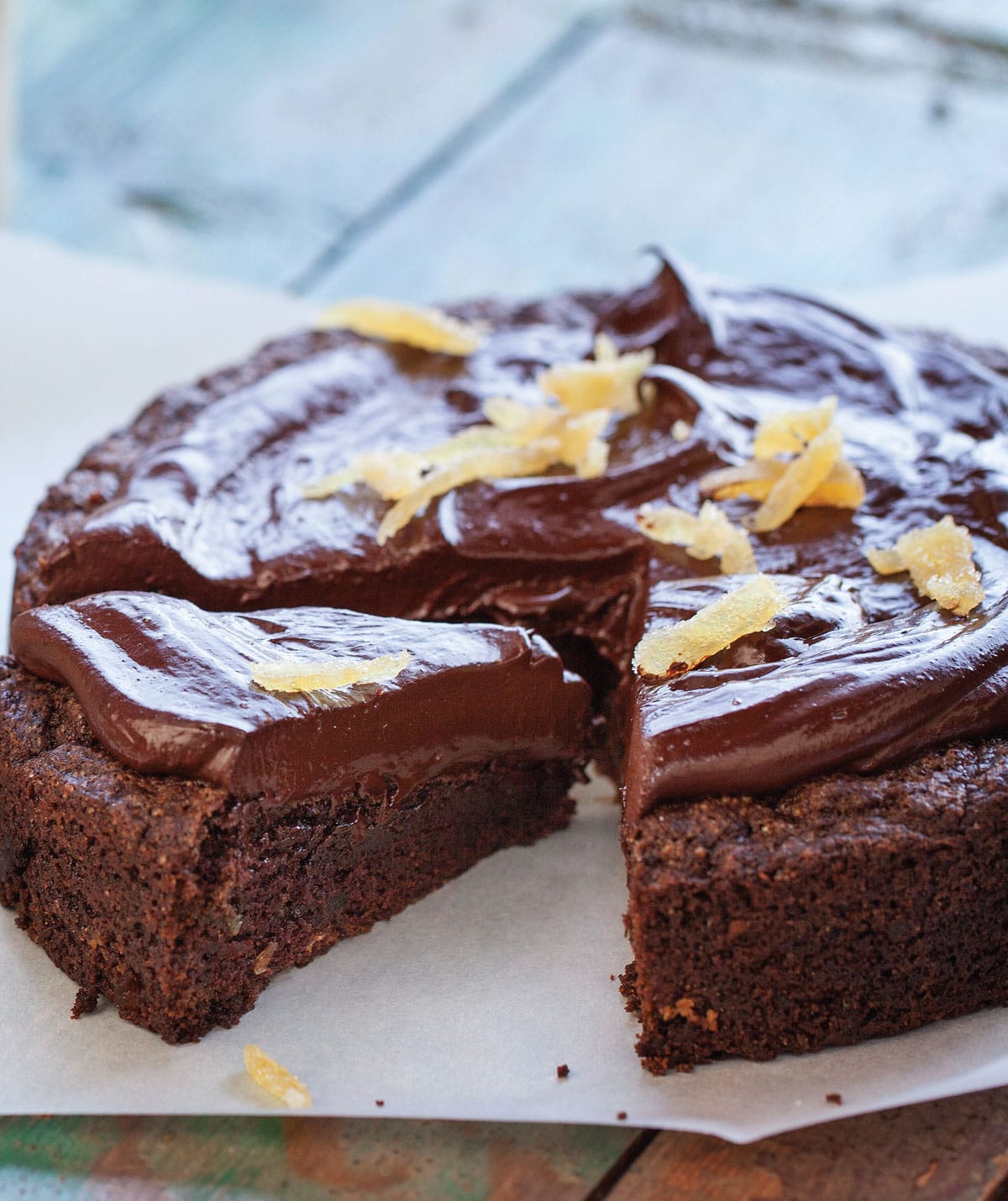 Yield: 8-16 servings
Soundtrack: "Marcus Garvey" by Burning Spear from Marcus Garvey/Garvey's Ghost
Book: The Other Side of Paradise: A Memoir by Staceyann Chin
Ingredients
Cake
¼ cup coconut oil, melted, plus more for oiling
1 cup plus 1 tablespoon fine raw cane sugar
¾ cup whole wheat pastry flour
¾ cup unbleached all-purpose flour
6 tablespoons unsweetened natural cocoa powder (not Dutch-processed)
11⁄4 teaspoons baking soda
1⁄2 teaspoon fine sea salt
Scant 1⁄2 teaspoon cayenne pepper
1⁄4 teaspoon ground nutmeg
1⁄2 cup plus 2 tablespoons coconut milk
1⁄4 cup packed mashed ripe avocado (about 1⁄2 medium avocado)
2 tablespoons plus 1 teaspoon dark Jamaican rum
1 tablespoon apple cider vinegar
1 teaspoon vanilla extract
3 ounces crystallized ginger, finely chopped (about 1⁄2 cup)
Ganache
5 ounces unsweetened baking chocolate, finely chopped
3⁄4 cup coconut milk
5 tablespoons raw cane sugar
1⁄8 teaspoon cayenne pepper
1 tablespoon dark Jamaican rum (optional)
12 thin slices crystallized ginger
Directions
Whenever I serve this cake, folks can't believe it's vegan, and they always get a kick out of it when I tell them that I include avocado to add moisture and natural cream¬iness. My assistant, Amanda Yee, came up with the idea of pouring a coconut-chocolate ganache over the cake. You can stop there and enjoy chocolaty bliss, or take it to the next level by pairing it with Vanilla Spice Rum Shakes.
To make the cake, preheat the oven to 375°F. Oil an 8-inch round cake pan with 2-inch sides.
Sift the sugar, flours, cocoa powder, bak¬ing soda, salt, cayenne, and nutmeg into a large bowl and stir with a whisk until well blended.
Put the coconut milk, oil, avocado, rum, vinegar, and vanilla extract in a blender and process until smooth (or put them in a large bowl and blend with an immer¬sion blender until smooth). Make a well in the center of the dry ingredients and add the wet ingredients and the ginger. Fold together until uniformly mixed. Scrape the batter into the prepared pan and spread in an even layer. Bake for 30 to 40 minutes, until a toothpick inserted in the center comes out clean. Let cool in the pan for 15 minutes. Slide a butter knife around the edge, then invert the cake onto a rack and let cool to room temperature.
To make the ganache, put the chocolate in a medium heatproof bowl. Put the coconut milk, sugar, and cayenne in a small saucepan and heat until steam¬ing hot (avoid boiling), stirring often, until the sugar has dissolved. Slowly pour over the chocolate and let stand until the chocolate is melted, 3 to 5 minutes. Add the rum and whisk until completely smooth. Let stand at room temperature, stirring occasionally, until slightly cooled but pourable, about 5 minutes.
To glaze the cake, pour the ganache evenly over the cake and let stand until the ganache is set, about 30 minutes. Garnish with the ginger slices.
Reprinted with permission from "Afro-Vegan" by Bryant Terry, copyright (c) 2014. Published by Ten Speed Press, a division of Penguin Random House, Inc. Photography (c) 2014 by Paige Green. To purchase "Afro-Vegan," visit IndieBound.