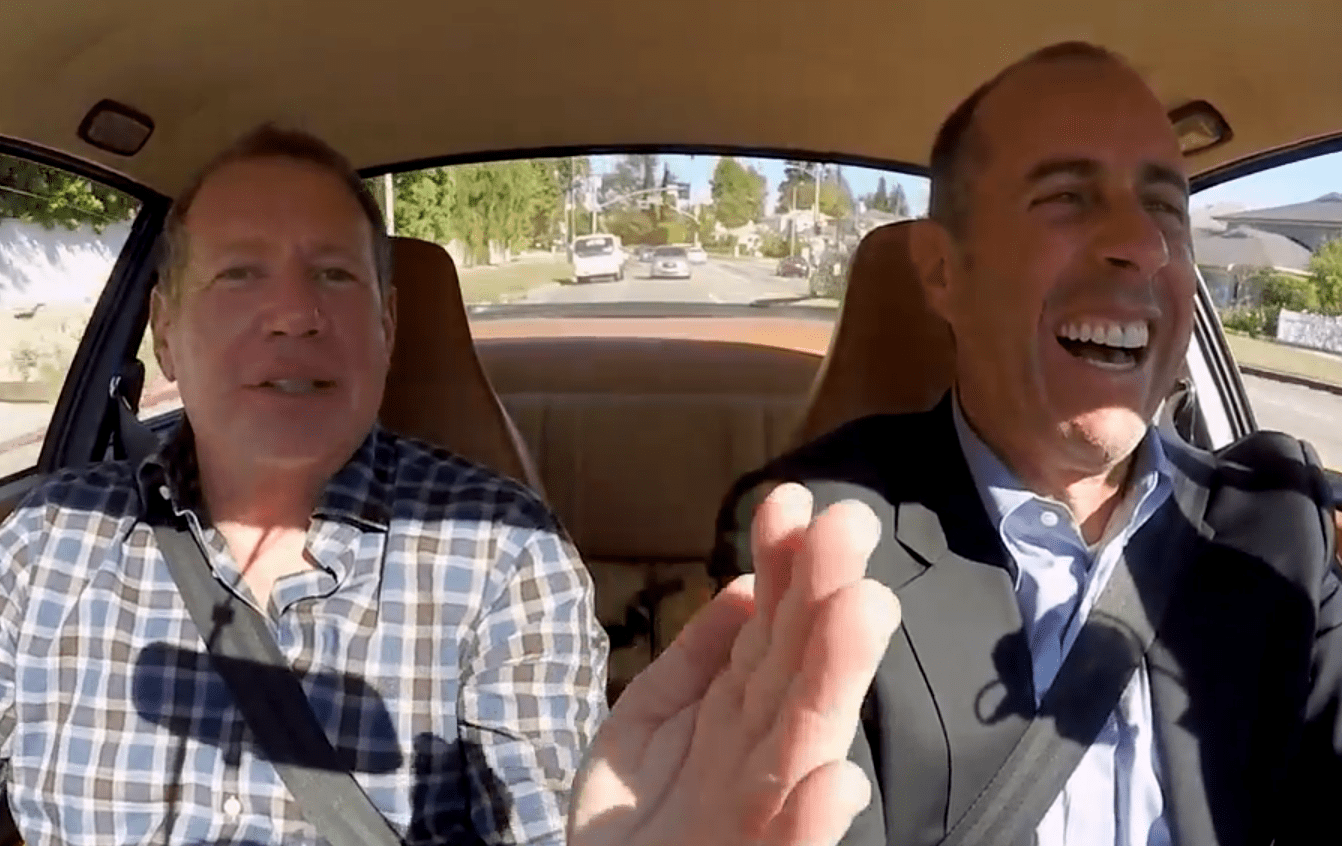 Via comediansincarsgettingcoffee.com
In the latest installment of Jerry Seinfeld's web-series Comedians in Cars Getting Coffee, the comedian is Seinfeld's old friend, Garry Shandling. (The car, for the record, is a Porsche 911, and the coffee is black.) At the end of the video, Shandling — whose life and work have been informed by Buddhist practice, most especially the teachings of Thich Nhat Hanh — recalls once telling a joke for an audience of Buddhist monks, one of whom was His Holiness the Dalai Lama. You should watch the episode, so you can hear the story told in Shandling's inimitable way (it begins at the 20:00 mark), but here it is in case, as with some of us, Shandling's voice is already in your head:
So one time I was with the Dalai Lama and he said, "I understand you have some joke about the Buddha." How would you like to be in this position? …. And you know, he's looking at me and he's got the glasses on, and he's the Dalai Lama. I'm talking to the Dalai Lama. And I'm comfortable with that. And I said, "Well, [delivering the joke]:

"Buddha never got married 'cause his wife would have said, 'What are you gonna do, sit around the house like that all day?'

"Well, I'm meditating, honey."

"Why don't you meditate while you're taking out the trash?

And there's dead silence in this little hut, excerpt for the three American monks, who are laughing hysterically. And so then I explained to him the joke: "In American culture, the husbands and wives sometimes argue because the wife thinks the husband is lazy and sitting around…"

And [the Dalai Lama] goes, "Oh… Funny."

That's what you want — you want to have a three-minute gap from when you tell the joke to when you get the laugh."
Shandling is hardly the first to bomb with a Buddhism joke told to the Dalai Lama. Who can forget this gem? (Note: Should you wish to tell this joke yourself, replace "walks into a pizza shop" with "walks up to a hot dog vendor." It will likely go better for you.) Video:
That classic joke's punchline, by the way is the title for a Buddhadharma forum on Buddhism and humor — featuring Bernie Glassman, Carolyn Rose Gimian, and Norman Fischer. Read it here.
One last Shandling/comedy/Buddhism note: recently we told you that comedian Pete Holmes (also featured in "Wise Fools") had conducted an interview with Buddhist teacher David Nichtern. Well, Holmes has now also interviewed Shandling, too, for his podcast. You can hear that here.