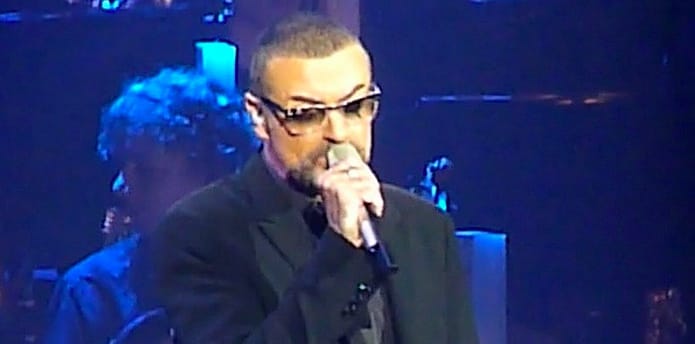 George Michael sings on his "Symphonica" tour, 2011. (Photo by Frantogian, Creative Commons.)
When the news broke, Christmas Day, of the death of singer George Michael at 53, fellow pop star and namesake Boy George was among the countless fans seeking to pay tribute on social media. In an extended tweet, Boy George referenced the spirituality that has informed his own life and, perhaps, that of George Michael: the practice of Nichiren Buddhism.
I am thinking of @GeorgeMichael's family, friends and fans right now. He was so loved and I hope he knew it because the sadness today is beyond words. Devastating. What a beautiful voice he had and his music will live on as a testament to his talent. I can't believe he is gone. I hope the Buddha will hold him in his arms. NMRK.
As Boy George later clarified for a Twitter follower, "NMRK" here stood for "Nam Myoho Renge Kyo," the chanted mantra central to Nichiren Buddhism. While Boy George has long been open about his engagement in the practice, references to George Michael's are, to date, almost non-existent; his true connection to the practice remains unclear. In a 2006 Daily Mail article that centered on Michael's use of marijuana, which he reportedly struggled with, a friend of the singer confirmed that he had "become a Buddhist convert" and taken up the practice of chanting.
Buddhist or not, it seems clear that the beloved singer was quietly but seriously committed to the practice of generosity, as a new Mirror article, released December 26, details.