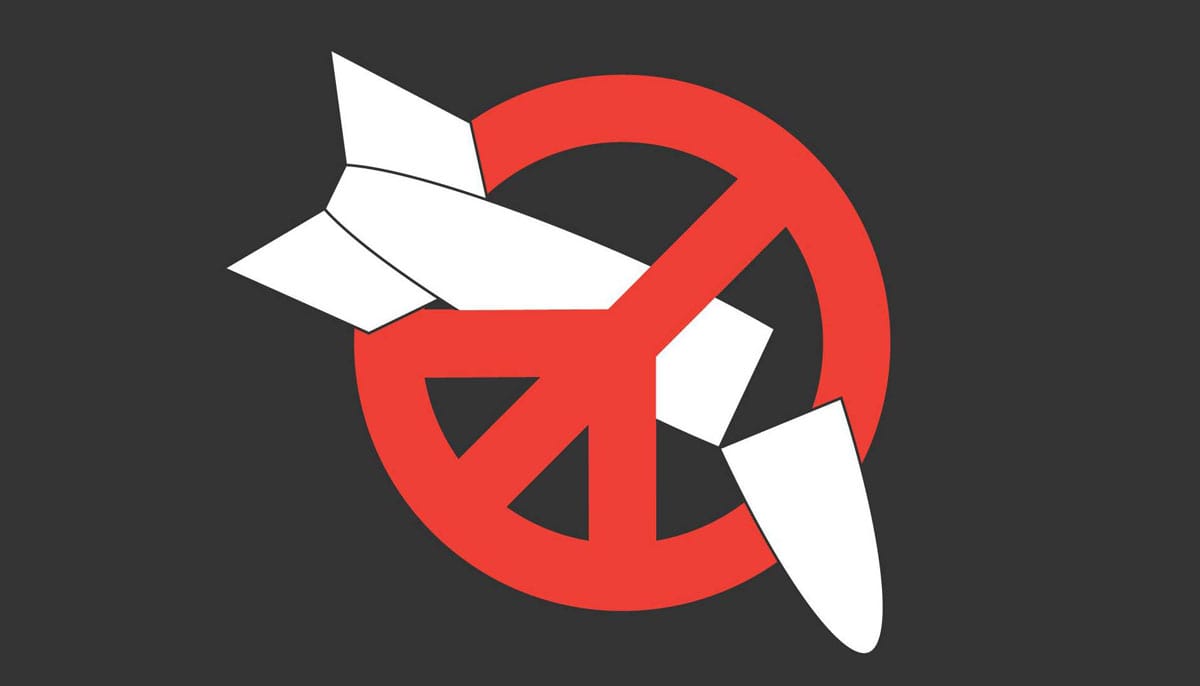 The International Campaign to Abolish Nuclear Weapons logo. Via ICAN on
Facebook.
In October, the International Campaign to Abolish Nuclear Weapons (ICAN) — a coalition of non-government organizations — was awarded the 2017 Nobel Peace Prize for their work toward the abolition of nuclear weapons.
Since 2007, ICAN has collaborated with Buddhist organization Soka Gakkai International (SGI) to develop educational tools, promote youth involvement, and raise awareness on nuclear disarmament.
"As Buddhists upholding the value and dignity of life, we believe that [the use of nuclear weapons] can only be countered through a sustained effort to expand our individual and shared capacities for imaginative empathy," says Kimiaki Kawai, the Director of Peace and Human Rights for SGI.
To educate and raise awareness, SGI and ICAN co-produced a set of interviews with surviving victims of the 1945 atomic bombings, referred to as hibakusha, as well as several educational exhibitions shown at venues in Norway, Mexico, and Bahrein. In 2015, SGI also co-organized the International Youth Summit for Nuclear Abolition in Hiroshima with ICAN and several other representatives.
"SGI has been one of our greatest partners in this fight," said Beatrice Fihn, executive director of ICAN, in an interview after the adoption of the Treaty on the Prohibition of Nuclear Weapons in July at the United Nations.
The treaty is the first legally binding international agreement to completely ban nuclear weapons. While more than 120 states have adopted the treaty, this does not include states with nuclear weapons nor their closest allies, such as the U.S., Russia, Britain, Canada, and China.
With almost 15,000 nuclear weapons in the world today, the Norwegian Nobel Committee says the 2017 Nobel Peace Prize is a call for all states to initiate negotiations on disarmament.
Kawai says nuclear weapons are based on the radical negation of others, their humanity, and their right to happiness and life. He believes we must empathize with others and embrace their dignity in order to realize our shared quest for global security.
He points to the Buddha's teachings in the Dhammapada, which say: "All tremble at violence; life is dear to all. Putting oneself in the place of another, one should not kill nor cause another to kill."
Kawai says the peace prize and the adoption of the treaty are encouraging steps on the path to nuclear abolition. The next challenge is informing and convincing as many people as possible that the treaty is relevant.
To help do so, SGI and ICAN recently released a free animated short, Reshape History, that chronicles the dangers of nuclear weapons.
The award will be presented to ICAN on Sunday December 10, in Oslo, Norway. ICAN's Executive Director Beatrice Fihn, and Setsuko Thurlow, a hibakusha who was living in Hiroshima at 13-years-old when the U.S. dropped the first of two nuclear weapons on Japan.
The ceremony will be livestreamed on December 10 at 7 a.m. EST via the YouTube.