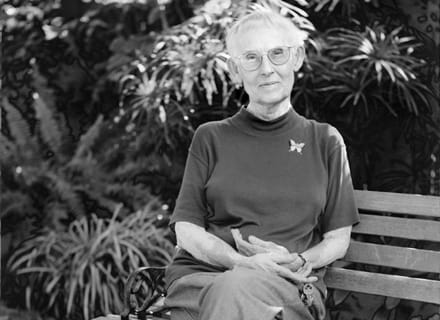 Charlotte Joko Beck (Photo © 
Michael Lange
)
Barry Magid remembers the great pioneer of American Zen, Charlotte Joko Beck, whose influence is "reflected in a sea change in how our generation thinks about the nature of practice."
It is not an overstatement to say that Joko Beck transformed the face of Zen in America, not in the least by making it the face of a woman. She was among the first generation of Westerners to inherit the dharma from their Japanese masters, at a time when a focus on the experience of kensho, or awakening, led to a dismissive attitude toward problems that were "merely" psychological. Having fully mastered the traditional koan system, Joko worked to restore a sense of emotional reality to a scene that had become increasingly plagued by scandal and misconduct by our allegedly enlightened role models. She had the courage to say that her own teacher's training had done little to curb his alcoholism or deal with his character problems. Furthermore, his wasn't an unfortunate exception, but pointed to a deeply ingrained tendency to enshrine emotional bypassing into the very heart of traditional Zen training. She put dealing with anger, anxiety, pride, and sexual exploitation of students into the center of what we must deal with in our practice.
Her dharma seeds are scattered far and wide. They will go on sprouting in ways we cannot predict and cross-fertilize with other lineages. The Ordinary Mind School may grow or wither, but Joko's influence is now everywhere.
THANK YOU FOR READING LION'S ROAR. CAN WE ASK FOR YOUR HELP?
At Lion's Roar, our mission is to communicate Buddhist wisdom in today's world. The connections we share with you — our readers — are what drive us to fulfill this mission.

Today, we're asking you to make a further connection with Lion's Roar. Can you help us with a donation today?
As an independent nonprofit committed to sharing Buddhist wisdom in all its diversity and breadth, Lion's Roar depends on the support of readers like you. If you have felt the benefit of Buddhist practice and wisdom in your own life, please support our work so that many others can benefit, too.

Please donate today — your support makes all the difference.

Lion's Roar is a registered charity in the US and Canada. All US & Canadian donations are tax deductible to the full extent allowed by law.