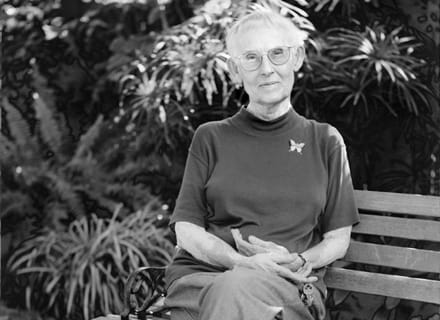 Charlotte Joko Beck (Photo © 
Michael Lange
)
Barry Magid remembers the great pioneer of American Zen, Charlotte Joko Beck, whose influence is "reflected in a sea change in how our generation thinks about the nature of practice."
It is not an overstatement to say that Joko Beck transformed the face of Zen in America, not in the least by making it the face of a woman. She was among the first generation of Westerners to inherit the dharma from their Japanese masters, at a time when a focus on the experience of kensho, or awakening, led to a dismissive attitude toward problems that were "merely" psychological. Having fully mastered the traditional koan system, Joko worked to restore a sense of emotional reality to a scene that had become increasingly plagued by scandal and misconduct by our allegedly enlightened role models. She had the courage to say that her own teacher's training had done little to curb his alcoholism or deal with his character problems. Furthermore, his wasn't an unfortunate exception, but pointed to a deeply ingrained tendency to enshrine emotional bypassing into the very heart of traditional Zen training. She put dealing with anger, anxiety, pride, and sexual exploitation of students into the center of what we must deal with in our practice.
Her dharma seeds are scattered far and wide. They will go on sprouting in ways we cannot predict and cross-fertilize with other lineages. The Ordinary Mind School may grow or wither, but Joko's influence is now everywhere.
Can you help us at a critical time?

COVID-19 has brought tremendous suffering, uncertainty, fear, and strain to the world.
Our sincere wish is that these Buddhist teachings, guided practices, and stories can be a balm in these difficult times. Over the past month, over 400,000 readers like you have visited our site, reading almost a million pages and streaming over 120,000 hours of video teachings. We want to provide even more Buddhist wisdom but our resources are strained. Can you help us?
No one is free from the pandemic's impact, including Lion's Roar. We rely significantly on advertising and newsstand sales to support our work — both of which have dropped precipitously this year. Can you lend your support to Lion's Roar at this critical time?