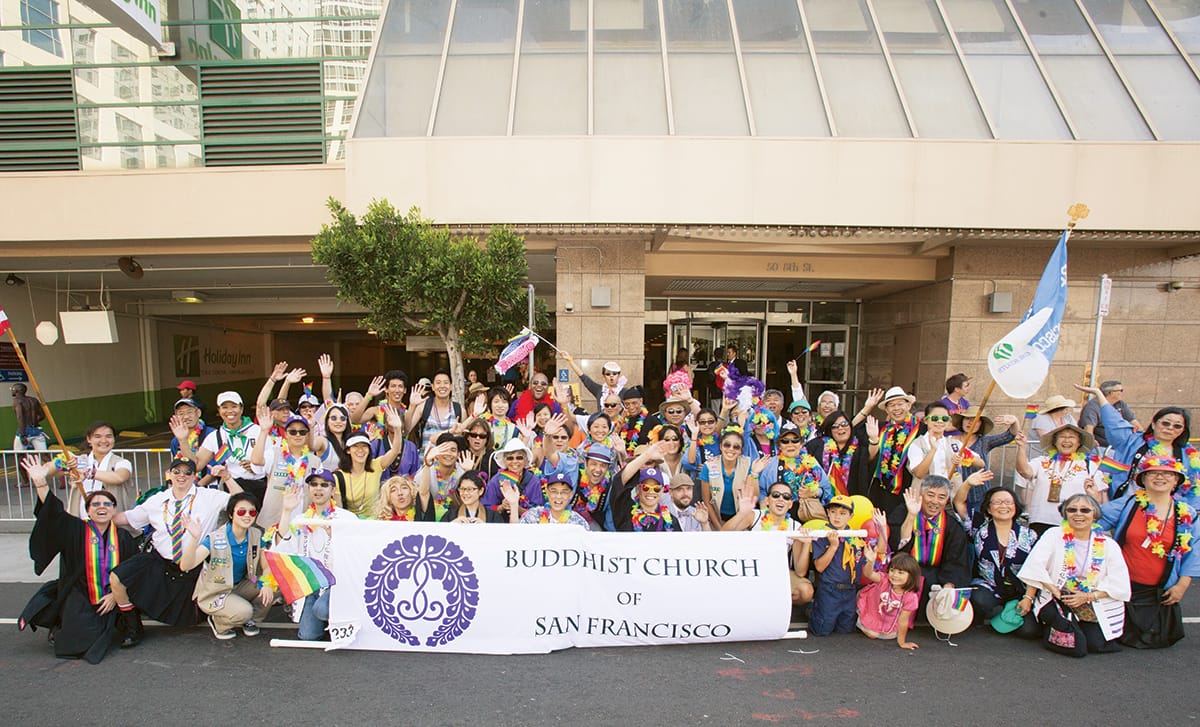 Photo by Philip Weitz.
When reverend Kiyonobu Joshin Kuwahara asked himself that question, he wasn't sure of the answer. So he decided to find out.
One of the most memorable events of my life was attending the Buddhist Teachers' Council at the Garrison Institute in New York during the summer of 2011. I am deeply grateful to have had the opportunity to meet so many inspiring teachers from different traditions and to have gained such wonderful insight through group discussions and one-on-one conversations.
A recurring theme of the council was safety— specifically, that a sangha should be a safe place for everyone, especially for those who have experienced exclusion or discrimination. Some of the teacher participants shared their stories of exclusion by their previous religious institutions, experiences that led them to seek the Buddhist path. Their stories helped me realize the importance of including those who identify as lesbian, gay, bisexual, transgender, or queer (LGBTQ) within our sanghas. I asked myself, "Do we, as Jodo Shinshu Buddhists, include the LGBTQ community? Are our sanghas inclusive?" Later, I talked with several sangha members and found that many of them had a strong interest in these questions as well.
The membership of the Buddhist Churches of America (BCA) is primarily composed of Japanese Americans. Thus, historically, we have been influenced by Japanese culture and its emphasis on conformity. The LGBTQ community has not been openly accepted in Japan—those who stand out are forced to adapt themselves to the norm. I knew there were a number of gay, lesbian, bisexual, and transgender members in the BCA. However, I was not sure if they felt accepted within their respective sanghas or if they were comfortable being open about their sexuality in that context. This doubt led to my decision to have the Center for Buddhist Education (CBE) hold a seminar to explore these questions.
On June 22, 2013, just four days prior to the Supreme Court decision to overturn the Defense of Marriage Act and one week prior to the forty-third annual San Francisco Pride Celebration and Parade, we hosted our seminar, Over the Rainbow: The LGBT Community and Shin Buddhism, at the Jodo Shinshu Center in Berkeley, California.
Three BCA priests spoke in the morning. The first explored the Buddhist perspective on homosexuality, discussing the monastic precept of celibacy and the lay precept of sexual responsibility. The second addressed the Jodo Shinshu perspective of Universal Oneness, the profound teaching of boundless wisdom and compassion open to all sentient beings just as they are. And the third lecturer detailed positions taken by the BCA with respect to LGBTQ issues, including the BCA's forty-year practice of performing same-sex marriages.
In the afternoon, five panelists shared their experiences of growing up LGBTQ and their paths to Buddhism. Some shared their struggles and hardships, especially in terms of relationships with their parents. Others spoke of their feelings of acceptance and inclusion within their respective sanghas. After the panel, we formed small discussion groups so that everyone present could share their thoughts and comments freely.
Listening to the animated conversations during dinner and reading participants' feedback after the event, I realized that we had successfully created a beneficial forum for dialogue. I myself learned a lot from this one-day seminar. What impressed me most was the panelists' deep commitment to living within the teachings and the gratitude and joy they find in being part of their sanghas.
Prior to this event, the BCA had had a long history of LGBTQ inclusion; the first same-sex marriage ceremony performed by a BCA priest occurred in the 1970s. In 2004, the BCA Ministers' Association issued a formal resolution condemning the U.S. government's prohibition of same-sex marriage. Earlier this year, the Ministers' Association again took a stand with a formal resolution encouraging the Boy Scouts of America to remove all limitations of participation due to sexual orientation, both for scouts and leaders. And just last month, the Buddhist Church of San Francisco, for the first time in its history, participated as an official contingent in the 2013 San Francisco LGBTQ Pride Celebration and Parade.
The Buddha's teachings are for everyone. We strive to follow the spirit of Buddha and share the dharma with others universally. All of our BCA temples share a common teaching of openness and inclusion. Our struggle is to ensure that each of our temples expresses it. Exclusion and discrimination, even in our minds, is not justifiable. That said, discriminatory attitudes may arise. At such times, we should humbly scrutinize ourselves under the light of the dharma and sincerely receive Buddha's guidance. Only then can there be genuine respect, enabling everyone to find a safe and welcoming place within the Buddhist community.
The sangha, for me, is where the dharma finds its actual dynamic expression. It is this very dynamism that allows us to transform our ignorance into the awareness of living as equals, together, within the dharma.
Namo Amidabutsu