An AI robot answers your spiritual questions. Bonnie Nadzam reviews this innovative new book and other titles coming out this fall.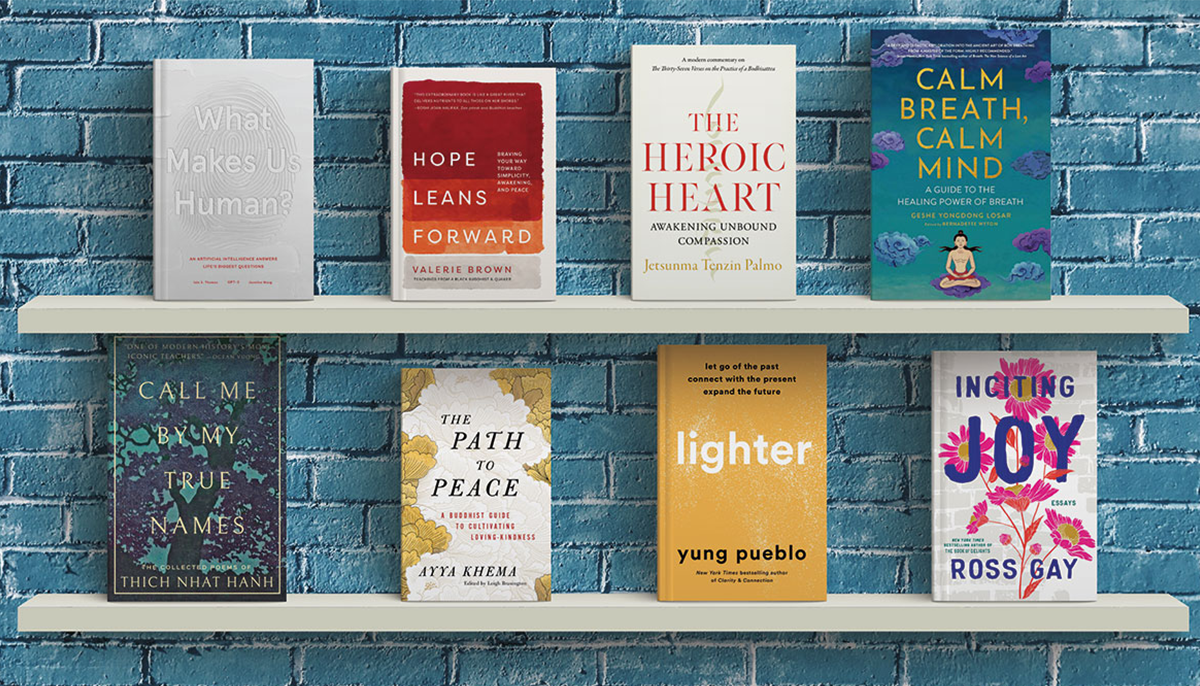 There's no way around it—the premise of What Makes Us Human (Sounds True) is bold and unsettling. Poet Iain S. Thomas and researcher Jasmine Wang fed the world's most advanced artificial intelligence, GPT-3, with some of humanity's greatest spiritual texts—the Bible, the Tao Te Ching, the poetry of Rumi and Sappho, etc. Then they asked it a series of questions about navigating life: Is happiness possible? How can I be a good parent? Is what I'm doing important? How do I make peace with my body? What is the secret to the creative process? GPT-3's answers offer insight that is pithy and resounding, much like the source material from which it draws. (Question: "What does it mean to experience joy?" GPT-3: "We must not let the clamor of the world drown out the quiet joy of the spirit.") While I initially approached the project with some skepticism and maybe even a little dread, it is utterly compelling and provocative, and cannot but be full of wisdom.
Ordained Buddhist teacher and Quaker Valerie Brown was already experiencing personal loss when 2020 struck, with its emerging pandemic and the horrors of racial injustice in the U.S. Brown opens Hope Leans Forward (Broadleaf Books) with a clear-eyed and vulnerable inventory of those heartbreaking days. She then integrates her personal experience and practices with stories of real people in marginalized communities who are likewise navigating extremely difficult circumstances by taking simple, deliberate actions that are available to us all. A Black Buddhist Dharma teacher in the Plum Village tradition, Brown follows each narrative with practices grounded in the teachings of Thich Nhat Hanh. Finally, each chapter includes a list of Quaker "queries"—questions meant to help hone the reader's discernment. Fundamentally, she encourages us to become increasingly vulnerable, increasingly resilient, and increasingly capable of fierce love.
The mind—and how one uses it—is fundamental to the Buddhist path. In The Heroic Heart (Shambhala Publications), Jetsunma Tenzin Palmo, one of the first Westerners to be ordained as a Buddhist nun, reflects on the beloved fourteenth-century Tibetan text on lojong ("mind training") called "Thirty-Seven Practices of a Bodhisattva." The practices Tenzin teaches us involve nothing more—and nothing less!—than training one's self out of the habitual ways we respond to life situations, especially difficult ones. Beginning with habits of mind and emotion, she addresses how to embody compassion and awareness, bringing this ancient wisdom to bear on contemporary life.
"Breath is a horse/that carries the mind," says Geshe YongDong Losar, a monk in Tibet's Bön tradition and now a teacher in Canada. Calm Breath, Calm Mind (Wisdom Publications), feels remarkably, mysteriously alive for the way he integrates Tibetan breath practices with perfectly timed exercises and breaks in the text that make it feel like the book itself is a breath exercise. Geshe YongDong carefully elucidates the ancient practice of breath energy (called lung in Tibetan, but better known as prana in Sanskrit or chi in Chinese), to balance the emotional, physical, and mental dynamics of the body. He makes what is potentially a very complex and theoretical system seem quite intuitive and clear.
With his recent passing has come a welcome flood of remembrances and teachings of Thich Nhat Hanh. Now that includes a new edition of his classic Call Me By My True Names (Parallax Press). This renowned collection of more than fifty mystical, personal poems takes into account many chapters of his early life, including his experiences as a young man in war-torn Vietnam, fleeing his homeland, his path to becoming a teacher, and the activism for which he became world-famous. His wisdom and profound teaching on our need to deeply recognize each other are evident in every piece, mostly famously in the startling, and even radical, title poem that integrates the voices of a pirate, a young girl, and Thich Nhat Hanh himself. This new edition features an introduction by poet and novelist Ocean Vuong that is itself a gorgeous, incisive, and wise essay.
While it is evident that the Buddha understood our human condition and how to live peacefully from a place of loving-kindness, what about us folks living in the twenty-first century? The only place we can start, says the late German-born Buddhist nun Ayya Khema, is with our own daily lives. In The Path to Peace (Shambhala Publications), she reflects on the fifteen conditions the Buddha said must precede attaining a state of metta (loving-kindness). Some will be quite familiar to the Buddhist practitioner—being not proud, being upright, etc.—while others are less well-known, such as "being easy to speak to," "being mild," and "abstaining from the ways the wise ones blame." With humor and personal anecdotes, Ayya Khema shows us how we can embody these conditions in our contemporary lives in order to live with more loving-kindness.
Yung Pueblo, the pen name of writer Diego Perez, means "young people." It's a name he uses to remind himself that humanity is collectively in the midst of growth. In Lighter (Random House), he aims to bridge the ideas of personal transformation and global transformation, showing how they function in support of each other. Grounded in what he deems to be the universals, regardless of the rules or precepts of particular spiritual practices, Pueblo's book guides the reader to explore their own inner world as kindly and unflinchingly as possible, in the trust that healing and changing oneself is a critical way to transform the world. He begins with his own path out of addiction, and a near-death moment when he realized he had become a perfect stranger to himself. Facing our own demons, turning right toward them, he suggests, is the most direct way to reconnect with our intuition and fundamental loving nature. The more we practice doing so, the more our ability to transform ourselves and the world grows.
It is as uncommon in the daily mainstream to bear witness to joy as it is to consider what joy really is. How, for example, is deep grief also potentially joyful? Where is the joy in a handwritten "be right back" note, and why does it merit serious consideration? In his collection of essays, Inciting Joy (Algonquin Books), poet Ross Gay has chosen several unlikely candidates—gardening, hanging out, planning an orchard, losing your phone—as opportunities for experiencing abundant joy. Gay's ear is of course impeccable, his pace breathless, and his insights on community, masculinity, public space, privilege, and disprivilege incisive and urgent. It is a balm and a directive for otherwise divisive, turbulent times and utterly rooted in the compassionate sensibilities of a vital, brilliant artist.