Qalvy Grainzvolt gets personal with the Lion's Roar readership.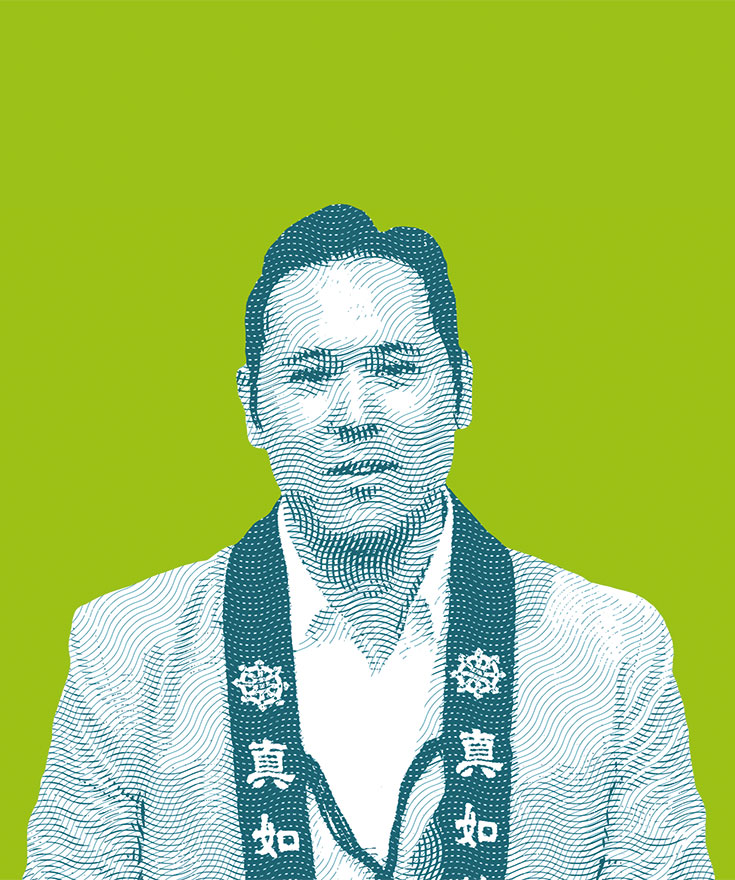 In 1977, I was born in an old Manhattan apartment… literally. I was not born in a hospital.
My father, a Bronx native, was a public-school teacher. My mother, originally from Japan, worked tirelessly at home raising my brother and me. In a spiritually nomadic fashion, my family tried out various traditions throughout my childhood, eventually settling on Shinnyo Buddhism when I was in high school.
As very little Shinnyo-en literature was translated into English at the time, I was uninterested at first. Yet I found resonance with the practices of meditation and recitation of sutras and mantras. They helped alleviate some of the anxiety I felt being a teen.
During college, I enlisted in the New York Army National Guard, and a year later, upon finishing my undergraduate degree in nutritional sciences, I was selected as one of ten people in the United States for commissioning as an active-duty second lieutenant in the U.S. Army Medical Specialist Corps—en route to becoming a staff army dietitian at Walter Reed Medical Center in Washington, D.C. Ultimately, I turned this position down last minute to pursue service in the Shinnyo-en priesthood.
I've been serving as an ordained member of the clergy, full-time, ever since. Now, as the only Buddhist police chaplain in New York state, I teach first responders and essential workers how to meditate and employ de-escalation techniques. With a graduate degree and licensure in clinical mental health counseling, as well as being a faculty member at New York University teaching meditation, I find living at the nexus of spirituality, forensic mental health, mindfulness, and public safety a true testing ground for Buddhist teachings.
Primary teachers?
Her Holiness Shinso Ito, the spiritual leader of Shinnyo-en. Also, my fellow human beings, especially those with whom I have a harder time getting along.
Favorite meditation practice?
Shinnyo-en sesshin meditation as well as my never-ending attempts to transform waiting in line—either in-person or on the phone—into meditative moments.
What dharma books do you recommend?
Dr. Seuss's I Had Trouble in Getting to Solla Sollew.
Your favorite virtue?
Generosity. It unlocks something sacred within.
Your chief characteristic?
Optimism. Sometimes it works wonders.
Your principal poison?
Ignorance. It's challenging because it stays hidden within the shadowed spaces of mind and heart for so long.
If not yourself, who would you be?
A professional ballroom dancer with a specialty in tango.
Your idea of happiness?
The peace and mirth that accompany family gatherings. Also, discovering that family transcends biological bonds.
Your idea of misery?
The monotony and hopelessness of incarceration whether in form, habit, or thought.
What's the worst job you've ever had?
Shouting at the top of my lungs to sell periodicals and magazines. It did help me overcome shyness, so maybe it wasn't the worst after all!
Name three of your heroes.
Essential workers, my family, and the A-Team.
The natural talent you'd most like to have?
A Broadway-caliber singing voice.
Your favorite author?
Too many to list. Off the top of my head: J. R. R. Tolkien and Audre Lorde.
Your favorite musician or group?
I worked for thirteen years at the Metropolitan Opera House, so Puccini operas are among my favorite musical works. Dire Straits, Cass Elliot, and Bob Marley also hit the spot.
What's for dinner?
Homemade sushi, shiso-leaf salad, and green tea pudding.
A motto that represents you?
"The Universe is made of stories, not atoms."—Muriel Rukeyser. If I could expand upon Rukeyser's poetry, I'd add: "Always seek time to learn one another's stories. It's a sure-footed path toward peace, connection, and healing."
Guilty pleasure?
Binging TV. The Walking Dead, Billions, Outer Range, and Quantum Leap (the 1989 version).