Learn more about Buddhist teacher, Ven. Dr. Jue Ji.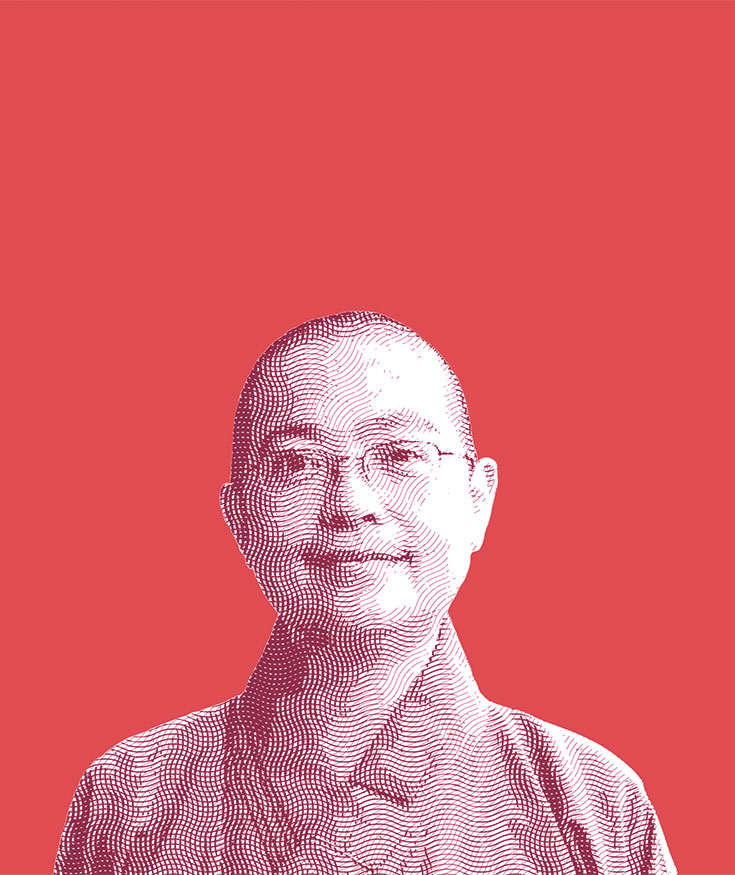 I grew up in Taipei, Taiwan. Born in the Year of Rat, I was a street-smart person. Since I have practiced Buddhism, I have tried to take off the secular layer of me and be a selfless monastic. But it is hard to beat that inborn nature!
Like most families in Taiwan, we practiced folk religion at home, worshipping all kinds of gods and goddesses out of fear instead of respect. It was not until I started attending Buddhist dharma lectures in my mid-twenties that I saw religion from a different perspective.
Buddhism helps people find inner peace and see things as they really are. Having learned we are born again and again in the cycle of the six realms, based on the karma accumulated life after life, I became a vegetarian immediately. That decision was a turning point in my life. I began to befriend vegetarian dharma brothers and sisters from the Buddhist communities and they encouraged me to explore the dharma further. So I quit my job in the corporate world and renounced my household life. I was tonsured under Venerable Master Hsing Yun of the Fo Guang Shan Buddhist Order in 1990 and became a fully ordained Buddhist bhiksuni in 1991.
For the past three decades, I have dedicated myself to the study and practice of Humanistic Buddhism. I am currently a dharma teacher and the director of Fo Guang Shan Xiang Yun Temple in Austin, Texas. I feel blessed in choosing this path so I can serve others and help them understand the Buddha's teaching. It is very rewarding when I see visitors appreciate the beauty and serenity of my temple. I believe that the bodhi seeds have been planted in their minds by their visit, and those seeds will sprout and grow somewhere, someday.
What is your practice tradition?
Chinese Mahayana Buddhism in the Fo Guang Shan Order of Humanistic Buddhism.
Primary teacher?
Venerable Master Hsing Yun.
What is your current project?
"Vege Plan A," introducing a vegetarian diet to Buddhists and non-Buddhists. This is a project of Buddha's Light International Association, an affiliated organization of Fo Guang Shan. Through food sales, we introduce various vegetarian food items to our community members.
Favorite meditation practice?
I like chanting. What could be a better meditation practice than the integration of body, speech, and mind in communication with the Buddha?
What dharma books do you recommend?
Buddha-Dharma Pure and Simple, by Venerable Master Hsing Yun.
Your favorite virtue?
Honesty. Be true to oneself and others.
Your chief characteristic?
Sharing, joyful, positive.
Your principal poison?
Vulnerable in front of food, especially potato chips.
Your idea of happiness?
To appreciate my duty.
Your idea of misery?
Joblessness.
What's the worst job you've ever had?
Tutoring math in my college days. I was not good at math.
If not yourself, who would you be?
An ocean that can travel all over places and meet all kinds of people and beings.
The natural talent you'd most like to have?
Mentoring teenagers.
Your favorite current TV show?
America's Got Talent.
What's for dinner?
Dumpling + noodle soup.
A motto that represents you?
Every day is a good day.
Guilty pleasure?
Afternoon tea.