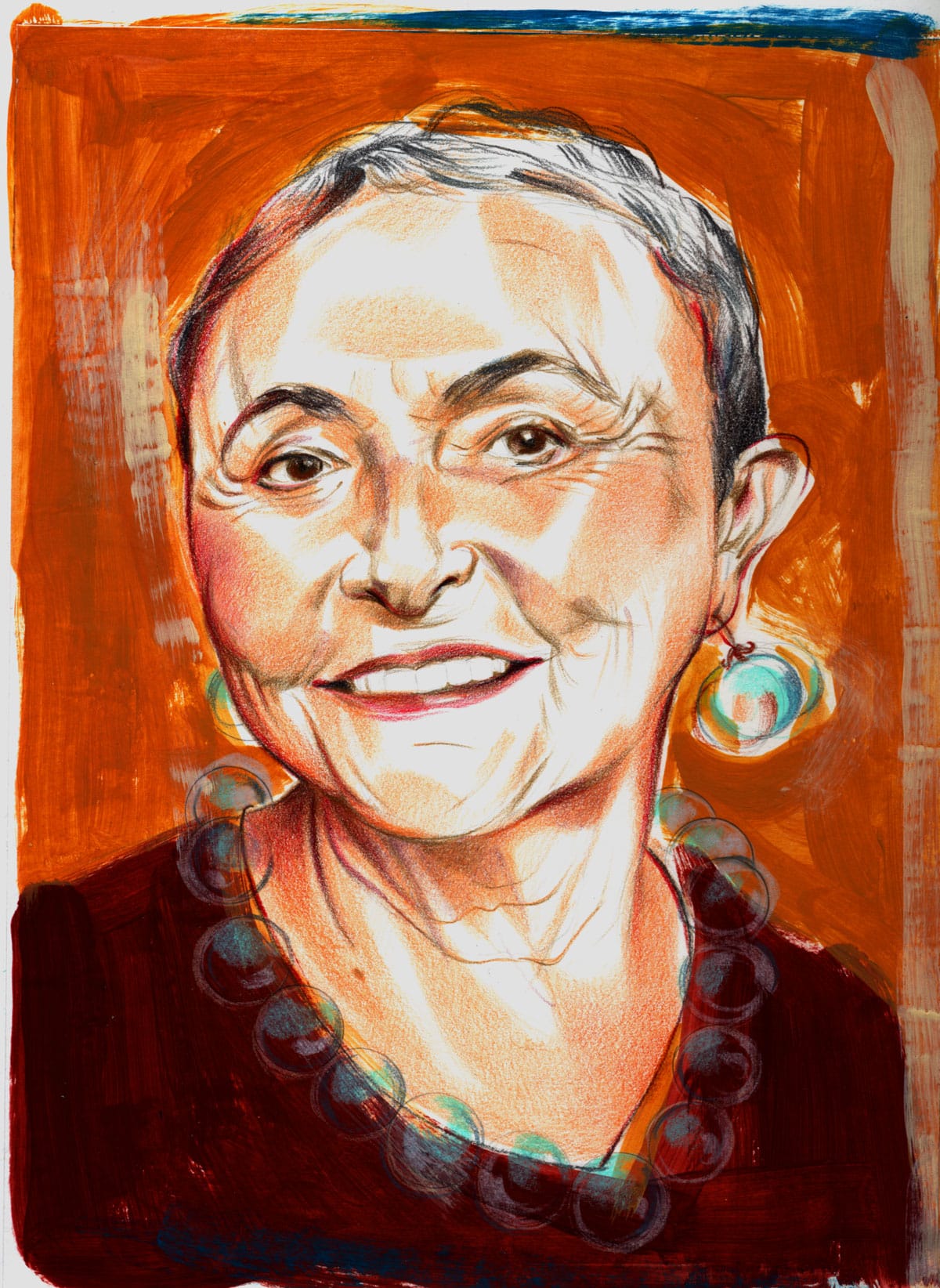 You can join Sylvia Boorstein, along with fellow buddhist teachers Tsoknyi Rinpoche and Melissa Myozen Blacker, at the
Shambhala Sun
's community retreat at Omega,
Waking Up in Every Moment
. Click
here
for details. Illustration by Michelle Laporte.
I was born in 1936 in Brooklyn. Yiddish was the language we spoke at home. My father taught high school mathematics and my mother worked as a stenographer in a municipal hospital. She was a passionate supporter of labor unions, wore wonderful earrings, and had the loudest laugh of any mother I knew.
When I graduated from Barnard in 1956, I'd already been married for a year and was pregnant with my son Michael. I went back to school eight years and three children later to earn a Masters in social welfare and a Ph.D in psychology. I became a psychotherapist and yoga teacher.
I met Jack Kornfield in 1977 at my first mindfulness meditation retreat, and over the next decade I studied with him, Sharon Salzberg, and Joseph Goldstein. In 1985 Jack invited me to be among the first teachers he trained, and I became one of the founding teachers of Spirit Rock Meditation Center.
Seymour and I will celebrate our sixtieth wedding anniversary this June. Our seven grandchildren range from fifteen to twenty-seven years old.
Favorite meditation practice?
I use "May I meet this moment fully; may I meet it as a friend," as a tool for cultivating concentration in formal practice and as a response throughout the day to moments of challenge.
Recommended dharma books?
The book I've re-read most is The Vision of Dhamma: The Buddhist Writings of Nyanaponika Thera.
Your favorite virtue?
Confidence. I once heard the Dalai Lama's translator correct him and His Holiness, looking back at the text, exclaimed, "You are right! I made a mistake!" And he laughed his famous Ha ha ha laugh. In front of two thousand people. That's confidence.
Your chief characteristic?
I am enthusiastic and energetic. I love helping good projects succeed.
Your principal poison?
I am easily captivated by novelty. I have long been amused by the idea that a phone call inviting me to teach "the first mindfulness retreat on the moon" would immediately be intriguing to me.
Your idea of happiness?
The sense in my mind of not needing anything at all.
If not yourself, who would you be?
I'd be teaching something, somewhere. I love the feeling of learning something that I think is important and teaching it to someone else.
Name three of your heroes.
Physician and humanitarian Paul Farmer, Dr. Martin Luther King, Jr., and my grandmother Leah Kanner, who cared for my father in refugee camps in Poland during and after the First World War until they were able to immigrate to America in 1920 to join my grandfather.
The natural talent you'd most like to have?
I'd like to have Dipa Ma's seemingly unwavering serenity.
Your favorite music?
Opera. Especially Wagner, especially the Ring operas.
Your favorite TV?
I enjoy watching big sports events like the World Series. I also watch the Cooking Channel with my youngest granddaughter. We like to cook together.
What's for dinner?
I like every food except celery. I particularly like spicy food.
A motto that represents you?
You are never happier than your least happy child.
Guilty pleasure?
I have lots of pleasures, but I don't feel guilty about them.