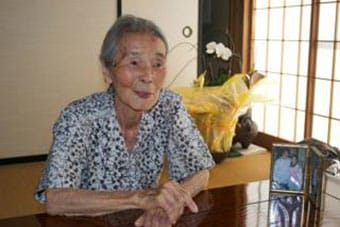 Photo via
San Francisco Zen Center
on Facebook.
A fixture of American Zen — fondly recalled by all who knew her or at least read of her in Crooked Cucumber, David Chadwick's biography of the late Zen teacher Shunryu Suzuki Roshi, founder of San Francisco Zen Center died on the morning of Saturday, January 9th.
In an obituary from the San Francisco Zen Center website, Taigen Dan Leighton describes her as,
"unimaginably important and inspiring for everyone at San Francisco Zen Center, remaining a resident at SFZC City Center for more than 20 years after Suzuki Roshi passed, before she returned home to Japan. She was a strong, kindly, steady presence who demonstrated everyday Zen life for us. She was a true matriarch of American Zen."
On Wednesday, San Francisco Zen Center had shared on its Facebook page:
With tender and grateful hearts, we hear of Mitsu Suzuki's decline in health. Her grandson Shungo Suzuki reports that she has been hospitalized and is not likely to recover. She is 101 years old.

Mitsu Suzuki is the widow of Shunryu Suzuki Roshi, the founder of San Francisco Zen Center. A former resident and beloved teacher of tea ceremony at City Center, she is the author of two collections of haiku: "A White Tea Bowl: 100 Haiku from 100 Years of Life" and "Temple Dusk: Zen Haiku."

We will share news about Mitsu Suzuki, or Okusan as her students endearingly call her, as we receive it from her family, here and in Sangha News: blogs.sfzc.org
An SFZC-hosted slideshow of photos from Mitsu Suzuki's life, produced for her centennial, can be viewed here.
Be sure also to read Zen teacher Norman Fischer's account of how Mitzu Suzuki "made a home for herself in American Zen," here.
Update: the aforementioned David Chadwick, who also maintains the Suzuki-and-SFZC-focused Cuke.com, has updated that site with news relating to Mitsu Suzuki's life and passing and continues to add more material. See it all here.
THANK YOU FOR READING LION'S ROAR. CAN WE ASK FOR YOUR HELP?
At Lion's Roar, our mission is to communicate Buddhist wisdom in today's world. The connections we share with you — our readers — are what drive us to fulfill this mission.

Today, we're asking you to make a further connection with Lion's Roar. Can you help us with a donation today?
As an independent nonprofit committed to sharing Buddhist wisdom in all its diversity and breadth, Lion's Roar depends on the support of readers like you. If you have felt the benefit of Buddhist practice and wisdom in your own life, please support our work so that many others can benefit, too.

Please donate today — your support makes all the difference.

Lion's Roar is a registered charity in the US and Canada. All US & Canadian donations are tax deductible to the full extent allowed by law.