Kobun Chino came to America in 1967 at the request of Suzuki Roshi and spent the next thirty-five years helping spread the dharma in the West. Shoho Michael Newhall recalls his teacher's life.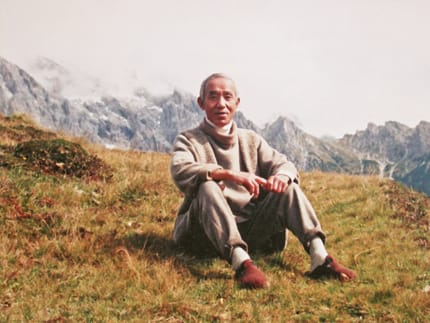 Kobun Chino Otokawa Roshi, who is often referred to simply as Kobun, was born to an esteemed temple family in the mountainous snow country of Japan. He was a gifted young man, practiced with Koto Sawaki in Kyoto, had advanced degrees in Buddhist studies, was famously adept at calligraphy, practiced kyudo, music, art, and taught the dharma. He also spoke English, albeit with a soft, spacious, poetic style, one that apparently was unique even in his native Japan
In 1967, upon finishing monastic training at Eihei-ji Monastery, Kobun was about to return to ordinary temple life in Japan when he answered a request from Suzuki Roshi to come to California to help with American Zen students. Katagiri Roshi also came from Japan to San Francisco Zen Center at that time. For both of them it must have been a culture shock. Their transition from quiet monastic settings brought them to a location very close to Haight-Ashbury in its wild prime.
Kobun then went to help establish monastic practice at Suzuki Roshi's newly formed Tassajara monastery, and following Tassajara he lived south of San Francisco. He began to raise a family and taught at Haiku Zendo, where Suzuki Roshi's book Zen Mind, Beginner's Mind came to be. As students began to gather, Santa Cruz Zen Center emerged, then Kannon-do, Spring Mountain, Jikoji, and Hokoji in New Mexico. Two European practice centers, Puregg and Felsentor, were established by dharma heir Vanja Palmer. Floating Zendo, Everyday Dharma Zen Center, Hakubai, Sokukoji, and O-An Zendo are also part of Kobun's lineage. Additionally, Kobun was a teacher to the Shambhala sangha, where he introduced Shibata Sensei's kyudo practice to the sangha, taught calligraphy, transmitted an oryoki practice, and at the time of his death held the World Wisdom Chair at Naropa University.
In the summer of 2002, in an alpine village in Switzerland, Kobun died in a drowning accident along with his daughter Maya. This year, the tenth anniversary of his death, his legacy is being commemorated with ceremonies, celebrations, the archiving of his teaching and calligraphy, and the development of various publications.