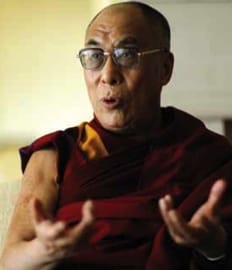 The Dalai Lama tops the marquee at the Newark Peace Education Summit conference in New Jersey.
"Peace is not theoretical," says Robert Thurman, founder of Tibet House U.S. "It is a very tangible, practical process."
The goal of the Newark Peace Education Summit "is to look at programs, policies, and methods that communities have used to establish peace, why and how they work," Thurman says, "and how these practices can be replicated in other communities in America and throughout the world."
The summit, which is being convened by Tibet House and the Drew A. Katz Foundation, runs May 13 to 15 in Newark, hosted by the city's mayor, Cory Booker.
The Dalai Lama, who was awarded the peace prize in 1989 for his commitment to nonviolence in efforts to liberate Tibet and preserve its culture, will be joined by fellow Nobel laureates Jody Williams and Shirin Ebadi. Williams won the 1997 prize for her work as founding coordinator of the International Campaign to Ban Landmines. Ebadi received the 2003 prize for her efforts to promote human rights, in particular, the rights of women, children, and political prisoners in Iran. They will be joined on panel discussions by other national and international figures who are dedicated to fostering peace.
Other scheduled speakers are author and former child soldier Ishmael Beah, spiritual leader Deepak Chopra, actor and mindfulness advocate Goldie Hawn, former gang member James White, environmental activist Majora Carter, and New Jersey congressman Donald M. Payne.
The first day will focus on peace within and peace at home, because, as the Dalai Lama has said, "We can never obtain peace in the outer world until we make peace with ourselves." Presentations and workshops are scheduled to explore the universal human need to live in a safe and loving environment and ways that individuals can better manage behavior and emotional responses, and thereby, avoid the use of violence.
The second day will focus on improving schools and communities. Discussions are to include ways to create better conditions for learning and how organizations within communities can foster understanding between constituencies.
On the final day, presenters and participants will take a wider view. They plan to discuss how tension between nations can be allayed without resorting to war and how cultivating a better relationship with the natural world can aid in the development of interpersonal peace.
The summit will place particular emphasis on how Newark can become a more peaceful, prosperous, and pleasant city, and the role that education can play in that transformation. "True peace is the holy grail of urban governance," Booker says.
Summit organizers are encouraging civic and religious leaders, school administrators, government officials, and community organizers to participate, and plan to publish the results of the discussions for leaders to use for the benefit of their own communities.
Photo by Mario Anzuoni/Reuters