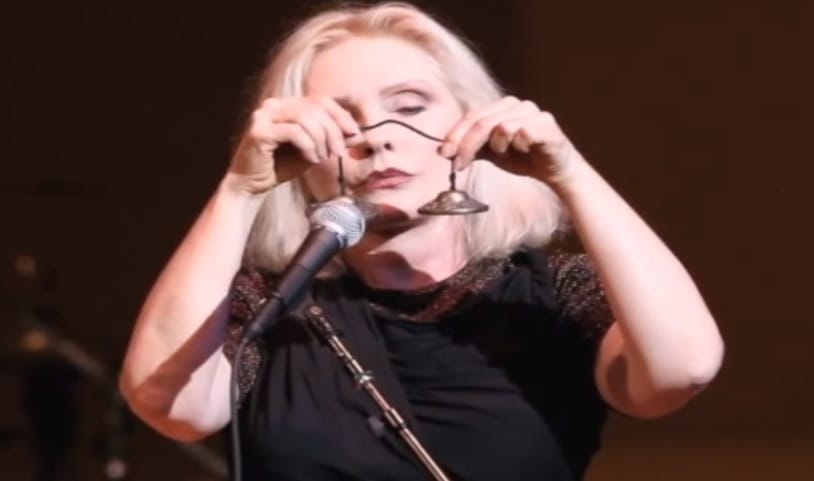 Debbie Harry on playing "Heart of Glass" at the concert: "Heart of Glass" at the coming Tibet House benefit: "...it's about love and lost love and there's definitely a loss that Tibetans are suffering. The song's about getting beyond that loss, and Tibetans can fully appreciate that sentiment."
Thursday night's Tibet House benefit concert continued the annual series' reputation for eclectic artistry, featuring music from names long associated with the pro-Tibet cause—like Patti Smith and Philip Glass—as well as new additions like Miley Cyrus, the Flaming Lips, Dev Hynes, Sturgill Simpson, NPR mainstay Ira Glass, and Blondie frontwoman Debbie Harry (who told the audience that the influence of Tibetan music can be found in her own work). Previous performers have included Lou Reed, New Order, and Laurie Anderson, who returned for this year's edition. As Rolling Stone reports, "Anderson told a quietly devastating story about storytelling, quoted her Buddhist teacher (who told her "you should try to learn how to feel sad without being sad") and read from The Tibetan Book of the Dead."
Smith began her set with a poem in celebration of the Dalai Lama's coming eightieth birthday in the evening's events, her band (along with Anderson) later backing Tenzin Choegyal's set of, as Rolling Stone called it, "Himalayan blues and power ballads on the dranyen lute." Two more of the evening's spoken-word moments were provided by Ira Glass, who read the Allen Ginsberg poems, "On The Cremation Of Chögyam Trungpa, Vidyadhara" and "Wichita Vortex Sutra."
Tibet House US is, as its mission statement reads, "dedicated to preserving Tibet's unique culture at a time when it is confronted with extinction on its own soil. By presenting Tibetan civilization and its profound wisdom, beauty, and special art of freedom to the people of the world, we hope to inspire others to join the effort to protect and save it. Tibet House US is part of a worldwide network of Tibetan institutions committed to ensuring that the light of the Tibetan spirit never disappears from the face of this earth." Learn more about and support Tibet House here.
THANK YOU FOR READING LION'S ROAR. CAN WE ASK FOR YOUR HELP?
At Lion's Roar, our mission is to communicate Buddhist wisdom in today's world. The connections we share with you — our readers — are what drive us to fulfill this mission.

Today, we're asking you to make a further connection with Lion's Roar. Can you help us with a donation today?
As an independent nonprofit committed to sharing Buddhist wisdom in all its diversity and breadth, Lion's Roar depends on the support of readers like you. If you have felt the benefit of Buddhist practice and wisdom in your own life, please support our work so that many others can benefit, too.

Please donate today — your support makes all the difference.

Lion's Roar is a registered charity in the US and Canada. All US & Canadian donations are tax deductible to the full extent allowed by law.