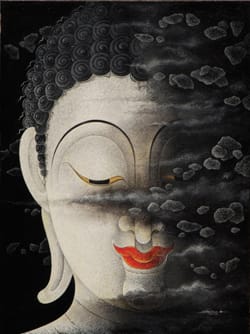 Illustration by Noppadon PutipinIn order to heal our painful habits, says Tenzin Wangyal Rinpoche, we need to turn our attention inward and reconnect with our experience through stillness, silence, and spaciousness.
Through the negative, habitual patterns of distraction and restlessness, we frequently disconnect from ourselves. As a result, we are often depleted, for we do not fully receive what life offers, what nature offers, or what other people offer, and we don't recognize opportunities to benefit others.
Discovering Inner Refuge
We begin by acknowledging the habitual patterns that arise from our disconnection from ourselves, which I refer to as pain body, pain speech, and pain mind. We may experience this disconnection in a variety of ways, such as irritation, boredom, restlessness, sadness, or an underlying feeling that something is missing. If we are to heal or awaken from these patterns, we need to generate a caring relationship with the evidence of our disconnection. Recall how you feel supported when you are with a friend who is simply present, open, and nonjudgmental, and bring those very qualities to your own experience. The silence containing this fullness of the presence of another is always there within you and always beautiful. So that is exactly how you need to experience your pain. Connect with stillness, silence, and spaciousness, which enables you to observe, allow, and feel whatever you experience without judgment.
Transforming Painful Habits Through Open Awareness
When ego is the result of disconnection, awareness itself is true connection. Awareness that is direct and naked is described as the sun, and the warmth of awareness dissolves the solidified pain identity the way the sun melts ice. So whenever you feel the pain of being disconnected from yourself, be open to it and be with it. Host your pain well with presence that is completely open, and most important, nonjudgmental.
Finding the Closest Door
Stillness, silence, and spaciousness bring us to the same place—open awareness. But you go for refuge through a particular door: one through the body, one through speech, one through mind. Once you arrive, which door you entered through is no longer important. The door is only important when you are lost. If you are lost on the eastern side of the mountain, it is better to find the eastern path because it is the path closest to you. When we fly we are always reminded by the flight attendant that "the nearest exit could be right behind you." The closest entrance is right here with you. The tension in your neck and shoulders could be your closest entrance. Your Inner Critic could be your closest entrance. Your doubting, hesitating mind could be your closest entrance. But we often overlook the opportunities right in front of us and take the farthest possible route. It is interesting how often we don't value that which is closest.
A Prescription for Inner Refuge
How is it possible to become more familiar with inner refuge? If we are ill and are given a prescription for medicine that we've been told is absolutely necessary for our recovery and well-being, we are motivated to take our medicine. So perhaps we need to think of turning toward inner refuge as taking the medicine that will release us from our habit of disconnecting from the source of being. You have three pills to take: the pill of stillness, the pill of silence, the pill of spaciousness. Start by taking at least three pills a day. You can choose when to take stillness, when to take silence, or when to take spaciousness as your medicine. Actually, if you pay attention, opportunities will choose you. When you are rushing, you become agitated. Your agitation has chosen you. At that very moment say, "Thank you, agitation. You have reminded me to take the pill of stillness." Breathe in slowly and go toward your agitation with openness. Your stillness is right in the midst of your agitation. Don't distract yourself and reject this moment, thinking you will try to find stillness later or somewhere else. Discover the stillness right here within your agitation.
---
Tenzin Wangyal Rinpoche is a lineage holder in the Bön tradition of Tibetan Buddhism and the spiritual director of Ligmincha Institute, based in Nelson County, Virginia. His latest book is Awakening the Sacred Body.