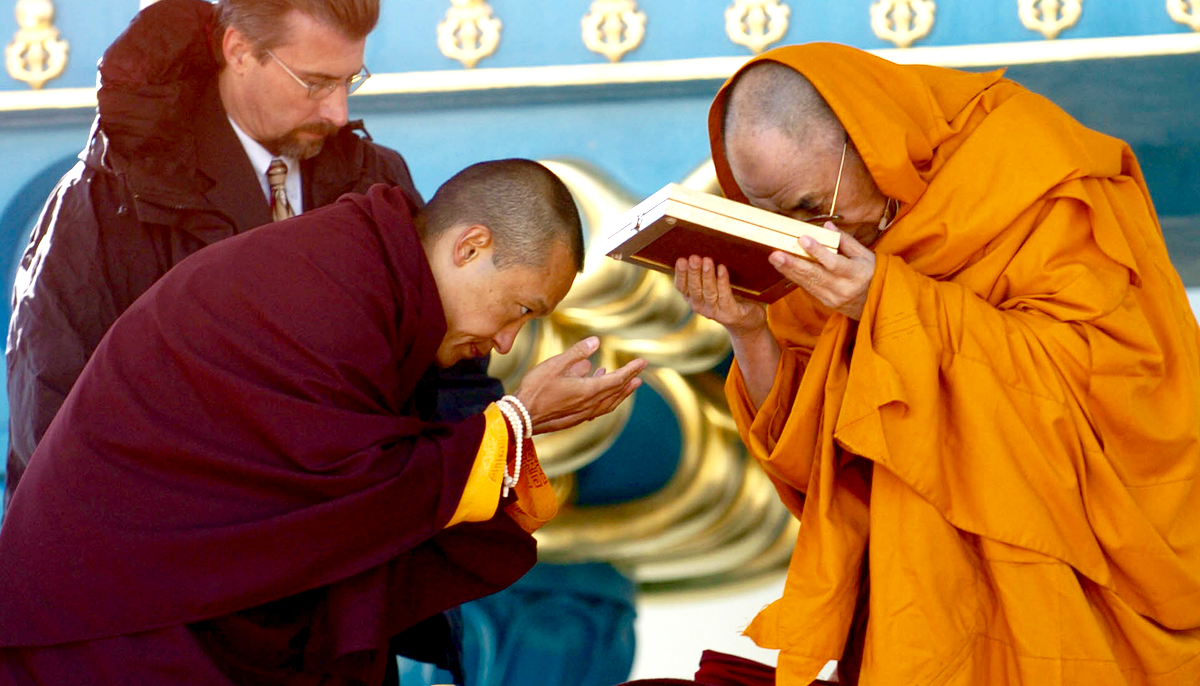 Sakyong Mipham presents an award to His Holiness the Dalai Lama at Shambhala Mountain Center in 2006. Photo By Helen H. Richardson/The Denver Post via Getty Images.
Buddhist Project Sunshine released its second report today, containing allegations of sexual assault and clergy sexual misconduct by Sakyong Mipham Rinpoche, leader of the Shambhala Buddhist community.
The report includes three victim impact statements by female members of Shambhala. The anonymous statements detail allegations of sexual assault in the form of unwanted sexual touching, alcohol abuse, and sex with multiple female students facilitated by some members of Sakyong Mipham's staff.
Clergy sexual misconduct is defined by FaithTrust Institute as when "any person in a ministerial role of leadership for pastoral counseling (clergy, religious, or lay) engages in sexual contact or sexualized behavior with a congregant…"
Buddhist Project Sunshine (BPS) was initiated by leadership coach Andrea Winn in February 2017 to raise awareness of gendered violence in the Shambhala community.
In February, BPS released its first report, which summarized the findings of a one-year informal analysis of sexual misconduct in Shambhala. The report released today was assisted by lawyer and sexual misconduct investigator Carol Merchasin.
On Monday, June 25, Sakyong Mipham issued a public apology to the Shambhala community for past "relationships with women in the Shambhala community" who later "expressed feeling harmed."
On June 27, Shambhala leadership issued a statement promising to soon "offer more definitive information addressing the rumours currently swirling on social media." The statement said that Shambhala is working with An Olive Branch, an organization that helps Buddhist communities prevent and address sexual misconduct.
On June 29, the same Shambhala leadership group issued another statement, following up on the second BPS report. In it, the Council denies having seen an advance copy of the BPS report (as has been rumored), says it is "in the process of engaging a third-party investigator to review [misconduct] allegations," and is finalizing an agreement with An Olive Branch.
Winn states in today's report that on May 24 their findings were reported to the leadership of the Shambhala community, which she says did not respond. The report calls for a full investigation of the allegations by a neutral third party.