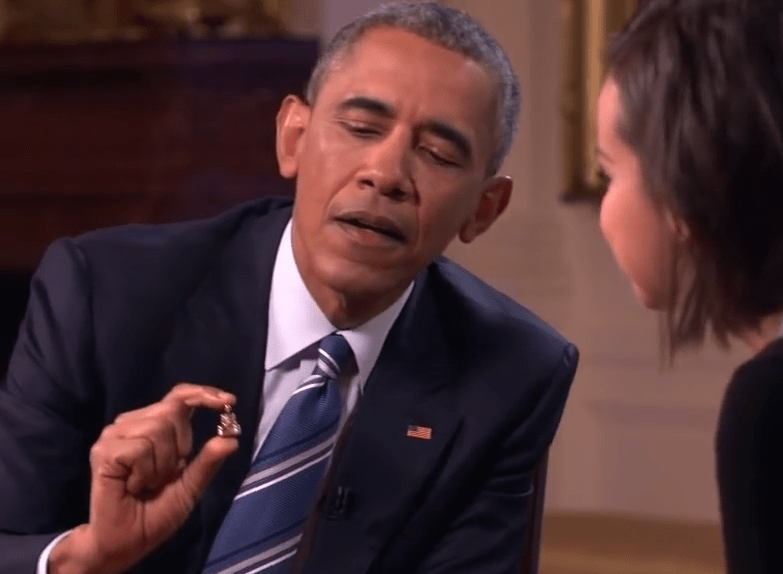 Obama, in White House video, shows the tiny Buddha statuette he "carries around all the time."
A little something for Throwback Thursday: In a White House-produced YouTube video first shared on January 15, President Obama addressed a number of things — including what's in his pockets. It turns out that, along with a rosary gifted to him by Pope Francis, a small Buddha statuette, given to him by a monk, is often found on the president's person.
"Ever since I started running for office, people started handing me things […] lucky charms, or keepsakes, or things that meant something to them." All of these items go into a big bowl, the president says, and he carries some of them with him "to remind me of all the people I've met along the way and the stories they've told me."
Watch the segment in the video below, beginning at the 44:00 mark.

First published here on Jan 18, 2016.
THANK YOU FOR READING LION'S ROAR. CAN WE ASK FOR YOUR HELP?
At Lion's Roar, our mission is to communicate Buddhist wisdom in today's world. The connections we share with you — our readers — are what drive us to fulfill this mission.

Today, we're asking you to make a further connection with Lion's Roar. Can you help us with a donation today?
As an independent nonprofit committed to sharing Buddhist wisdom in all its diversity and breadth, Lion's Roar depends on the support of readers like you. If you have felt the benefit of Buddhist practice and wisdom in your own life, please support our work so that many others can benefit, too.

Please donate today — your support makes all the difference.

Lion's Roar is a registered charity in the US and Canada. All US & Canadian donations are tax deductible to the full extent allowed by law.