Mindfulness, courage, and compassion are key. Bonnie Nadzam presents a selection of new books on living well.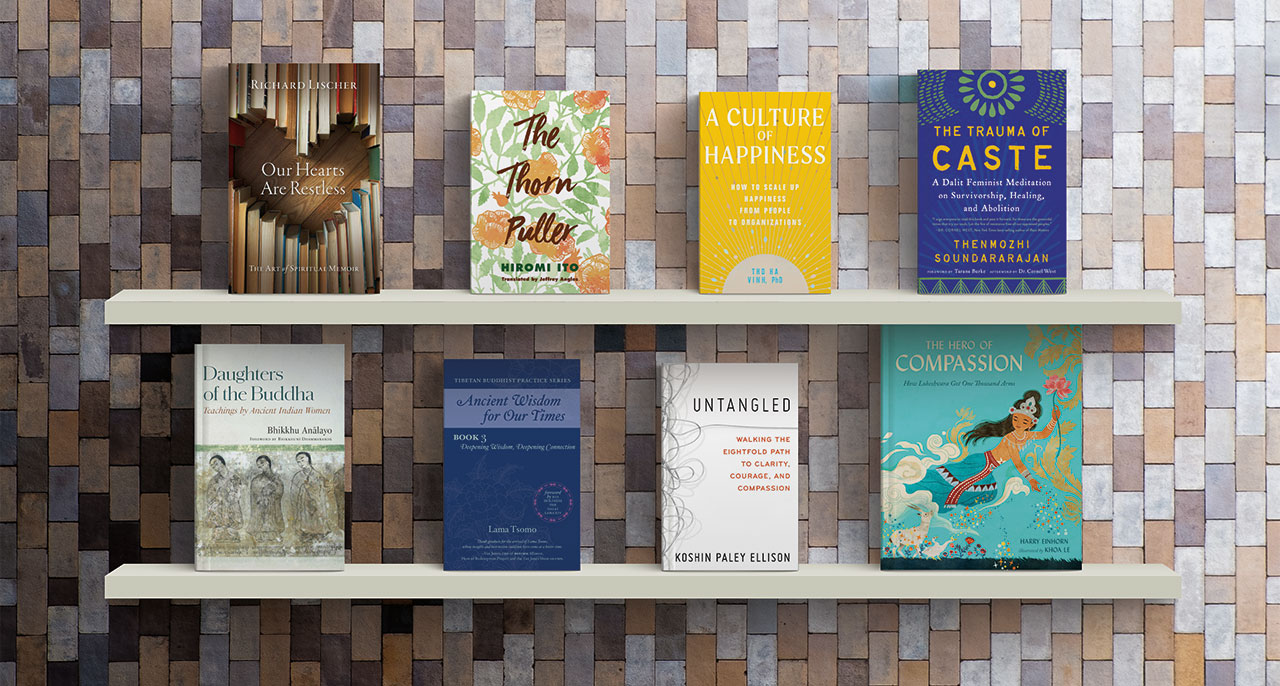 In Our Hearts Are Restless: The Art of Spiritual Memoir (Oxford University Press), Richard Lischer, Christian pastor and professor emeritus at Duke Divinity School, celebrates individuals who've made a profound impact in the genre of spiritual memoir—Augustine, Julian of Norwich, Emily Dickinson, James Baldwin, and Anne Lamott among them. As Lischer observes, all of these luminaries were deeply committed both to living life well and writing out their lives, in a mysterious, mystical, dynamic relationship with the page. Lischer affirms philosopher Alasdair MacIntyre who said that the only way to answer the question of "who am I?" is by orienting yourself in a larger story, finding those whose stories help you make sense of life, and sharing your own story with others. This seems to be Lischer's wise and benevolent undertaking; his collection of essays will inspire the reader to start living life well and, perhaps, putting pen to paper.
The Thorn Puller (Stone Bridge Press) is the first novel to appear in English by the bold and beloved Japanese writer Hiromi Ito. Reading it is as extraordinary an experience as it is complicated to describe. This book is both a long poem and a novel; Californian and Japanese; absurdly comedic and heartbreaking. At times, it is a stifling, intimate portrayal of a woman caring for her aging parents, but it's also as disorientingly spacious as the global stage upon which the tale is set. Ito investigates the complexities and stresses experienced by a woman tending to her two families: her husband and daughters in California and her elderly parents living in Japan. With the narrator traveling between the countries, Ito creates an enjoyable and affecting narrative about the meaning of living and aging in our globalized era. One beautiful thread that runs through the book is the protagonist's relationship with Jizo Bodhisattva, or Great Vow Bodhisattva, who is known for his vow not to attain buddhahood until all hells are emptied. She pays homage to him in faith that he will pluck the thorns of suffering from her painful life.
What is happiness, really, and is it even possible for an individual to "attain" it if the culture they live in measures all value in economic terms? In A Culture of Happiness (Parallax), happiness expert Dr. Tho Ha Vinh suggests that while living a satisfying life may in some ways be related to having material needs met and to experiencing pleasure, human beings' responsibilities have changed from the days when living a good life meant having shelter, plenty of food, and entertainment. Now, we are accountable for the well-being and, it seems, the very survival of life itself. In this guide, Tho Ha Vinh reflects on his experiences as program director of the Gross National Happiness Center of Bhutan, a nonprofit organization, under Bhutanese royal patronage, which is dedicated to creating pathways to mindfulness practices for individuals, their communities, and the larger structures of which they are a part. While acknowledging that Bhutan is a country facing many challenges, he suggests that the country can be seen as a "lab" to study what happens when people, families, and communities begin to measure value not economically, but rather in terms of satisfaction and well-being.
"Dalit" is the word used for the so-called untouchable people of India who belong to the lowest stratum of castes. The word also means "resilient." In The Trauma of Caste: A Dalit Feminist Meditation on Survivorship, Healing, and Abolition (North Atlantic Books), esteemed American scholar, writer, and activist Thenmozhi Soundararajan calls for an end to Dalit oppression and connects it with the oppression faced by Black, Indigenous, Latino, and Queer communities. She presents haunting true stories of the cruelty that Brahminical structures impose upon billions of people hurt by caste—not just in India but worldwide, including in the United States. She also offers meditations and exercises for readers to change their own experiences with the concept of caste, wherever they live—because all suffering is collective suffering, and the harm we inflict upon others is rooted in a false sense of separation from them. Soundararajan's perspective is grounded in her Buddhist practice and the teachings of B. R. Ambedkar (1891–1956), the Indian economist, social reformer, and political leader who inspired the Dalit Buddhist movement.
In Daughters of the Buddha (Simon and Schuster), early Buddhism scholar and meditation teacher Bhikkhu Analayo sets forth twenty-one chapters, each dedicated to a nun or laywoman from ancient India. Many of their names may already be familiar to practitioners: Gotami, Khema, Uppalavanna. In this single treasure, Bhikkhu Analayo shares their teachings. The discourses and life stories of these Buddhist nuns and laywomen are simply yet comprehensively presented, and we come away with the most fulsome understanding possible of how these women contributed to the dharma. Although there was misogyny in early Buddhist thinking, there were also many fierce women to whom we are beholden for navigating the prejudices of their day.
Deepening Wisdom, Deepening Connection (Namchak Publishing) is the third book of the Ancient Wisdom for Our Times series written by the American Buddhist teacher Lama Tsomo. The books do not necessarily need to be read in order, however, as they each stand well on their own. In this new volume, Lama Tsomo shares meditation practices for cultivating loving-kindness, compassion, sympathetic joy, and equanimity. Practice by practice, readers are guided toward the kind of deep compassion that arises naturally from being more fully aware—beginning with self-awareness. The book is remarkably warm, funny, intelligent, and beautifully articulated. Lama Tsomo, who is also a counselor, is adept at integrating psychological understanding and spiritual practice without muddying either.
Psychotherapist and Zen teacher Koshin Paley Ellison identifies mainstream Western culture as one that is infused with "junk" pleasure-seeking that distracts and deprives human beings from creating a life truly worth living. In Untangled: Walking the Eightfold Path to Clarity, Courage, and Compassion (Balance), Koshin guides readers through his own tough childhood and his journey of becoming a Zen monk (which he'd remarkably identified as his life's purpose by age eight). He also provides a very clear, simple series of practices anyone can use to clarify their own direction. This book is a must-read for anyone ready for real connection, beginning with one's self and extending intimately outward.
The Hero of Compassion: How Lokeshvara Got One Thousand Arms (Bala Kids) by Harry Einhorn tells the tale of how even a very committed and big-hearted being like the bodhisattva Avalokiteshvara ("Lokeshvara" for short!) can become overwhelmed by the amount of despair and suffering in the world. Featuring the spectacular and vibrant illustrations of Khoa Le, this storybook will provide children (and their caregivers) with a solid reminder not to quit. Even if our heart breaks, we can put it together again and become more loving. Each and every one of us has the potential for unconditional compassion and resilience.