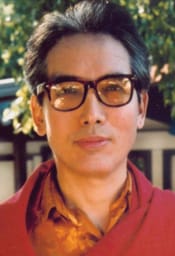 The Tibetan Buddhist master and onetime abbot of Thrangu Monastery, Traleg Kyabgon Rinpoche, died suddenly this morning in Melbourne, Australia, site of the Kagyu E-vam Buddhist Institute, which he founded.
Family and students were by his side as he passed, apparently of a heart attack. He was 57. Though such an event was unexpected, Rinpoche's travel and activity had been restricted in recent years because of health concerns. He was expected to arrive in North America soon, for his first visit here in some time.
The following statement about Rinpoche's passing has been issued by Felicity Lodro and Kal Kingi of the E-Vam Institute, of which Rinpoche was director:
"Dear Friends and Members of Traleg Kyabgon Rinpoche's centres,

"It is with deep regret that we inform the Karma Kagyu tradition, the Nyingma tradition and all other schools of Tibetan Buddhism as well as the wider Buddhist community that our treasured and beloved Traleg Kyabgon Rinpoche IX passed into parinirvana at 12.10 am on 24 July 2012, being the Fourth Day of the Sixth Month of the Tibetan calendar in the Year of the Dragon. We are deeply shocked and saddened at the loss of such an extraordinary teacher at such a young age. Traleg Kyabgon Rinpoche remained lucid to the end and we were both honoured to be present with Rinpoche at the time of his gentle and dignified passing.

"Traleg Kyabgon Rinpoche was devoted to maintaining the essence and purity of Buddhism. Traleg Kyabgon Rinpoche was not only a remarkable and outstanding scholar of the teachings of Buddhism but his ability to communicate the teachings ensured that the essence of the teachings penetrated the hearts and minds of thousands of students of the Dharma throughout the world. We deeply and earnestly pray for the quick rebirth of Traleg Rinpoche. We feel blessed beyond belief to be a part of Traleg Kyabgon Rinpoche's activities throughout the West.

"In accordance with the Tibetan tradition evening pujas at E-Vam Buddhist Institute, Carlton North, will commence on Wednesday 25 July from 8pm and all subsequent evenings for 49 days. A tribute ceremony will be held at Traleg Kyabgon Rinpoche's Maitripa Centre, Healesville, at a date to be confirmed.

"With Profound Sadness,
Yours Sincerely in the Dharma,
Felicity Lodro and Kal Kingi"
This morning, Khenpo Karthar Rinpoche offered this message for students and friends of Karma Triyana Dharmachakra:
"Traleg Kyabgon Rinpoche passed away on the auspicious day of Chokhor Duchen, the observance of Lord Buddha's first teaching. We at KTD are saddened by his sudden passing, and are praying for his swift return.

"As for practices to be done at this time, close disciples may perform the "taking of the four empowerments" through visualization in the guru yoga practice; other students may recite the 6-syllable and 100-syllable  Vajrasattva mantras. All should pray for his swift return.

"Here at KTD, starting tonight, we will dedicate the daily Chenrezig puja for Traleg Rinpoche, and, on the day in August when he was to have spoken here (Saturday August 4), we will offer a special Karma Pakshi tsok feast puja from 1 to 5 pm, followed by the Mahakala protector puja, and make extensive offerings.

"We especially invite all the dharma students to attend this commemorative puja and offer prayers with us in honor of Traleg Rinpoche."

"We will keep you apprised of any further developments. Our thoughts and prayers are with Traleg Rinpoche, his family, and his many students and friends around the world.

"With prayers and warm wishes,
Your Dharma Family at KTD"
Traleg Kyabgon Rinpoche's work has appeared in the Buddhadharma and Lion's Roar magazines numerous times; here's a selection.
Visit Traleg Rinpoche's website at tralegrinpoche.typepad.com.
Can you help us at a critical time?

COVID-19 has brought tremendous suffering, uncertainty, fear, and strain to the world.
Our sincere wish is that these Buddhist teachings, guided practices, and stories can be a balm in these difficult times. Over the past month, over 400,000 readers like you have visited our site, reading almost a million pages and streaming over 120,000 hours of video teachings. We want to provide even more Buddhist wisdom but our resources are strained. Can you help us?
No one is free from the pandemic's impact, including Lion's Roar. We rely significantly on advertising and newsstand sales to support our work — both of which have dropped precipitously this year. Can you lend your support to Lion's Roar at this critical time?