From the Dalai Lama to queer dharma to the beloved community — Bonnie Nadzam looks at new books that bring us together in the wisdom of the present.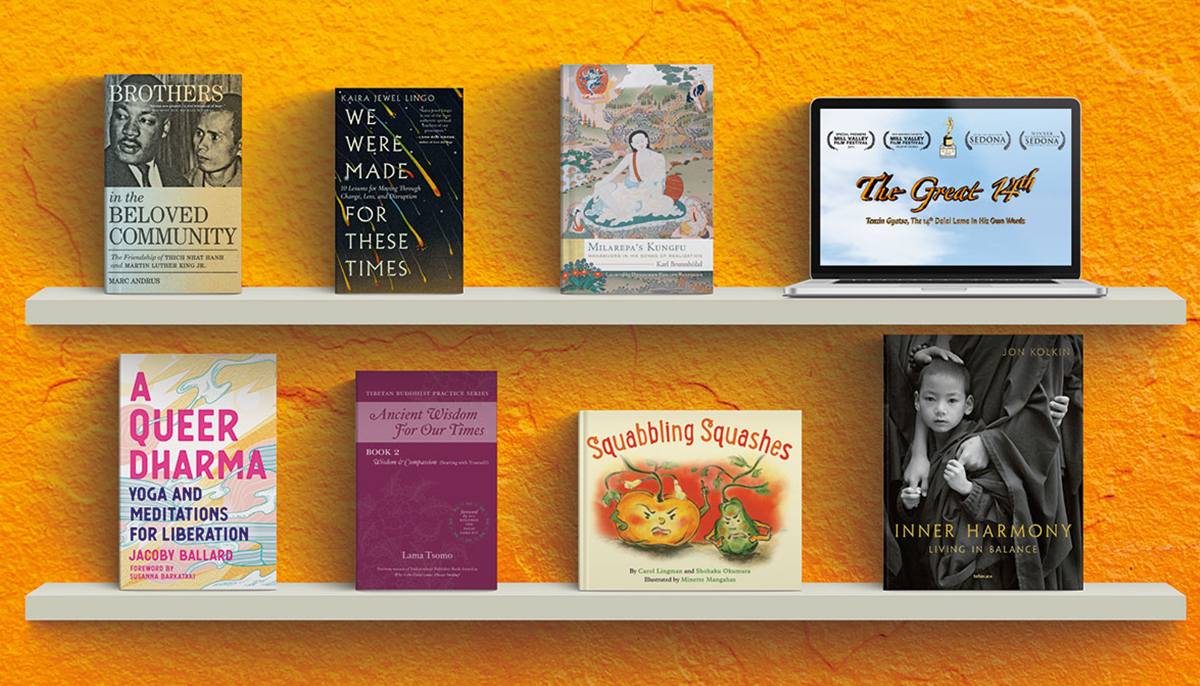 Consider this: "If we treated each part of the world with the respect we give to those we recognize as our equals in everyday life, how would our behavior change?" So asks Marc Andrus in Brothers in the Beloved Community (Parallax), the true story of the friendship between Thich Nhat Hanh and Martin Luther King Jr. and their shared commitment to repair and create the Beloved Community.
What is this mysterious Beloved Community? Though Andrus says the need for us all to take part in it has never been greater, it isn't easy to define. It isn't a static object, but dynamic; it's not about solving a problem, but about transforming life. And whenever someone betrays the Beloved Community—which we all do—the potential for it to grow and strengthen with healing only increases. Andrus points to Nhat Hanh and King's unlikely brotherhood as an example of what heals and maintains the Beloved Community. Any loving bond, whatever form it takes, strengthens it.
Both as a community and as individuals, when the structures we've come to rely on break down, we're like a caterpillar that dissolves itself into a chrysalis. We can trust, however, that in taking good care of each moment, we are taking good care of the future, says Kaira Jewel Lingo in We Were Made for These Times (Parallax).
A teacher in the Plum Village and Vipassana traditions, Lingo was once a Buddhist nun for whom ordination and a vow to practice only seemed to increase her awareness of difficult, painful feelings. But if one is to begin working with them, increased awareness of such feelings is necessary. Hence, many of Lingo's exercises encourage the reader/practitioner to touch their suffering, to stay with what hurts as a way to transform pain with clarity and compassion while moving through transition and challenge. Lingo includes in each chapter a meditation to help the reader surrender to the unknown—not in an abstract way, but in terms of how we position our bodies and our attention to meet each moment as it arises.
What might we encounter in such a moment? In Milarepa's Kungfu (Wisdom), physician and longtime Buddhist teacher and translator Karl Brunnhölzl walks us through Mahamudra, or ultimate essence, by presenting the sacred tantric songs of Milarepa. A beloved eleventh-century Tibetan yogi, Milarepa sang to disciples, his family, village people, farmers, hunters, robbers, scholars, kings, demons, deities, and animals. Brunnhölzl's book focuses particularly on Milarepa's song called "Ultimate View, Meditation, Conduct, and Fruition." What is this view? What kind of meditation? How does one do it? And how is it that—fruition being no different from the view—we've come anywhere at all by the end of the song? Brunnhölzl nimbly explains what each concept is, and is not. For both him and Milarepa, the process of recognizing then becoming deeply familiar with the ultimate view is a mysterious one. This book is a treasure of subtle revelation.
The Great 14th (Frame of Mind Films) is a documentary that incorporates historical and present-day footage as His Holiness the Fourteenth Dalai Lama shares his life story, his daily practice, and what motivates and inspires him. As a figure who has relinquished his political power in the Tibetan exile government (he explains how and why he's done so), he is intensely curious about the similarities between democracy and Buddhism, and details his striking experience of meeting freedom of speech and thought in India after fleeing Tibet. His Holiness repeatedly emphasizes working to advance what he calls secular ethics and conveys what it means to be inspired by emptiness and altruism in his attempts to arouse awareness of the shared secular values among the world's seven billion people, across myriad religious and national borders.
A Queer Dharma (North Atlantic), written by educator and yoga teacher Jacoby Ballard, is an important collection of secular, ethical practices for improving inclusion for all people, regardless of class, race, gender, culture, religion, sexual orientation, immigration or incarceration status, or any of the other varied identities that one might hold. Ballard shares his personal experiences of being met with judgment and even disdain in Buddhist and yogic institutions and his subsequent commitment to leverage what privileges he does have in order to platform, uplift, and include. As such, Ballard both firmly and gently turns over every stone he's encountered in creating space for underrepresented people, offering an incisive and urgent reading of mainstream yoga and Buddhism. He takes on capitalism, white supremacy, misogyny, sexual violence, transphobia, the gender binary, racism, and the cultural appropriation that teachers and practitioners must become increasingly aware of in order to uproot. Ballard bears witness to a lot here; it is a remarkable human spirit that can absorb, integrate, and share insights about so much that remains in mainstream culture's collective shadow.
Lama Tsomo wrote Wisdom and Compassion (Starting with Yourself) (Namchak) for Western readers from any and all spiritual backgrounds and levels of experience who are curious about and perhaps want to try some of the fundamental practices of Tibetan Buddhism. In a clear, lighthearted, and unmistakably funny, edgy voice, she offers step-by-step guidance in tranquil abiding, tonglen, and other accessible practices, as well as ways to navigate pitfalls, such as expectations, agitation, and insight itself. She speaks candidly across a wide spectrum of practice questions, from how to do a prostration, to what role—if any—recreational drugs have in a spiritual practice, to how to start a meditation group.
Indiana-based Zen teacher Shohaku Okumura and Zen practitioner and editor Carol Lingman offer a retelling of a traditional Zen story in Squabbling Squashes (Wisdom). A monk named Joshin lives in a small temple with an enormous garden that includes a variety of generally happy squashes. One day, however, the monks hear these vegetables fighting about—what else?—who among them is the most beautiful. In response, Joshin offers a teaching, which is perfectly suited for the heart of a child and yet merits a lifetime of careful tending and cultivation. A gorgeous, colorful picture book illustrated by calligraphist Minette Mangahas, this read is equally light and profound.
The photographs in Inner Harmony (teNeues) were taken by medical doctor Jon Kolkin while on extended visits in Asia to educate health care practitioners. In Vietnam, on a hike with a colleague, Kolkin's life and work were unexpectedly changed by a small Buddhist temple. He was struck by the calm harmony of the space, which was deep inside a cave, and found himself overtaken by curiosity about the beliefs and practices of those who had created it. Until then, his camera had been an educational tool he used to create visual records for his medical students. The photographs in this book are meant to communicate concepts central to living a healthy and balanced life much in line with his practice in medicine and the view that inner harmony can only be cultivated through practice. The images are powerful distillations of ordinary monastic activity—ringing a bell, tying a robe, touching the earth—and they convey sincere devotion to calming and focusing the mind.