From Silicon Valley and Afrofuturism to healing trauma and gender transition, here is a selection of new books offering a Buddhist take on today's issues.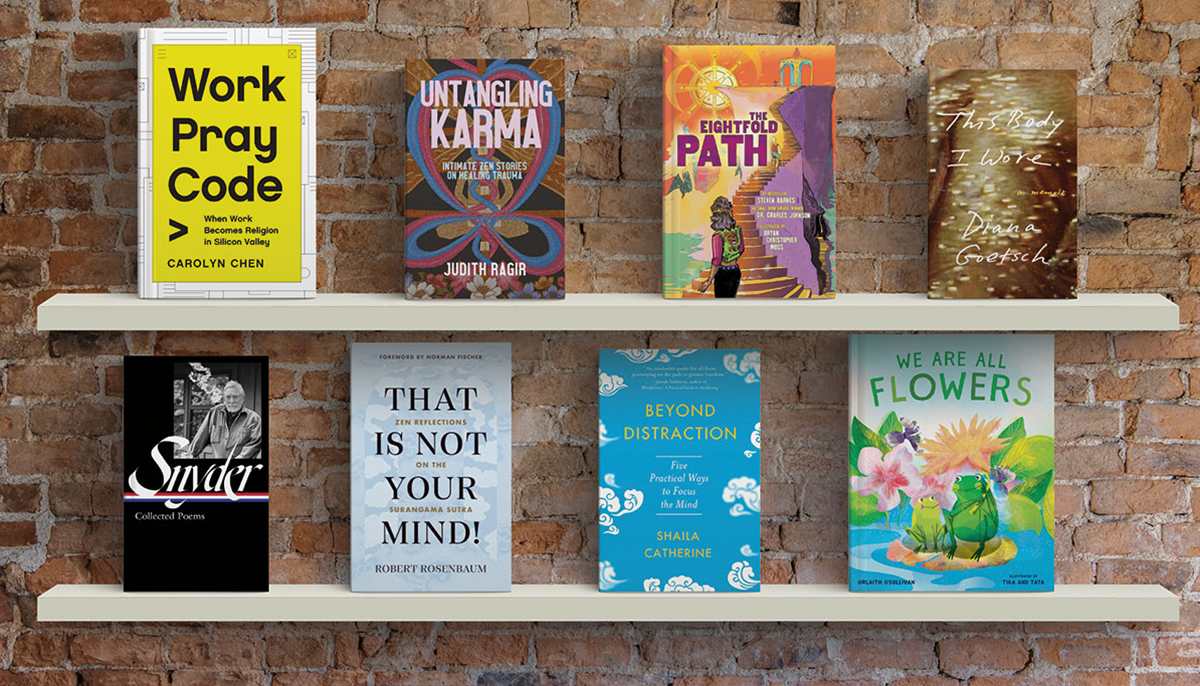 What happens when work is the place where Americans find their souls? Carolyn Chen organizes Work Pray Code (Princeton University Press) around three facets of this question: how the experience of work changes when companies try to fulfill the social, spiritual, and emotional needs of their employees; how religion and spirituality change when they become part of work; and how the "religion of work" is changing the social fabric of America. Chen saves her own interpretation and evaluation of these changes—which she chronicles carefully—for the book's concluding chapter, where she makes her most incisive and even harrowing claims. Whether or not you're troubled by the implications of her findings, based on observations of what she calls "Techtopia" in Silicon Valley, her questions are eminently important ones. A blurred line between religion and work will transform spiritual experience—and has already done so—in profound ways.
In Untangling Karma: Intimate Zen Stories on Healing Trauma (Monkfish), Judith Ragir, a dharma teacher in the Zen lineage of Katagiri Roshi and one of the early American Zen female teachers, offers readers an unflinching look at an American Jewish mother's experience of spiritual practice in a Japanese tradition. A reader looking for the lofty prose of a meditation guru will be surprised to find a fully human account of suffering as it has arisen for Ragir in her many decades of practice. Beginning with a family straining under sadness and the intergenerational trauma of the Holocaust, the author details her life weathering sexual assault, substance abuse, disordered eating, and suburban motherhood. Ragir is utterly fearless in her vulnerability and in the curiosity with which she hones in on the "karmic knots" in her life.
In the gorgeous graphic novel The Eightfold Path (Abrams), visual artist Bryan Christopher Moss and writers Charles Johnson (the MacArthur award-winning novelist) and Steven Barnes have boldly, intelligently, and fantastically rendered intertwined Afrofuturistic stories inspired by the Buddha's teachings. The book is an Indra's net of journeys and stories within stories, all told (where else?) around a campfire, while a storm rages and strands a group of (who else?) pilgrim-like strangers gathered together in (what else?) a cave. It is thematically perfect—in my humble opinion!—and practically impossible not to read in one sitting. I wish I could experience it again for the first time.
How can you spend your life face-to-face with an essential fact about yourself and still not see it? This is a question many Buddhist practitioners are familiar with, but I've never experienced it as author Diana Goetsch presents it in This Body I Wore (Farrar, Straus, and Giroux). It chronicles her decades-long awakening and transitioning to being female. This memoir totally got me in the gut. Goetsch shares her journey to awakening as if to tell all those who abused or were confused by or could not accept or understand her (and who loved and supported and suffered alongside her): this is what it was like for me, all those years. I'm haunted by Goetsch's spirit—she emerged out of heart-breaking early years, always seeking and being instructed by beauty: in a pair of shoes, in a poem, in a lovely person. Always teaching: high school students, incarcerated juveniles, aspiring poets, and artists.
Indeed, Goetsch spent a lifetime teaching young people during her emergence as a poet and Buddhist practitioner, all while learning about her own heart under the cover of night. Writing her story was a true act of service, and I'm grateful.
While Gary Snyder was spending time as a logger, fire-lookout, oil-freighter crewman, anthropologist, woodworker, and family man, as well as a fierce and unflinching student of Zen, he was also working prodigiously as a poet. The Library of America's new Collected Poems spans seventy years and a thousand pages. Whiling away hours with this tome, I revisited some old favorites, like "The Bath," from Turtle Island, and discovered new ones. Snyder selected all of these works himself, including previously uncollected poems, translations, and never-before-published fragments. The book is a total treasure and catalogue of a life that clearly has been a work of art itself.
That Is Not Your Mind! (Shambhala) is a lively exploration of the Surangama Sutra, a neglected Buddhist text about—what else?—our many illusions of mind. It is immensely enlightening to have Robert Rosenbaum, a clinical psychologist and neuropsychologist, as well as a Zen practice leader and senior teacher of Dayan Qigong, as our guide. There is much in this sutra that resonates with modern neuroscience when it comes to what the mind can know of itself. This is not a scholarly take but a wise and friendly introduction to a sutra that Rosenbaum clearly loves and lives deeply. Using the only extant modern English translation, with commentaries by Master Hua, Rosenbaum presents the reader with both highly conceptual and everyday practices of mind and behavior for twenty-first-century Buddhist practitioners: in responding to the cries of the world in news headlines, for example, or in addressing existential questions that arise from the very particular anguish of being a human in the Anthropocene era.
If you're a "lazy meditator" who is happy being "eaten by your thoughts" (to quote the author), or if you're totally untroubled by "fantasies of sensual desire and ill will and harming," then find something else to read! But if you'd like to do something about those troubling mental habits, then you'll find some help in Beyond Distraction: Five Practical Ways to Free the Mind (Wisdom) by Shaila Catherine, a scholar and founder of Insight Meditation South Bay. It unpacks and carefully lays out the instructions from two ancient teachings in the Middle Length Discourses of the Buddha: the Dvedhavitakka (Two Kinds of Thought) Sutta and the Vitakkasanthana (Removal of Distracting Thoughts) Sutta. It is possible, argues Catherine, to cultivate concentration and focus that keep a person grounded in experience and to minimize the destructive forces of what we commonly associate with distraction: craving, aversion, and delusion. She presents the reader with the skillful means and step-by-step strategies from these old teachings to do just that.
I've tried out Orlaith O'Sullivan's sweet book We Are All Flowers: A Story of Appreciating Others (Plum Blossom) with my kids and hereby attest to its instructions for "watering the flowers" in our lives. The rhymes and bright pages guide readers to cultivate empathy and take loving action by paying very close attention to those in our presence—how they make us feel, and how we imagine they're feeling. Then beautifully, mysteriously, the very process of taking care of those we love turns out to "water" one's self as well. Important skills made practical and light!