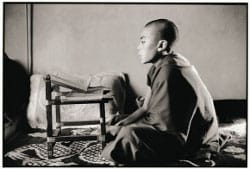 Photographer Nicholas Vreeland — a Buddhist monk holding a Geshe degree, and grandson of well-known fashion editor Diana Vreeland — is donating the proceeds of his latest exhibition to help reconstruct the 14th century Tibetan monastery Rato Dratsang in Karnataka, India. Photos for Rato opened in 2009 in select cities and is currently showing at ICIA House in Kala Ghoda, a precinct in South Mumbai, India; photographs from the exhibit are available for purchase through the website, with all funds going to the Rato Dratsang Foundation. From the website: "Each image, signed and numbered, is part of a limited edition of 25."
According to the Rato Dratsang Foundation website, "In 1983, the few Rato monks able to escape Tibet built a two-story building. New monks have since come from northern India, Bhutan, Nepal, Taiwan, and the United States. Today the Rato community consists of over 120 monks. Unfortunately, they live in difficult conditions, with four monks currently having to share one room.
The Rato monks therefore decided to build a new monastery to accommodate their growing community. It is designed to include a temple, 66 monks' rooms, a dining room, and a kitchen, as well as an administration building."
You can read a short interview with Nicholas Vreeland at Midday.com.