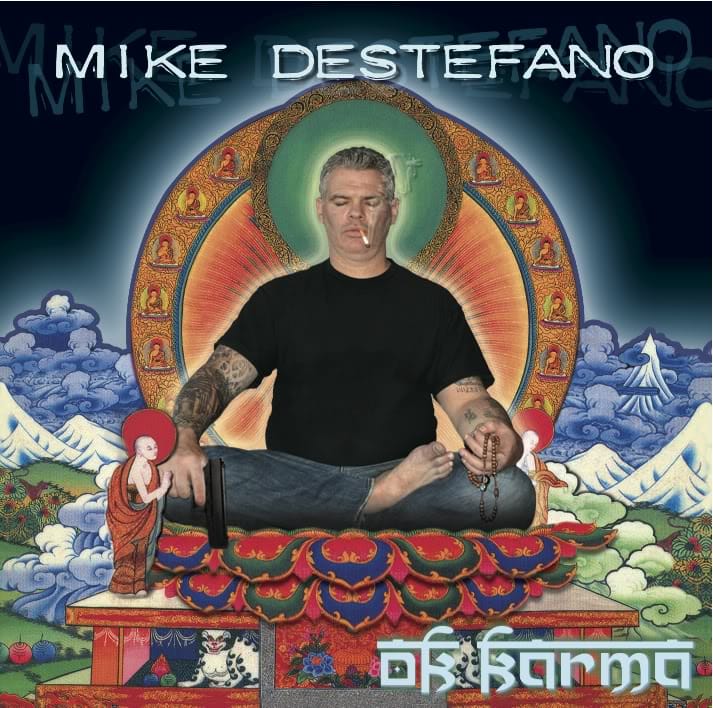 The cover of DeStefano's debut live LP, "OK Karma." He spoke about the art in our 2010 discussion, which you'll find a link to in this article.
The late Mike DeStefano — a.k.a "Mike D." or "Mikey D." — was many things: foul-mouthed, sweet, a recovering addict, living with profound loss, a Buddhist with a serious tonglen practice, and darkly, savagely funny. Now, DeStefano's memory is to get a much-deserved bump, thanks to the pending release of a documentary about him called Drugs, Disease, Death: A Comedy.
Yesterday, as the DeStefano Facebook page posted, along with a teaser trailer:
7 years ago we lost Mike Destefano and for 7 years we've been hard at work on delivering his message. It's been a long time coming and we know people have waited patiently. Mikey's documentary will have a release date this year.
The trailer and film feature DeStefano doing his act and speaking candidly, as well as reflections by fans and friends including Colin Quinn, Marc Maron, Laurie Kilmartin, Roy Wood, Jr., Conan O'Brien, and more. Watch it here:
It was my good fortune to speak to DeStefano back in July 2010, just before the finals on NBC's Last Comic Standing, on which he was featured (and back when Lion's Roar magazine was known as Shambhala Sun.) He talked about his Buddhism, his practice of "recovery comedy," and more. You can listen to that interview here.
In that interview, Mike also talked about his friendship with the Buddhist scholar John Dunne — "He was the one who told me I was a Buddhist," he said — and Donne was kind enough to talk to me about Mike for a retrospective piece after his passing. Buddhism, Dunne told me, "allowed [Mike] to create a different kind of identity. Its roots were such that it was outside of the mainstream, as was he."