Tracy Franz on some timely themes in new books and media.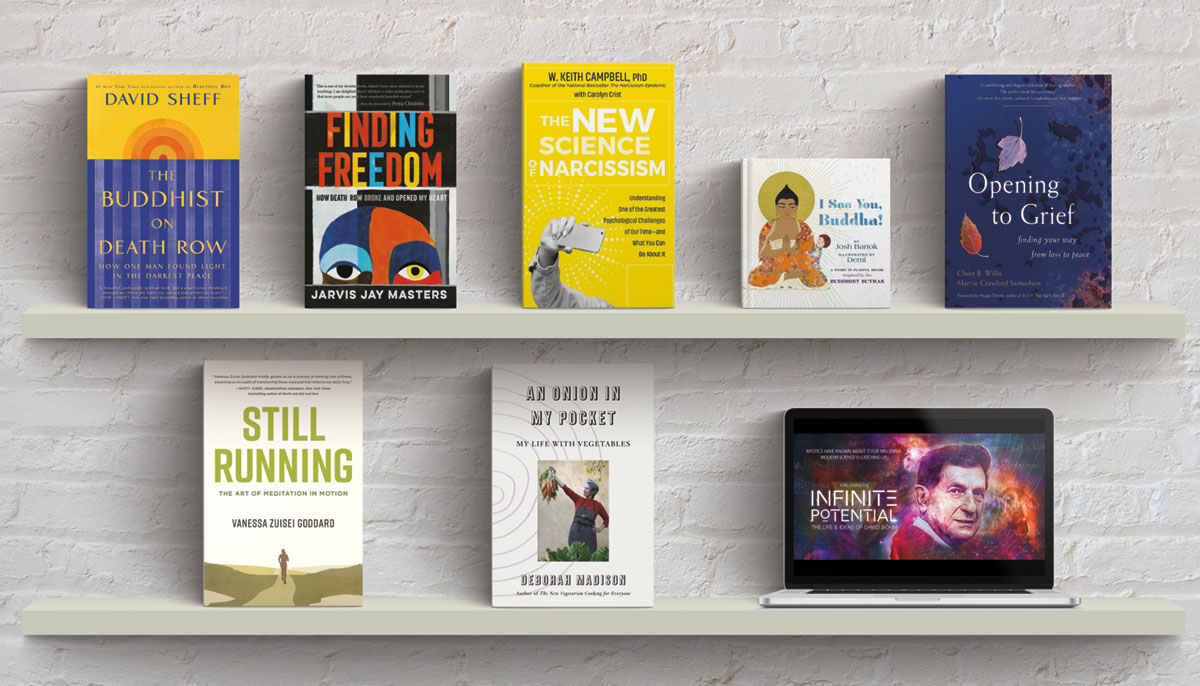 What does it mean to be free? I found myself returning again and again to this question while reading two books out this fall. One is about and one is by Jarvis Jay Masters, a death row inmate who found his path to freedom through Buddhist practice.
In The Buddhist on Death Row: How One Man Found Light in the Darkest Place (Simon & Schuster), author David Sheff details the life of Masters, a Black man born into appalling circumstances rife with drugs, abuse, and neglect. As Masters grew older, he was incarcerated in juvenile detention and, later, San Quentin Prison for armed robbery. He was ultimately convicted for participating in the murder of a prison guard—a conviction based on questionable evidence that resulted in his sentence to death row. A criminal investigator introduced Masters to meditation, and now, according to Sheff, Buddhist principles and practices guide him in helping others find meaning in their lives—while he himself remains in solitary confinement, awaiting execution.
Jarvis Jay Masters' own Finding Freedom: How Death Row Broke and Opened My Heart (Shambhala Publications) reveals the raw, unfettered voice of the man who inspired Sheff's work. Masters' compelling and often heartrending vignettes, poems, and commentaries are windows into prison life—but even more than that, they are a view into the human condition.
Through his writing, we're witness to Masters' profound transformation. "Through meditation, I learned to slow down and take a few deep breaths, to take everything in, not to run from the pain," he says, "but to sit with it, comfort it, give it the companion it had never had."
Steeped in themes of isolation and inequities—as well as in redemption and hope—these two books feel both important and timely. Sheff writes, "Set in a place of unremitting violence, insanity, confusion, and rage, Masters' story traverses the haunted caverns and tributaries of loneliness, despair, trauma, and other suffering—terrain we all know too well—and arrives at healing, meaning, and wisdom."
Perhaps equally timely is an intriguing new book by psychological researcher W. Keith Campbell and science and health journalist Carolyn Crist, The New Science of Narcissism: Understanding One of the Greatest Psychological Challenges of Our Time—and What You Can Do About It (Sounds True), explores the epidemic of narcissism in our society. Campbell, who was inspired by Buddhist thought and the concept of "no-self" early in his career, and Crist offer a detailed framework of narcissism, specifically in terms of defining, measuring, and responding to it in ourselves and others.
"Narcissism is more complex and nuanced than people expect," they write. "At its core, narcissism is about self-importance, antagonism, and a sense of entitlement. Narcissists believe they matter more than other people and deserve to be treated that way." Through accessible language and timely, relevant research, Campbell and Crist unpack a troubling cultural phenomenon.
Shortly after I read Campbell and Crist's book about narcissism, my young daughter and I found ourselves talking about what it really means to cultivate wisdom and kindness. I See You, Buddha (Wisdom Publications), authored by Zen priest Josh Bartok and illustrated by Demi, explores that question. Based on the Lotus Sutra and packed with clever rhymes and delicately detailed illustrations, this charming picture book offers children instruction in the basics of how to engage compassionately, show gratitude, and follow the way of the bodhisattva.
As my daughter declared, "It shows us that we are all the Buddha. We have to care about everybody, not just ourselves." This book points to the heart of what we can aim to embody in times of both happiness and adversity. The concept is simple enough for a child to grasp—and challenging enough to occupy us for the rest of our lives.
In this time of the coronavirus, "Individually and collectively, we are grieving," assert Buddhist chaplain Claire Willis and writer and photographer Marnie Crawford Samuelson in Opening to Grief: Finding Your Way from Loss to Peace, from the new Buddhist publisher Dharma Spring, an imprint of Red Wheel/Weiser. "We're experiencing large, difficult feelings," they write, "even if we don't recognize them as grief: sorrow, fear, anger, anxiety, depression, hopelessness, or disorientation. These troubling emotions, sensations, and mind states are the ways we humans respond to loss."
Broken into four parts, this handbook serves as a wise, compassionate friend guiding us through the darkness. Part one offers us a number of ways to work with loss—from mindfulness and meditation to exploring nature, writing, and making art. Part two delves into common questions that arise in the grieving process, and the final sections provide more in-depth exploration of the practices introduced earlier, plus a guide to related books and other resources.
Opening to Grief is a reminder that, in addition to various ways to work with loss, there are various paths to practice meditation. Vanessa Zuisei Goddard leads retreats and workshops on running as practice. In Still Running: The Art of Meditation in Motion (Shambhala Publications), she shares guidance gleaned from those many gatherings, as well as her experiences at Zen Mountain Monastery, where she trained as a monastic. Goddard writes, "Running zazen—which I call still running—can show us that fundamentally there is no difference between stillness and movement, body and mind, self and other."
Still Running explores various ways to fully recognize this interconnectedness—from matters of discipline, to pain, to the breath. Each chapter closes with a meditation for diving more deeply into each idea or experience. If you have an appreciation for physical practice—or would like to—you will no doubt find inspiration in Goddard's keen insight. "The more I run," she writes, "the more I see the immense potential this art has to teach us about the fundamental nature of the self."
Such profound lessons may be found in every realm. Take food, for instance—it nourishes and sustains us, and because it's so essential, it's often inextricably connected to the many events, people, and practices that matter most in our lives. In An Onion in My Pocket: My Life with Vegetables (Knopf), celebrated chef and cookbook author Deborah Madison recounts her life through stories of growing, cooking, consuming, and sharing meals—from her childhood encounters with questionable "butter substitutes" to the (sometimes) austere dishes of the Zen monastery and center where she trained for twenty years, to her opening of famed Greens Restaurant in San Francisco and its farm-driven menu, and beyond.
"Break your plans in the face of something wonderful and utterly unexpected, like morels," Madison suggests. "Let this food rule take over and push you here and there as it will. You will at least come away with a memory." In this tender and sumptuous memoir, we experience a life juxtaposed with food—much of it vegetarian. We are not left wanting.
Science and spirituality meet in the documentary film Infinite Potential: The Life & Ideas of David Bohm, directed by Paul Howard. It explores the revolutionary endeavors of physicist David Bohm (1917–1992), who theorized quantum potential—the interconnectedness of all reality, at both micro and macro levels. The film includes interviews with people who engaged with Bohm or whose work has been inspired by him, including the Dalai Lama, Krishnamurti, philosopher and physicist Sir Roger Penrose, and artist Sir Antony Gormley. We also see clips of Bohm himself.
"We are internally related to everything—not externally related," Bohm says. "Consciousness is an internal relationship to the whole." Kaleidoscopic images of nature and humanity serve as a refrain to illustrate Bohm's groundbreaking theory—that, ultimately, everything is connection. What does it mean to be free? Bohm's work points to the science behind the answer.