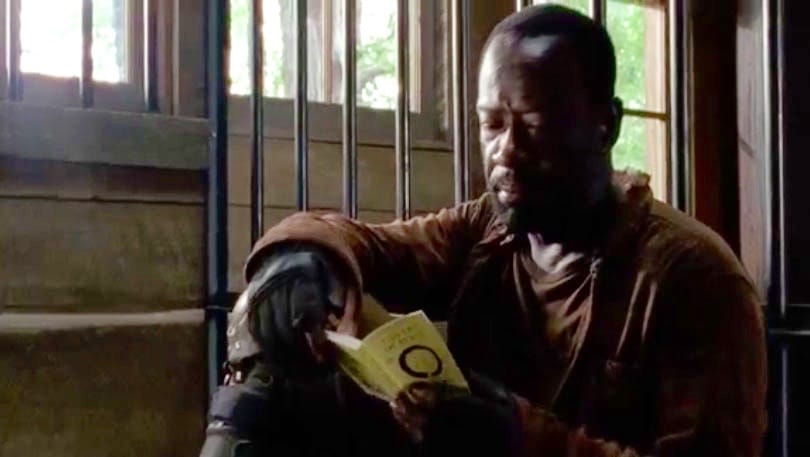 If you watch AMC's TV juggernaut The Walking Dead, you probably noticed that a book called The Art of Peace featured heavily on last night's episode. But what is the book about? As John Stevens writes in his translation of The Art of Peace, about its author:
Morihei Ueshiba (1883-1969) was history's greatest martial artist. Even as an old man of eighty, Morihei could disarm any foe, down any number of attackers, and pin an opponent with a single finger. Although invincible as a warrior, Morihei was above all a man of peace who detested fighting, war, and any kind of violence. His way was Aikido, which can be translated as "The Art of Peace."
Morihei Ueshiba's book by that title, which lays out his philosophy, has become a classic. Here are 10 Art of Peace lessons that have seem to have served Morgan — an adept pacifist warrior who can't afford to abstain (or, lose) — well. May they do the same for you, zombie apocalypse or not.
1.
The essence of The Art of Peace is to cleanse yourself of maliciousness, to get in tune with your environment, and to clear your path of all obstacles and barriers.
2.
If you have not
Linked yourself
To true emptiness,
You will never understand
The Art of Peace
3.
All things are bound together harmoniously; this is the real law of gravity that keeps the universe intact.
4.
Always keep your mind as bright and clear as the vast sky, the highest peak, and the deepest ocean, empty of all limiting thoughts.
5.
As soon as you concern yourself with the "good" and "bad" of your fellows, you create an opening in your heart for maliciousness to enter. Testing, competing with, and criticizing others weakens and defeats you.
6.
Never fear another challenger, no matter how large;
Never despise another challenger, no matter how small.
7.
If your opponent strikes with fire, counter with water, becoming completely fluid and free-flowing, Water, by its nature, never collides with or breaks against anything. On the contrary, it swallows up any attack harmlessly.
8.
All of life is a circle, endlessly revol;ving, and that is the center point of the Art of Peace. The Art of Peace is a seamless, inexhaustible sphere that encompasses all things.
9.
When your eyes engage those of another person, greet him or her with a smile and they will  smile back. This is one of the essential techniques of The Way of Peace.
10:
A true warrior is always armed with three things: the radiant sword of pacification; the mirror of bravery, wisdom, and friendship; and the precious jewel of enlightenment.
From The Art of Peace by Morihei Ueshiba, translated by John Stevens. © 2002 by John Stevens. Reprinted by arrangement with Shambhala Publications, Inc. Boulder, CO. Shambhala.com.