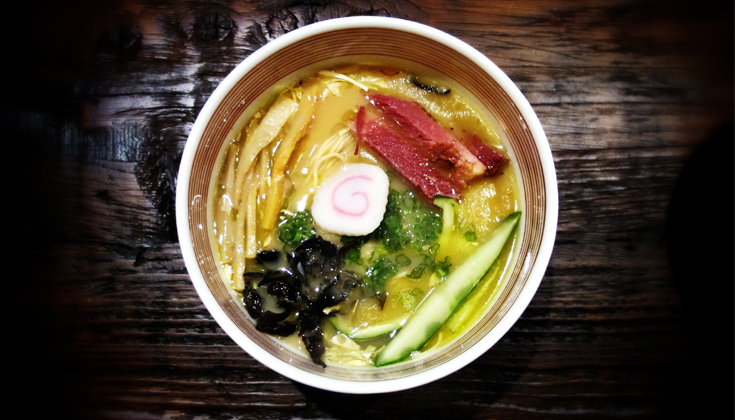 Photo by
Wendy
.
Have your plans ever worked out exactly as you'd hoped? No unexpected changes? No complications? Mine never have. When this happens, many of us go straight to self-blame, forgetting that uncertainty is a characteristic of the human condition.
I learned about blame from Zen teacher, Robert Aitken Roshi. In his book, The Mind of Clover, he begins the chapter titled "Eating the Blame" with one of my favorite Zen stories:
At the monastery of Fugai Ekun, ceremonies delayed preparation of the noon meal one day and when they were over, the cook took up his sickle and hurriedly gathered vegetables from the garden. In his haste, he lopped off part of a snake, and, unaware that he had done so, threw it into the soup pot with the vegetables.

At the meal, the monks thought they had never tasted such delicious soup, but the Roshi himself found something remarkable in his bowl. Summoning the cook, he held up the head of the snake, and demanded, "What is this?"

The cook took the morsel, saying, "Oh thank you Roshi," and immediately ate it.
Aitken Roshi's commentary to this story asks: "How do you handle a challenge?" He suggests that there are two options. One is to defend—by accusing the other or making an excuse for yourself —and the other is to dance. He goes on to say that when you dance, sometimes you can make the whole matter disappear. The cook in the Zen story danced at a crucial moment.
Several years ago, my daughter told me about a wedding she attended at which the folding chairs rented by the bride's mother never arrived at the wedding venue. The time for the ceremony grew closer and closer, but there were no chairs. She told me that the guests were standing around, getting restless.
In the spur of the moment, the bride's mother, like the cook in the Zen story, made a crucial decision. Instead of focusing her attention on blaming the rental company, she made it appear as if "no chairs" was the plan all along.
She found a few chairs to accommodate guests who were unable to stand for a prolonged period of time, and had everyone else remain standing as the bride and groom descended a spiral staircase to the playing of the wedding march. My daughter said it was a unique experience because it made the guests feel as if they were a part of the wedding procession.
I've shared this excerpt from Aitken Roshi's book and this wedding anecdote because, in my experience, blame serves little or no purpose. That said, evaluating other people's behavior is not the same as blame. If a business lets you down without a reasonable excuse, you might not want to use its services again. And reflecting on your own behavior is not the same as self-blame. For example, based on an experience, you might decide it would be skillful in the future to check references before hiring a company. By contrast, spending your time blaming yourself and others is a distraction that may keep you from creative problem-solving at a crucial moment.
Aitken Roshi said the cook danced at a crucial moment, calling it "eating the blame." The mother of the bride at the "wedding with no chairs" did the same thing when her plans went awry. Brava to her—and at least she didn't have to eat a snake's head!
Can you help us at a critical time?

COVID-19 has brought tremendous suffering, uncertainty, fear, and strain to the world.
Our sincere wish is that these Buddhist teachings, guided practices, and stories can be a balm in these difficult times. Over the past month, over 400,000 readers like you have visited our site, reading almost a million pages and streaming over 120,000 hours of video teachings. We want to provide even more Buddhist wisdom but our resources are strained. Can you help us?
No one is free from the pandemic's impact, including Lion's Roar. We rely significantly on advertising and newsstand sales to support our work — both of which have dropped precipitously this year. Can you lend your support to Lion's Roar at this critical time?