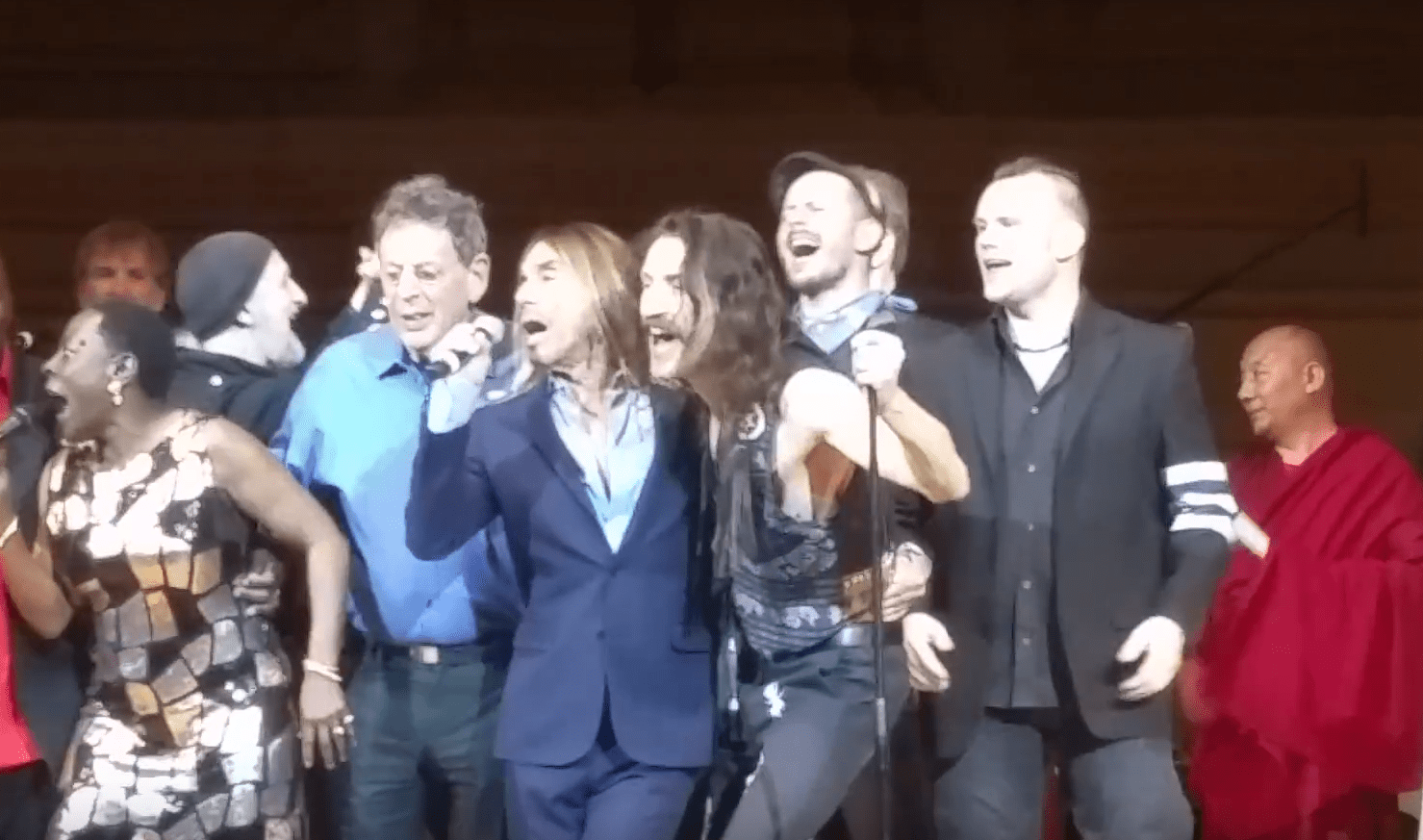 Iggy Pop and Sharon Jones are joined onstage by Philip Glass, members of Gogol Bordello, and others at this year's Tibet House benefit concert.
As recently announced here, the annual Tibet House benefit concert took place in New York last night, and featured a number of the great acts including Iggy Pop, Basia Bulat, Dechen Shak-Dagsay, FKA twigs, Foday Musa Suso, Gogol Bordello, Lavinia Meijer, Sharon Jones, and Philip Glass. Naturally, there was tribute paid to the late David Bowie, who had himself sang at the concert and talked about his connection to Buddhism one year.
Watch video from last night's show, featuring Iggy Pop singing Bowie's "Jean Genie" with the Patti Smith Group…:
…and then, with Sharon Jones, "Tonight," a song Bowie had recorded with Tina Turner:
THANK YOU FOR READING LION'S ROAR. CAN WE ASK FOR YOUR HELP?
At Lion's Roar, our mission is to communicate Buddhist wisdom in today's world. The connections we share with you — our readers — are what drive us to fulfill this mission.

Today, we're asking you to make a further connection with Lion's Roar. Can you help us with a donation today?
As an independent nonprofit committed to sharing Buddhist wisdom in all its diversity and breadth, Lion's Roar depends on the support of readers like you. If you have felt the benefit of Buddhist practice and wisdom in your own life, please support our work so that many others can benefit, too.

Please donate today — your support makes all the difference.

Lion's Roar is a registered charity in the US and Canada. All US & Canadian donations are tax deductible to the full extent allowed by law.