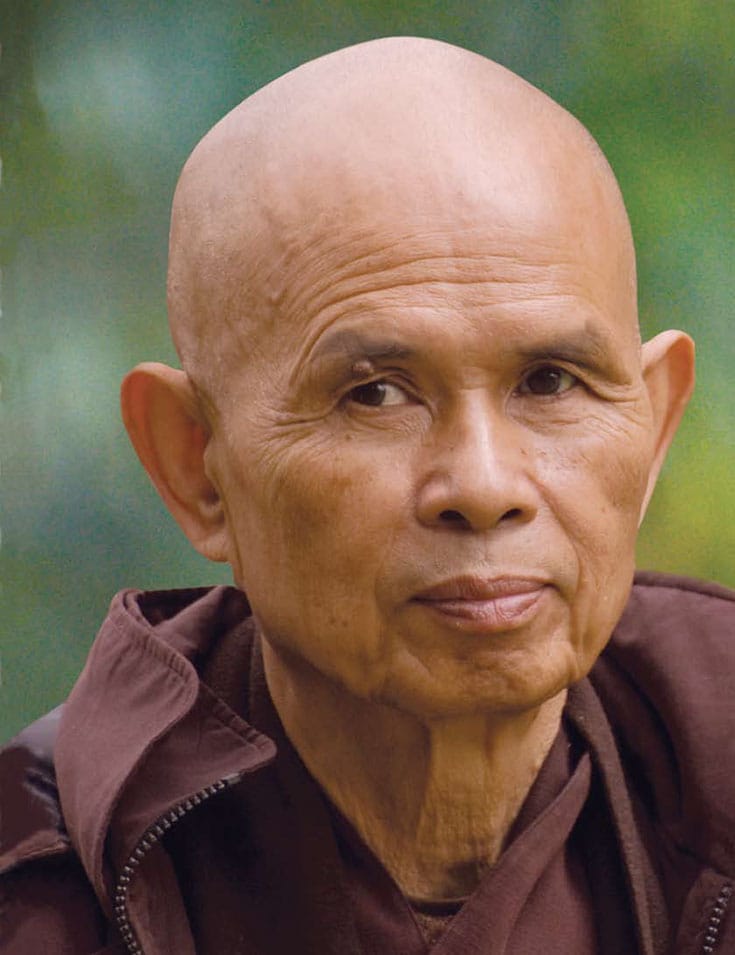 Thich Nhat Hanh attracted national attention during his historic visit to India as he encouraged efforts to reestablish Buddhism and bring mindfulness into the mainstream. A report by Shantum Seth, Poonam Srivastava, and Thich Chan Phap Lai.
On a recent trip to the birthplace of Buddhism, Thich Nhat Hanh and his relatively small Indian sangha led by Amisa Trust carried his message of meditation, peace, and mindfulness to a broad spectrum of society. Thay, as he is known to his students, brought with him thirty nuns and monks. For more than a month, they visited sacred sites, the capital, Delhi, the education hub, Dehra Dun, and Nagpur, the center of the revival of Buddhism among Dalits, formerly known as "untouchables."
A goal of this trip, Thich Nhat Hanh's first in twelve years, was to make his teachings available to as many people as possible in the nation where Buddhism virtually disappeared in the thirteenth century. But interest in the buddhadharma has been growing since 1956, when Dalit leader Dr. Ambedkar embraced Buddhism, bringing half a million followers with him in an effort to break free from India's oppressive caste system.
To reach as many people as possible, Thich Nhat Hanh met with educators, the media, scholars, business leaders, and government officials in conferences, public events, and retreats. He also reached out to the poor in Nagpur and other places.
The Indian national news network NDTV set the stage by airing a documentary about him and his teachings a week before he arrived, and broadcast a regular ticker that announced his programs during his visit. At a session that was held primarily for the media, he took questions from influential power brokers. He was invited to be the guest editor for a day at the prominent Times of India, and since there happened to be a bombing that day, his views on how to deal with terrorism made the newspaper's front page.
The Indian government recognizes Thich Nhat Hanh as a global peace icon, author, poet, and international statesman and it invited him to address Parliament. Among the audience were some of the most powerful people of the Indian political establishment. The theme of his address was how to lead with courage and compassion. He stressed the need for members of Parliament to develop deep listening skills as a compassionate approach to conflict resolution. He told Parliamentarians they could begin this practice at home with their immediate families.
As an example of interconnectedness and spontaneous compassion, Thay shared a story about his hands in which one hand accidentally hurt the other while hammering a nail. The automatic response of one hand was to hold the hurt one to comfort it and nurse it away from its pain.
Thay, his entourage, and his Indian sangha led several thousand people on a peace walk through Delhi in honor of Mahatma Gandhi. Participants included the chief minister of the state of Delhi, who expressed gratitude to Thay for bringing his peaceful presence to the city. There were also representatives of the medical community, other faiths, and children from local schools, including those from underprivileged groups.
Thich Nhat Hanh went to Nagpur to connect with the now-Buddhist Dalits, and the poor from Other Backward Castes (OBCs). "Dalit" means "under the heel." Thay addressed hundreds of thousands of Dalits at their annual gathering in celebration of their conversion with visionary leader Dr. Ambedkar.
For the next few days, Thay and the sangha led a retreat for the Dalits at Nagaloka, a Buddhist center. There is a lot of anger in the Dalit community as a result of the discrimination they have endured for centuries. Thay spoke about how to handle anger and build relationships in the family and with others, and led practices such as walking meditation and mindfulness meditation. Many people wanted to continue the practice and some of the leaders followed Thay to Delhi for another retreat.
At Nagpur, he also held a session for Buddhist intellectuals and monks. In the words of one of the senior bhikkus, both the laypeople and the Indian monastics were "startled" by the emphasis Thay placed on having a sangha. Thay told them that giving care to oneself and building sangha are essential for those who want to work for social change.
A key intention throughout the visit was "mainstreaming mindfulness," so that it is accessible to all without tying it to a particular religion. Although it was an element of Thay's presentations to government leaders and others, the primary goal was to reach education leaders and plant seeds to enhance children's schooling.
At Dehradun, the education nerve center, Thay held a national workshop for teachers. It was a four-day retreat for more than five hundred educators, heads of schools, and senior teachers from across India from both private and public schools. Traditionally in India, the basis of education was understanding one's true nature, self-development, peace, and happiness. The current mainstream education system, however, is based on a Western model that emphasizes the control of external nature. Still, awareness of the importance of bringing mindfulness into education is growing.
The retreat included daily practice of guided mediation, walking meditation, mindfulness training, dharma talks, question-and-answer sessions, deep relaxation, and workshops with classroom applications. Sangha members who are teachers at the American Embassy School in New Delhi and who have met weekly for nearly a decade reported that "sharing this experience was a beautiful fruition after many years of quiet cultivation of mindfulness both individually and collectively. The importance of this retreat is far-reaching in that a large number of teachers from across India came together with a renowned master teacher to experience mindfulness for ourselves and explore how to realize this with children with whom we work."
"Of all the things we teach our children," they continued, "mindful presence is one of the most critical, yet it is often ignored in the rush to cover curriculum and supervise children. Thich Nhat Hanh drew our attention to a deeper potential in our relationship with our students based on two basic human needs: to love and to understand. He told us that when we are aware and responsive to our deepest human interchange with our students, the process of learning flows naturally."
Thay emphasized to the educators that transformation of schools and society begins with their own transformation through the practice of cultivating mindful awareness.
After the retreat, Thay and his sangha inaugurated a Mindfulness Practice Center on the outskirts of Dehradun by planting trees and blessing the land. This center's goal is to bring mindfulness into education through teacher training and help with curriculum development. His Indian sangha felt that this, and bringing mindfulness in general into the mainstream of society would be good ways to continue the work Thay initiated in India.
For more on Thich Nhat Hanh's visit to India, visit www.ahimsatrust.org.
---
SHANTUM SETH is an ordained teacher in the Zen tradition of Thich Nhat Hanh and co-founder of Ahimsa Trust, an Indian non-profit organization that promotes mindfulness initiatives in areas such as education and the environment. He has led "In the Footsteps of the Buddha" pilgrimages since 1988.
POONAM SRIVASTAVA is an author and volunteer with Ahimsa Trust. She is currently researching her next book, focusing on Indian social entrepreneurs.
THICH CHAN PHAP LAI, originally from England, entered monastic life in 2002. He currently resides at Plum Village, Thich Nhat Hanh's practice center in southern France.