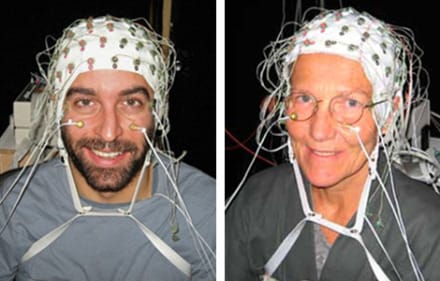 Adeline Van Waning, a psychiatrist and Buddhist practitioner, takes us inside a groundbreaking study that explores the effects of meditation on the brain and one's overall well-being.
When I first heard of the Shamatha Project, I felt like some of my deep longings were coming together. For quite some time I had wanted to participate in a meditation retreat that lasted several months. Combining this with cognitive and affective neuroscience and psychological research offered an extra dimension for me as a psychiatrist, and an opportunity to participate in contemplative history in the making. The ad said, "Meditate to advance science—be part of this groundbreaking neuroscience research project exploring the relationship between meditation and well-being."
Shamatha Meditation Practices
Shamatha, referring to meditative quiescence, tranquillity, or calm meditation, is considered an indispensable foundation for the cultivation of contemplative insight, or vipashyana. Shamatha training cultivates relaxation, attentional stability, and vividness of perception, and can be done in structured ways that do not demand allegiance to any religious or philosophical beliefs. These practices therefore lend themselves well to scientific investigation.
Collecting the Scientific Data
Neuroplasticity, the ability of the brain to form new connections between neurons, is astounding. Training in any field, such as music or sports, can significantly alter connections among neurons and modify the brain systems devoted to particular tasks. Recent studies are adding meditation to the list of training techniques that can potentially change the brain in beneficial ways. While many meditation studies have been done with seasoned monks and nuns, the Shamatha Project is a significant addition to a growing number of studies on ordinary people who live active lives in society. The project is unique in that it uses an exceptionally broad range of measures.
Healing the Mind
Alongside this Western science, we were immersed in meditation practices. Wallace says two marvelous things take place in "settling the mind" meditation. First, you get to know your mind, the relative ground of your psyche. You have a front-row seat—welcome to yourself! Second, watching the innate healing capacity of your mind is a profoundly therapeutic process.
Heading Home
During the last few days of the retreat we gradually prepared for our return to the "cacophony of everyday life" with more talking and exchanges. I was impressed at how in silence we had developed specific "languages" in which friendship could flourish.
The Findings
What will come out of this huge collection of data and research? Some results have been published, and many reports are being prepared that will be presented in coming months and years. So far, the findings demonstrate wide-ranging benefits of the retreat experience for participants. Clifford Saron, the neuroscientist who led the Shamatha Project research team, reported to the Dalai Lama in 2009 during the eighteenth Mind and Life conference that initial findings demonstrated improvements in our adaptive psychological qualities, perceptual and attention-related skills, improvements in inhibiting our habitual responses, and decreased mind-wandering. Also, changes in the emotional response to the perception of human suffering were found, as well as changes in biomarkers associated with cellular repair. Psychological self-reporting (first-person view), according to Saron's findings, indicated that intensive meditation training had enhanced our mindfulness, ego resiliency, empathy, openness to experience, conscientiousness, and psychological well-being, while reducing our attachment-related avoidance, general anxiety and neuroticism, and difficulties in regulating emotions. Further data analyses will make clear how these subjective self-reported improvements relate with objective indicators of attention and health-related physiology.
---