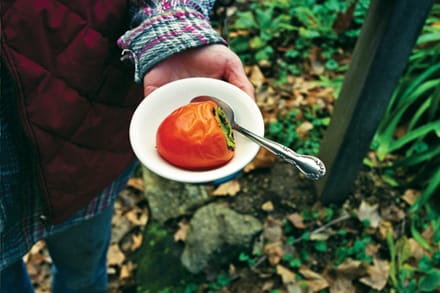 Photo by Renshin BunceHoko Jan Karnegis explains how nyoho, or the dharma of thusness, guides the menu at a Zen kitchen.
It was the last day of sesshin, and something about the teacher's dharma talk puzzled one of the members of my kitchen crew. "If we are supposed to avoid picking and choosing, and not have opinions, how can we go to the grocery store?" he asked.
Nyoho: The Dharma of Thusness
Many of us are first introduced to the idea of nyoho, or the dharma of thusness, when we sew rakusus. We are taught about the nyoho of tai (material), shiki (color) and ryo (size). Our robes are made from cast-off material to which no one has any attachment. The color is a blended shade that does not excite any feeling of greed or jealousy. The size is just right for the particular wearer—neither so large that fabric is wasted nor too small to cover the body.
The Nyoho of Tai: Choosing Ingredients
In Dogen's Tenzo Kyokun, or Instructions to the Cook, he gives us some help in making nyoho choices. With regard to the tai—in this context, the materials chosen to make meals—he writes that whether you're cooking coarse greens or have the resources to make a cream soup, you should maintain the same state of mind. Of course, it's possible to become just as attached to the greens as to the soup. The coarse greens can seem to represent "good" or "diligent" practice, while the cream soup can come to represent dissipation and greed. But a steady diet of nothing but coarse greens is not nyoho, just as my bland and undercooked boiled vegetables were barely in accord with Buddha's teaching. The mark we're shooting for is appropriateness, not extremes of richness or poverty.
The Five Pungent Herbs
Dogen further warns, "Do not come into the zendo smelling of onions!" Thus, my grocery list doesn't include aromatics: onions, garlic, leeks, shallots, or chives. The five pungent herbs are considered by Hindus to be rajasic (expanding) foods that stimulate passion and the intellect, clouding the mind and interfering with meditation, and traditional Zen cooking also avoids them. In the Surangama Sutra, the Buddha explains:
Ananda, all beings live if they eat wholesome food and die if they take poison. In their search for samadhi, they should abstain from eating five kinds of pungent roots (i.e. garlic, the three kinds of onions and leeks); if eaten cooked, they are aphrodisiac and if raw, they cause irritability. Although those who eat them may read the twelve divisions of the Mahayana canon, they drive away seers in the ten directions who abhor the bad odor, and attract hungry ghosts who lick their lips.
A disciple of the Buddha should not eat the five pungent herbs. This is so even if they are added as flavoring to other main dishes. Hence, if he deliberately does so, he commits a secondary offense.
The Five Colors and Six Tastes
Aromatics aren't the only flavors we're concerned with at sesshin. The meal chant says, "The five colors and six tastes of this meal are offered to dharma and sangha." Those six tastes are sweet, sour, bitter, salty, mild, and spicy, and they all need to be present. Sweet fruit, sour yogurt, salty soup, mild rice and gingery vegetables may all help to fill the bill, as well as bitter tea either used to wash the oryoki or sipped during the break after the meal.
Serving and Eating Without Trouble
As one last source of guidance for my grocery decision-making, I turn to the teachings of my dharma grandfather, Kosho Uchiyama. In the final talk of his life, he discussed seven points of practice. These have become the foundation of my own practice, and the seventh point holds particular interest for me: "Cooperate with one another and aim to create a place where sincere practitioners can practice without trouble." If I buy this and cook it, can servers manage it in the zendo? Am I causing trouble for the kaisshiki (director of serving)? Can practitioners eat it using spoons and chopsticks? Will it support or hinder practice? Putting myself in the place of those who will have to get the food into the bowls, and then in the place of those who will be eating, helps safeguard sangha relationships. Casseroles with a lot of stringy cheese are difficult to serve neatly. Spaghetti noodles in the first bowl might serve easily with tongs and look and taste delightful, but they're nearly impossible to eat with a spoon. Much as we might personally love these foods, they're poor choices for zendo gyohatsu.
How We Choose
I originally came to Zen practice looking for the answer to a fundamental question: how do I make decisions? On what basis do I choose one action over another? On some level, many of us may feel that our own opinions are a shaky foundation for making the many choices we face every day. Indeed, our texts and teachers remind us that "the way is easy for those who do not pick and choose." Dogen tells us that "a monk's mouth is like an oven," accepting whatever is put into it without discrimination or likes and dislikes. Are they all telling us to become dull and wishy-washy, floating through life without strong feelings about anything? That's a disturbing idea, especially when we hear every day about the suffering going on in our own neighborhoods and around the world. Are we really to have no opinions about such things, just accepting them without comment or action? And how do we carry out the little tasks that we need to take care of every day?
---