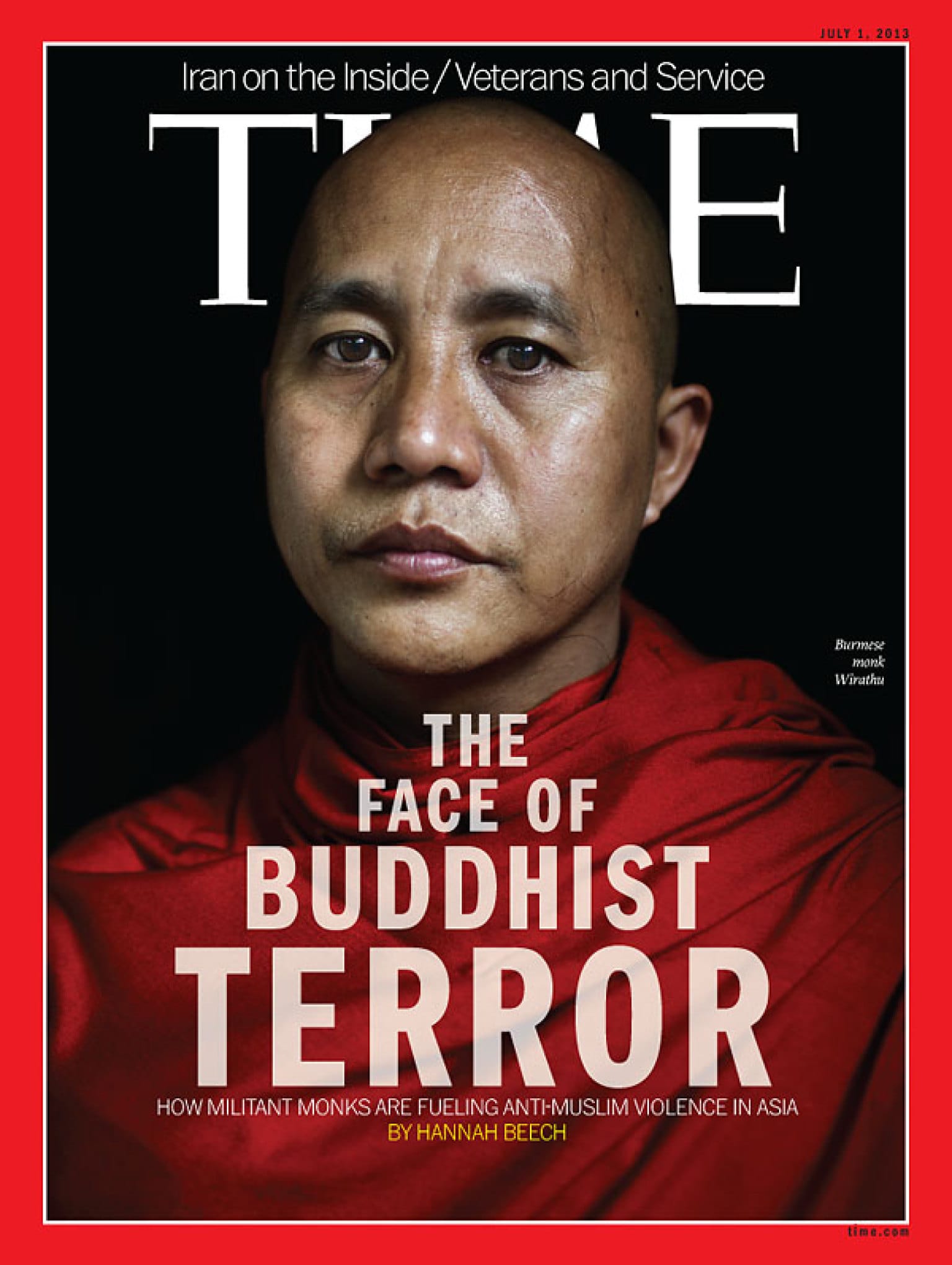 The cover of
Time
on July 1, 2013.
Burmese monk Wirathu made worldwide headlines earlier this week for a disparaging comment he'd made about a U.N. human-rights envoy who criticized proposed laws that she insisted hurt women and non-Buddhists. "Just because you hold a position in the United Nations," Wirathu said in a public address, "doesn't make you an honorable woman. In our country, you are just a whore."
The comment was condemned by a leader of the Saffron Revolution Buddhist Monks Network in Mandalay, and in turn, the story has been widely reported with the headline, "Myanmar monk's U.N. whore rant 'could hurt Buddhism."  That's certainly true, but let's be clear: Wirathu himself is hurting Buddhism.
Update – Tuesday, January 27, 11:20am: On Saturday, January 24, Burmese news site DVB.no published an interview with Wirathu, in which they discussed the global media reaction to his comments. "I was defending our religion," said Wirathu. "I should be glad that I succeeded in making this particular comment. I am delightfully proud."

Wirathu went on to explain his position on Islam: "I am against Jihadism but not against all Muslims. The Rohingya are Jihadists and so are the Islamic extremists and those plotting to conquer our country… My activism is focused against them."
As leader of the nationalist 969 Movement in Burma, he has dedicated himself to fanning the flames of anti-Islamic intolerance and violence. 969 insists that Burma's Buddhist heritage and presence are under threat by Muslims, and under Wirathu has spread anti-Muslim sentiment, leading to riots and deaths — though Wirathu denies that 969 is violent. His notoriety hit an earlier peak in June 2013 with TIME magazine's cover photo of him, emblazoned with the headline, "The Face of Buddhist Terror."
Wirathu's brand of intolerance is completely counter to what most Buddhists believe. To this end, concerned readers should familiarize themselves with his history of reprehensible behavior, as outlined in this new piece from the BBC, "Ashin Wirathu: Myanmar and its vitriolic monk," which succinctly chronicles Wirathu's rise to infamy, placing his most recent comments in the context of his years-long campaign of religious intolerance. For further reading, see also Lion's Roar features by Jack Kornfield and Hozan Alan Senauke.
Can you help us at a critical time?

COVID-19 has brought tremendous suffering, uncertainty, fear, and strain to the world.
Our sincere wish is that these Buddhist teachings, guided practices, and stories can be a balm in these difficult times. Over the past month, over 400,000 readers like you have visited our site, reading almost a million pages and streaming over 120,000 hours of video teachings. We want to provide even more Buddhist wisdom but our resources are strained. Can you help us?
No one is free from the pandemic's impact, including Lion's Roar. We rely significantly on advertising and newsstand sales to support our work — both of which have dropped precipitously this year. Can you lend your support to Lion's Roar at this critical time?