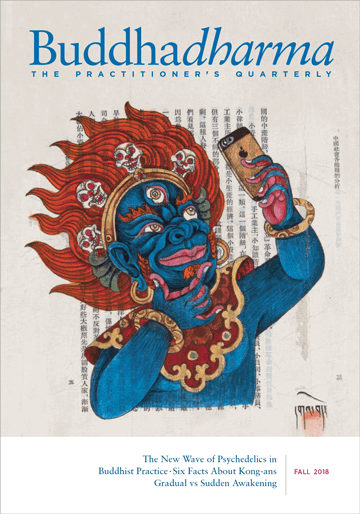 The Fall 2018 issue of Buddhadharma is available now. Preview the magazine contents and sample articles below.
Features
Matteo Pistono takes a close look at how some Buddhist teachers are not only turning toward psychedelics in their practice but also making it a part of their teaching.
Don't Stop Short of Supreme Insight
Geshe Sopa outlines the necessity of insight in this classic teaching.
Dreaming Ourselves into Existence
Joseph Goldstein explores the concept of no-self and guides us through the steps of seeing past who we think we are.
Gradual vs Sudden Awakening: The Samye Debate
Sam van Schaik explores the story of the Samye debate, which, he says, is really about a tension inherent in Mahayana Buddhism.
Six Facts About Kong-ans
Judy Roitman playfully spells out what kong-ans (koans) are, what they aren't, and how they work.
Gina Sharpe and Larry Yang share how the most diverse Buddhist teacher-training program in American history, now underway at Spirit Rock, came to be.
Calling on Jizo
Dojin Sarah Emerson shares how the Jizo Bodhisattva has supported her journey as Soto Zen priest, grief counselor, and mother of a child who has died.
Departments
Roshi Joan Halifax / Yes, We Can Have Hope
Q: Are there types of work that are incompatible with Buddhist practice? — Konda Mason, Elizabeth Mattis Namgyel, and José Shinzan Palma respond.
Reviews
Meditation, Buddhism, and Science edited by David L. McMahan and Erik Braun; Review by Michael Sheehy
Reviews by Rory Lindsay
Stillness Flowing: The Life and Teachings of Ajahn Chah, by Ajahn Jayasaro
Once a Peacock, Once an Actress, by Peter Khoroche
Touching the Infinite: A New Perspective on the Buddha's Four Foundations of Mindfulness, by Rodney Smith
A Meditator's Life of the Buddha Based on Early Discourses, by Bhikkhu Analayo
Freeing the Heart and Mind: Chögyal Phagpa on the Buddhist Path, by the Sakya Trichen
Theravada Buddhism in Colonial Contexts, edited by Thomas Borchert
Deepest Practice, Deepest Wisdom: Three Fascicles from Shobogenzo with Commentary, by Kosho Uchiyama

Thank you for reading Lion
'

s Roar. Now can we ask for your help?

Lion's Roar is a nonprofit. Our mission is to share the wisdom of the Buddha's teachings—to inspire, comfort, support, and enlighten readers around the world. Our aspiration is to keep LionsRoar.com available to everyone, providing a supportive, inspiring Buddhist community that anyone can access, from curious beginners to committed meditators. Do you share our aspiration? We can't do this without your help.

Lion's Roar reaches more readers like you than ever before. Unfortunately, advertising and other revenues are falling for print and online media. We know we have something deeply precious to share with the world, and we want to continue this important work. Can you help support our efforts now?

Lion's Roar is independent, unbiased, not-for-profit, and supported by readers like you. Please donate today and help the lion's roar echo for readers around the world.