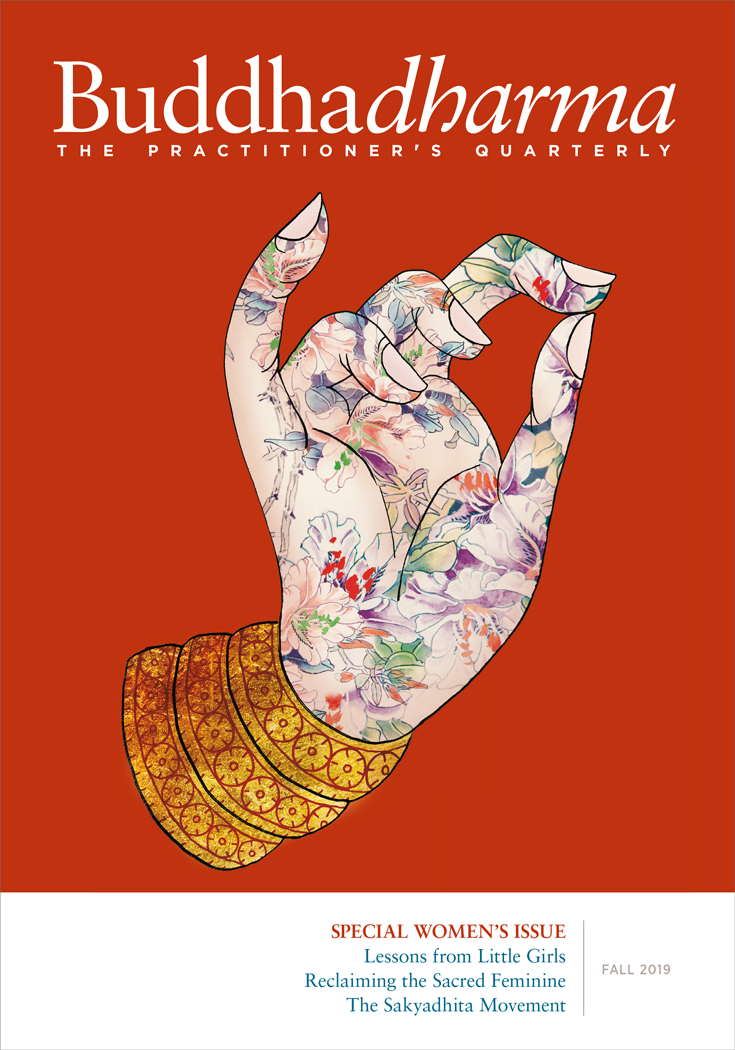 The Fall 2019 issue of Buddhadharma is a special women's issue highlighting and celebrating women's enormous contribution to the dharma. Preview the magazine contents and sample articles below.
Features
So This Is What It Feels Like to Be Free: Poems from the Therigatha
A beautiful new translation of the Therigatha by Matty Weingast brings to life the voices of the earliest Buddhist nuns. Introduction by Meg Gawler.
Reclaiming the Sacred Feminine
It's time, says Thanissara, for us to rediscover the fearlessness, strength, and connection of the sacred feminine.
A panel of women teachers from different Buddhist traditions — Myokei Caine-Barrett, Narayan Helen Liebenson, Rebecca Li, and Myoan Grace Schireson — share their experiences and insights into being a female teacher and leader in today's world. They discuss the challenges women in Buddhism have faced and how they've met them, and share their thoughts on what's needed as we move forward. Introduced and moderated by Pema Khandro Rinpoche.
Through a textual analysis of the Lotus Sutra and its commentaries and The Sutra of the Girl Marvelous Wisdom, Buddhist scholar Stephanie Balkwill examines the historical arguments around the question: Can women attain buddhahood in a female form?
It Takes One to Move One: Teachings of Shundo Aoyama
A selection of teachings by Shundo Aoyama Roshi, the highest-ranked Soto Zen nun in history. Introduction by Tenku Ruff and Yuko Wakayama Yamada.
Judith Hertog profiles the Sakyadhita International Association of Buddhist Women, which has been leading the way for gender equality in Buddhism for more than thirty years.
Here at the End of the World
In this time of so much loss, says Joan Sutherland, we need to come to terms with grief.
Departments
Commentary
The Path We Walk as Women, by Jan Willis
Ask the Teachers
How can we, as Buddhists, create welcoming spaces for trans and genderqueer community members?  Ray Buckner, Caitriona Reed, and La Sarmiento respond.
Reviews
Inseperable Across Lifetimes by Holly Gayley; Review by Sara Lewis
Buddhist Feminisms and Femininities edited by Karma Lekshe Tsomo; Review by Jue Liang
Reviews by Daigengna Duoer
Green Buddhism, by Stephanie Kaza
Love on Every Breath: Tonglen Meditation for Transforming Pain into Joy, by Lama Palden Drolma
Just Enough: Vegan Recipes and Stories from Japan's Buddhist Temples, by Gesshin Greenwood
Look and See: Buddhist Teaching Stories with Commentaries, by Vernable Myokyo-ni
Samsara, Nirvana, and Buddha Nature, by The Dalai Lama and Thubten Chodron
Occupy This Body: A Buddhist Memoir, by Sharon Suh
Let the Light Shine: Reflections from Therevada Bhikkhunis, compiled by Awaken Publishing

Can you help us at a critical time?

COVID-19 has brought tremendous suffering, uncertainty, fear, and strain to the world.
Our sincere wish is that these Buddhist teachings, guided practices, and stories can be a balm in these difficult times. Over the past month, over 400,000 readers like you have visited our site, reading almost a million pages and streaming over 120,000 hours of video teachings. We want to provide even more Buddhist wisdom but our resources are strained. Can you help us?
No one is free from the pandemic's impact, including Lion's Roar. We rely significantly on advertising and newsstand sales to support our work — both of which have dropped precipitously this year. Can you lend your support to Lion's Roar at this critical time?