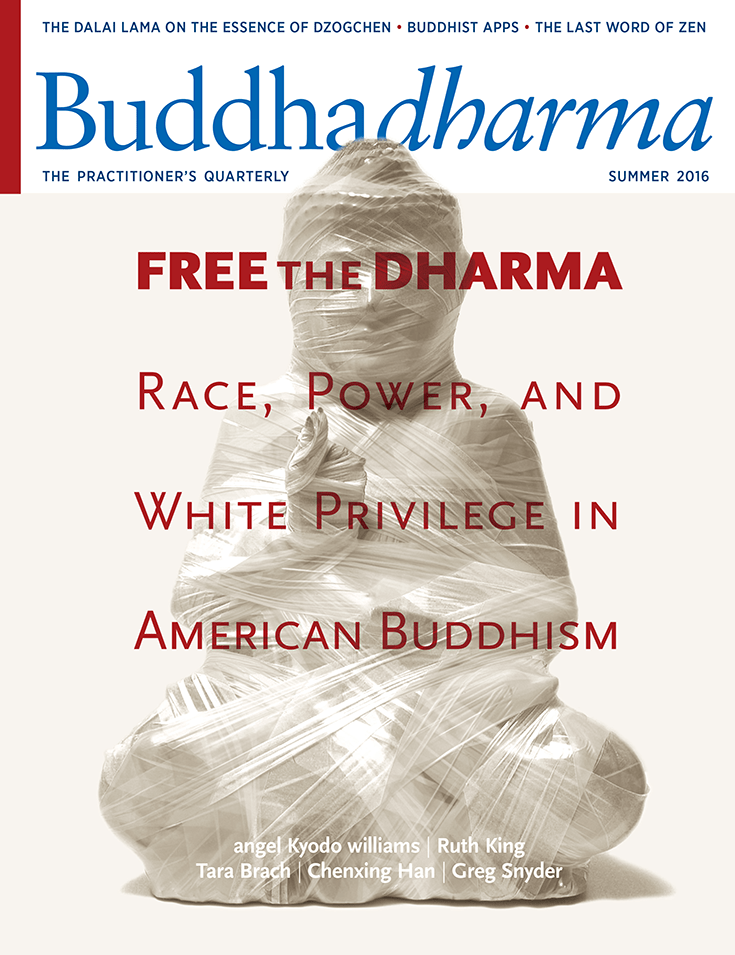 The Summer 2016 issue of Buddhadharma: The Practitioner's Quarterly is available now. This issue explores issues of race, power, and white privilege in American Buddhism. Below is a preview of what you'll find in the magazine, including pieces you can read online.
Free The Dharma
In his teaching on the essence of Dzogchen, the Dalai Lama describes the shock that naturally accompanies an experience of innermost awareness, which is actually the basis of all reality.
If we are to uphold the dharma, says Rev. angel Kyodo williams, we must stand up to racism and expose its institutionalized forms—even in our Buddhist communities.
Healing the Broken Body of Sangha
As long as race continues to divide us, says Ruth King, it is as if we are missing parts of our own bodies. Here are five steps we can take to help ourselves—and our sanghas—become whole.
Facing My White Privilege
When Tara Brach came to recognize her own white privilege, it changed her as a dharma teacher and leader.
We're Not Who You Think We Are
Chenxing Han examines the stereotypes that have marginalized Asian American Buddhists and reports on the rich diversity and depth of a new generation of practitioners.
Waking Up to Whiteness
For our practice to have meaning in today's world, says Greg Snyder, it must include a thorough understanding of our racial identities and their impact. This is particularly urgent for white practitioners.
Plus
The Last Word of Zen
Melissa Myozen Blacker invites us to dream ourselves into the tale of Deshan and explore the ultimate meaning of Zen.
Departments
Commentary
It's Our Journey, Too, by Tynette Deveaux
In Focus
Enlightenment: Is There an App for That?, by Sam Littlefair Wallace
Ask the Teachers
The karma of assisted suicide
Feature Reviews
Tibet on Fire by Tsering Woeser, reviewed by Robert Thurman
Engaging Buddhism: Why It Matters to Philosophy by Jay Garfield, reviewed by Constance Kassor
Book Briefs
A Buddhist Grief Observed by Guy Newland
Conceiving the Indian Buddhist Patriarchs in China by Stuart H. Young
The Cypress Tree in the Garden: The Second Generation of Zen Teaching in America by Richard Bryan McDaniel
Deathpower by Erik K. Davis
The Records of Mazu and the Making of Classical Chan Literature by Mario Poceski
The Karmapas and Their Mahamudra Forefathers by Khenpo Sherap Phuntsok
Pure Appearance: Development and Completion Stages in Vajrayana Practice by Dilgo Khyentse Rinpoche's Ani Jinba Palmo
Trust, Realization, and the Self in Soto Zen Practice by Daijaku Kinst
Journeys
It Was Me, Too, by David Weinstein
Can you help us at a critical time?

COVID-19 has brought tremendous suffering, uncertainty, fear, and strain to the world.
Our sincere wish is that these Buddhist teachings, guided practices, and stories can be a balm in these difficult times. Over the past month, over 400,000 readers like you have visited our site, reading almost a million pages and streaming over 120,000 hours of video teachings. We want to provide even more Buddhist wisdom but our resources are strained. Can you help us?
No one is free from the pandemic's impact, including Lion's Roar. We rely significantly on advertising and newsstand sales to support our work — both of which have dropped precipitously this year. Can you lend your support to Lion's Roar at this critical time?