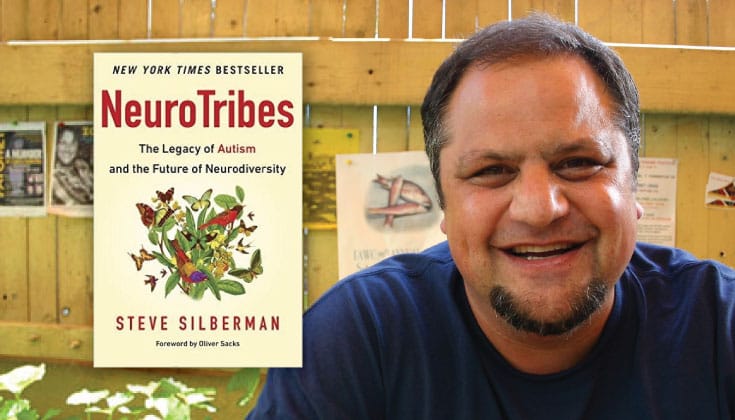 Shambhala Sun/Buddhadharma friend and contributor Steve Silberman has won the Samuel Johnson Prize — awarded for the best non-fiction writing in the English language — for his book, NeuroTribes: The Legacy of Autism and the Future of Neurodiversity. Steve has written for us many times — click here to read his review of Crowded by Beauty: The Life and Zen of Poet Philip Whalen from the new Buddhadharma, for example. You'll also find Steve's contribution to "Rainbow Dharma," a look at LGBTIQ Buddhists, in the November 2015 issue of the Shambhala Sun. Said the organization,
This year we have given the award to a book which is unique in a number of ways. Unusually, it combines history, journalism, and science in order to describe how popular and scientific understanding of the human brain have evolved over time. It asks important questions about the nature of disability, the role of doctors, and the impact of politics on medicine. Both erudite and compassionate, it offers carefully sketched portraits of individuals, as well as a broad sweeping portrait of some of the most important medical debates of our era. The winning book is a tour de force of archival, journalistic, and scientific research, deeply researched and widely accessible. We are delighted to award Steve Silberman the 2015 Samuel Johnson Prize.
Watch a short film by BBC Arts on Neurotribes.
In September, Neurotribes debuted #8 in the NYT hardcover nonfiction category. In it, Steve chronicles the history of autism and profiles the inspiring, empowered autistic community thriving today. You can read a Q&A with the author in the January issue of the Shambhala Sun.
Here's some of Steve Silberman's best writing from the Shambhala Sun and Buddhadharma:
Counting to One — From our collection of first-person stories on LGBTIQ Dharma, Steve Silberman recalls early and lasting loves.
Happily Ever After — When Steve Silberman got married in 2009, he and his husband found themselves in the middle of an American culture war. For them, embracing the word "marriage" was like opening the door to a secret garden.
Wise Heart: A Profile of Jack Kornfield — Jack Kornfield's brilliant synthesis of deep Buddhist practice and modern psychological insight has made him one of the most influential spiritual teachers of our time. Steve Silberman tells the fascinating story of Kornfield's voyage — both literal and philosophical — from West to East and back.
Lessons from an Old Copy of Zen Mind, Beginner's Mind — Shunyru Suzuki's book Zen Mind, Beginner's Mind has been leading people onto the path of meditation for forty years now. Here, Steve Silberman shares an intimate glimpse, via beautiful photos, of his personal copy of Suzuki's book, which continues to teach him after all these years.
The Only Choice is Kindness — "Life is so difficult, how can we be anything but kind"—it was these words that inspired Sylvia Boorstein to follow the Buddhist path. Steve Silberman talks with her about the challenges of life, from a rough childhood to a post-partum depression, that helped her become such a beloved teacher—and example—of Buddhist virtues.
You can find even more of Steve's writing on Lion's Roar here.
Lastly, don't miss our editor-in-chief Melvin McLeod's upcoming interview with Steve about NeuroTribes in the January issue of the Shambhala Sun.
Just a week ago, I thought #NeuroTribes becoming a NYT bestseller was an absurd fantasy. Happily, I was wrong. pic.twitter.com/IAWkRnjJhQ

— Steve Silberman (@stevesilberman) September 7, 2015