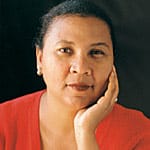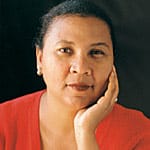 bell hooks: The Shambhala Sun offers a wide selection of writing by this long-time contributor.
bell hooks describes herself as a "Black woman intellectual, revolutionary activist." A prominent thinker about issues of feminism and race (among others), she has published more than twenty books, including Ain't I a Woman: Black Women and Feminism.
The Shambhala Sun has featured essays by hooks, and her conversations with Thich Nhat Hanh, Maya Angelou, Pema Chödrön, and John Perry Barlow. Enjoy the sampling below.
---
Fighting domination, finding love, connecting with our bodies—feminist leaders and meditators Eve Ensler & bell hooks in dialogue.
In war-torn Congo, Eve Ensler learns what love can really do.
The practice of love, says bell hooks, is the most powerful antidote to the politics of domination. She traces her thirty-year meditation on love, power, and Buddhism, and concludes it is only love that transforms our personal realtionships and heals the wounds of oppression.
For bell hooks, fighting oppression doesn't require anger or conflict—just opening our hearts and speaking the truth fearlessly. Barry Boyce tells the story of this renowned feminist and social critic, and how she came to embrace activism without enemies and a visionary kind of love.
From childhood on I have had to struggle to break from the impositions of images that don't represent me accurately or well. Even though this is a drag, it too is part of the struggle, part of the process of decolonization.
Increasingly, patriarchy is offered as the solution to the crisis black people face. Black women face a culture where practically everyone wants us to stay in our place.
bell hooks meets with Thich Nhat Hanh to ask: How do we build a community of love?
Maya Angelou in conversation with bell hooks.
More related articles:
• Cultivating Openness When Things Fall Apart, by bell hooks and Pema Chödrön
• When the Spirit Moves You, by bell hooks
• Voices and Visions, by bell hooks
• Design: A Happening Life, by bell hooks
• When Men Were Men, by bell hooks
• Penis Passion, by bell hooks
• bell hooks Talks to John Perry Barlow, by bell hooks
Return to the Spotlight page