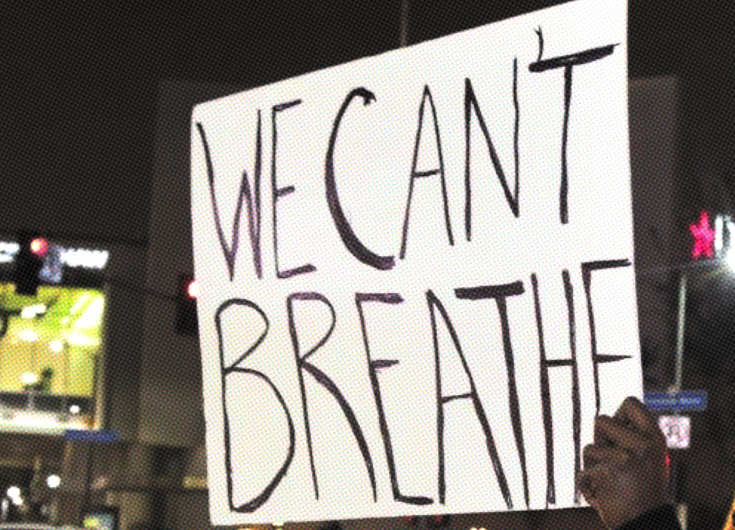 In December, 2014, a grand jury chose not to indict police officer Daniel Pantaleo over the death of Eric Garner, whom Pantaleo had wrestled while Garner said repeatedly, "I can't breathe." He later died. The incident sparked protests across America and #ICantBreathe trended on Twitter globally. In response, Buddhist scholar Jan Willis wrote this poignant essay — one whose message, almost two years later, remains as vital today.
We can't breathe!
In Buddhist meditation, our breathing is essential. Anapana, meditation on the breath, was the Buddha's first meditation instruction and the basis for all further meditative endeavors. Breathing is not only life-sustaining and calming; it is a foremost teaching aid. Breathing, we sense immediately our necessary connection to what is other than ourselves. Without the exchange of air —inner and outer–we would die. We are not independent. We are dependent.
We are interdependent. We are connected with one another. We breathe the same air. That air is neither black nor white. We share the life-force of all.
If one of us cannot breathe, none of us can breathe fully and deeply and we no longer experience our connection with one another.
If Eric Garner cannot breathe, then we cannot breathe. If Michael Brown no longer breathes, we cannot breathe. If Tamir Rice does not breathe, we cannot breathe.
Something is mightily broken. A hard rock of sadness and pain rolls itself up in our hearts and we cannot breathe. We must do something—swiftly and non-violently–to right the moral compass. Because, at this moment, none of us can breathe.
Can you help us at a critical time?

COVID-19 has brought tremendous suffering, uncertainty, fear, and strain to the world.
Our sincere wish is that these Buddhist teachings, guided practices, and stories can be a balm in these difficult times. Over the past month, over 400,000 readers like you have visited our site, reading almost a million pages and streaming over 120,000 hours of video teachings. We want to provide even more Buddhist wisdom but our resources are strained. Can you help us?
No one is free from the pandemic's impact, including Lion's Roar. We rely significantly on advertising and newsstand sales to support our work — both of which have dropped precipitously this year. Can you lend your support to Lion's Roar at this critical time?