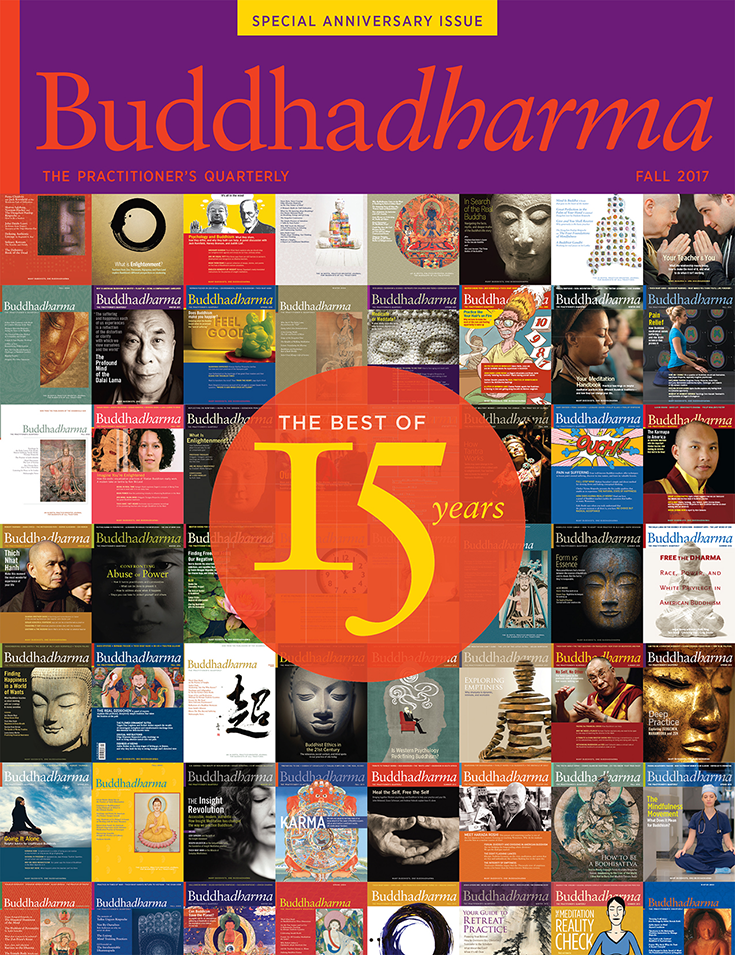 In this special anniversary issue, now available, we celebrate with a selection from some of the best teachings and articles we've published over the last fifteen years.
Welcome to the Issue / Commentary
We're Just Getting Started, by Tynette Deveaux
Section I: The Path Is Not Without Obstacles
From illness to disillusionment to the meditator's high—the challenges of the Buddhist path seem endless. But they're always fertile ground.
Darlene Cohen • Andrew Holecek • Geoffrey Shugen Arnold • Lama Rod Owens • Venerable Pannavati • Anne Carolyn Klein • Ejo McMullen • Judith Simmer-Brown • Zoketsu Norman Fischer • Pema Khandro Rinpoche • Barbara Rhodes • Nina Wise • Mushim Patricia Ikeda • Edward Espe Brown
Read the following full pieces, excerpted in this section of Buddhadharma's 15th-anniversary Best-of issue, online:
Do You Know Your True Face?, by Lama Rod Owens
Awakening the Bodhisattva, by Venerable Pannavati, Anne Klein, and Ejo McMullen
The Joy of the Lonely Dancer, by Judith Simmer-Brown
Section II: It Takes Practice
Practice in its many forms is at the core of every Buddhist tradition. It's the way we bring the teachings to life and make them our own.
Lama Willa Miller • Barry Magid • Kosho Uchiyama • Bhante Bodhidhamma • Elizabeth Mattis Namgyel • Taitetsu Unno • Judy Roitman • Ajahn Jayasaro • Tenzin Wangyal Rinpoche • Ajahn Sucitto • Khenpo Tsultrim Gyamtso Rinpoche • Ajahn Amaro • Mark Unno • Kobun Chino • Toni Packer
Read the following full pieces, excerpted in this section of Buddhadharma's 15th-anniversary Best-of issue, online:
Feeling Stuck? Good!, by Ajahn Sucitto
If It Sounds Too Good to Be True…, by Mark Unno
Earthquakes and Blossoms Appear, by Kobun Chino Otogawa Roshi
Section III: At the Heart of It All
Whether you call it wisdom, buddhanature, realization, or enlightenment, the Buddhist teachings point to an experience that is closer than you think.
Joan Sutherland • Guo Gu • Thanissaro Bhikkhu • John Daido Loori • Stephen Holoviak • Dzigar Kongtrul Rinpoche Gelek Rimpoche • Lama Palden Drolma • Dzogchen Ponlop Rinpoche • Ayya Tathaaloka • Setsuan Gaelyn Godwin • David Matsumoto
Read the following full pieces, excerpted in this section of Buddhadharma's 15th-anniversary Best-of issue, online:
Becoming the Mountains and Rivers, by John Daido Loori
Forum: What Is Enlightenment?, by Dzogchen Ponlop Rinpoche, Ayya Tathaaloka, Setsuan Gaelyn Godwin, and David Matsumoto
Life, Frame by Frame, by Dzigar Kongtrul Rinpoche
Section IV: We're in This Together
Buddhism in the West is more than its practices and teachings. It's a dialogue—about authenticity, culture, psychology, racism, enlightenment, and more.
Chenxing Han • Karen Maezen Miller • Bhikkhu Bodhi • Bodhin Kjolhede • Judy Lief • Jack Kornfield • Rita Gross • angel Kyodo williams • Jan Willis • Pamela Rubin • B. Alan Wallace • Pamela Ayo Yetunde • John Tarrant
Read the following full pieces, excerpted in this section of Buddhadharma's 15th-anniversary Best-of issue, online:
We're Not Who You Think We Are, by Chenxing Han
A Challenge to Buddhists, by Bhikkhu Bodhi
Pure Dharma, Barefoot Dharma, by B. Alan Wallace
Departments
First Thoughts
Just Now Mind, by Dae Kwang; The Meaning of Lineage, by Pema Chödrön; The Future Is Now, by Thich Nhat Hanh; Think Twice, by Dzongsar Khyentse Rinpoche; Seeking Bedrock, by Charlotte Joko Beck; The Sound of Invisibility, by Susan Yao; The Gentle Rays of Dharma, by Gaylon Ferguson; A Plastic Red Ring, by MuMun Algernon D'Ammassa
Ask the Teachers
Q: After twenty years of Buddhist practice, I'm wondering: "What's the point?" — Tulku Thondup responds.
Q: Why can't I perceive bodhisattvas or deities? Zenkei Blanche Hartman responds.
Q: How do we retain passion while accepting all of life equally? Narayan Helen Liebenson responds.
Q: I have cancer. How do I balance accepting impermanence and desiring to live? Tenzin Wangyal Rinpoche responds.
Q: Does my transgender identity conflict with Buddhism's teachings on no-self? Sallie Jiko Tisdale responds.
Rory Lindsay reviews Catholicism and Zen by Richard Bryan McDaniel; The Life of My Teacher: A Biography of Ling Rinpoche by His Holiness the Dalai Lama, translated by Gavin Kilty; Early Buddhist Meditation, by Keren Arbel; Older and Wiser, by Mu Soeng, Gloria Taraniya Ambrosia, and Andrew Olendzki; The Just King, by Jamgön Mipham, translated by José Cabezón; Anarchy in the Pure Land, by Justin Ritzinger; and Zen Echoes, by Beata Grant
Can you help us at a critical time?

COVID-19 has brought tremendous suffering, uncertainty, fear, and strain to the world.
Our sincere wish is that these Buddhist teachings, guided practices, and stories can be a balm in these difficult times. Over the past month, over 400,000 readers like you have visited our site, reading almost a million pages and streaming over 120,000 hours of video teachings. We want to provide even more Buddhist wisdom but our resources are strained. Can you help us?
No one is free from the pandemic's impact, including Lion's Roar. We rely significantly on advertising and newsstand sales to support our work — both of which have dropped precipitously this year. Can you lend your support to Lion's Roar at this critical time?